TERRY MOSHER
TOP OF THE TOWN – Maybe it's because I was a very good athlete as a young kid and went nowhere with it that I look at these guys who have more athletic ability than I ever thought of having and either do nothing with it or screw it up and I think what a stupid waste. I know the answer to this. Yet, I am still puzzled and shake my head at it all. I'm thinking now of quarterback Dwayne Haskins. You know that the Washington Football Team released Haskins on Monday, a day after he was benched in the team's loss to Carolina. His problems have been long-standing, but the latest came after he almost led Washington to a comeback against Seattle. Hours after the game he was photographed at his girlfriends' birthday party with strippers. Two things come into play here. One, he violated NFL and team COVID-19 protocols and two how dumb do you have to be to be out celebrating two hours after your lose a football game? For me, even if you forget those obvious mistakes, this is a pattern that I have seen far too many times in over 50 years of sports writing. You can chalk it up to whatever you want – maturity is high on that list – but I have never learned why guys like Haskins and Johnny Manziel turn a golden goose into tinfoil. They have made it big and, bingo, they might do drugs or alcohol or just plain party too much and that golden goose disappears, flying bye-bye over the horizon. Josh Gordon I explained in a blog the other day. His is an addiction and his golden goose is on the loose, but after nine "second chances" it's possible he may make it to 10. I understand addition. It is difficult to break. It can be broken, but it takes a lot of effort and guts and help. But if you are just too immature to grasp how fortunate you are than I can't help you or respect you. We have millions in this country right now that don't know how they are going to put food on the table to feed their families – indeed some of them might not even have a table – and here is a 23-year-old sitting on a gold mine and he bleeps it away at a strip club in the midst of a pandemic that has cost over 320,000 American lives. Cry me a river, but I don't feel sorry for Haskins or people like Manziel. If somebody had offered me millions to play football, I would do everything in my power to justify such a sum. But I guess I'm behind the times. You can have your millions and smoke dope and chug another bottle of beer as much as you want. Just don't do it with cell phone cameras within sight or while thinking of team or teammates. … Is it too early to tag Gonzaga with the NCAA basketball championship? They appear to be unbeatable, a wonder team that defies all imagination. The Zags are currently 8-0 and the top-ranked team in the country, deservedly so. They are scoring on average 94 points a game, beating opponents by an average of 20 points, and have knocked down No. 3 Iowa, No. 5 Kansas, No. 11 West Virginia and No. 15 Virginia, putting 98 points on the defensive-minded Cavaliers.  They have four guys and nearly a fifth averaging in double figures – Corey Kispert and Drew Timme are averaging 20.6 points, Jalen Suggs is at 15.6, Joel Avayl is scoring 10.4 and Andrew Nembhard is at 9.4. Kispert is a 6-7 senior from King's High School in Edmonds,  Timme is a 6-10 sophomore from Texas, Suggs is a 6-4 super quick freshman from Minnesota, Avayl is a 6-5 redshirt  junior from France and Nembhard  is a 6-5 junior from Florida. The national media, especially on the East Coast where much of the media power is concentrated, have had a hard time justifying Gonzaga over the years because, well, because they are on the West Coast and from a small private Catholic school in a state so far Northwest some along the Eastern Seaboard think Washington is in Alaska. Slowly the powers that be are waking up to Gonzaga and giving them their due. But one misstep and the Zags will pummel downwards in national polls.  That's alright. I'm used to small Catholic schools getting shunned. I grew up on St. Bonaventure basketball. The Bonnies (they used to be the Brown Indians before  political correctness became the thing) had some really good teams in the 1950s, 60s, and 70s (Bob Lanier's time there)and with Niagara and Canisius form the Little Big Three, a three-way rivalry among Catholic schools that dominates conversation in that neck of the woods. As long as I live, I will always remember Tom Stith, who starred with St. Bonaventure in the early 1960s. Stith was one of the best college players I ever saw. Nobody remembers him, but he was amazing and once scored 69 points against the Cleveland Pipers, a semi-pro team owned by George Steinbrenner. I'm going to close with his story that was written a long time ago, but illustrates the glory years back when I was a kid listening to the St. Bonaventure Brown Indians on my upright Zenith Radio late at night while lying in my bed in New York State.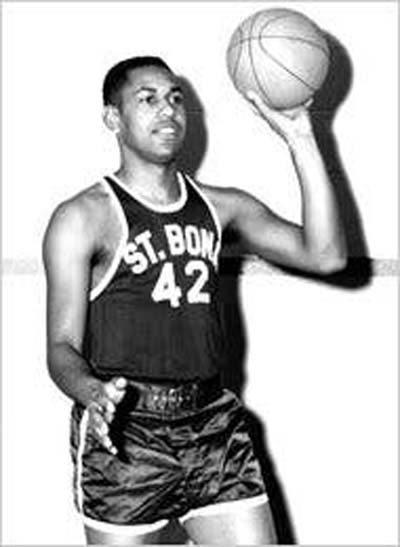 TOM STITH
By Mike Vaccaro,
New York Post
This was written June14, 2010
Please do yourself a favor and read my colleague Peter Vcsey's wonderful tribute to Tom Stith, one of the best players you probably never heard of, the Knicks' first-round pick in the 1961 draft, second overall, a man whose brief post-college basketball career could fill a whole chapter of a sports What-If book.
I went to St. Bonaventure, a place where Stith's legacy lived on in all its majesty for each of the last 49 years since he helped nudge the Bonnies to the precipice of the big time. St. Bonaventure – and its hometown, Olean, N.Y. – remains the kind of small-town harbor for big hopes and bigger dreams. It remembers its heroes forever. And requires that any newbie who shows up and wants to care about its program understand all about what it used to be, as well.
Most of the locals' laments center around 1970, when the Bonnies – led by future Hall of Famer Bob Lanier – were a Top Five team and qualified for the Final Four in one of the two years when the rest of college basketball felt it had a shot at a title – the years between Lew Alcindor's reign at UCLA, and Bill Walton's arrival. But Lanier blew his knee out in a regional final romp over Villanova, and for 40 years folks in Western New York have wondered what might've happened if Lanier had been able to play Artis Gilmore and Jacksonville in the national semifinals, and then Steve Patterson in the finals. No one will ever know. Ask someone up there about it sometime; be prepared to stay until closing time.
Stith, in many ways, provided an even more haunting wonder. Nine years earlier, a team led by Stith, Whitey Martin and Freddie Crawford took defending champion Ohio State to the wire of the Holiday Festival at the Old Garden, losing a two-point decision that many old-time Garden patrons still recall fondly. That Bonnies team was flying, riding a 99-game winning streak at home, a civic favorite everywhere in Western New York.
"I was 10, 11 years old," Lanier told me once, recalling the many nights he would watch the Bonnies play Canisius or some other featured team at the old Buffalo Memorial Auditorium. "And I thought Tom Stith was Superman, only cooler. He was the most magnificent basketball player I'd ever seen."
The story from there is even sadder than Lanier's; at least Lanier had a good decade and change in the NBA, became an All-Star, fulfilled his destiny. Stith and Crawford contracted TB. The 99-game winning streak came crashing down in a heap one night at the Olean Armory against Niagara, with Sports Illustrated in the house to record what everyone expected would be an easy hundredth. In the NCAA Tournament – an event the Bonnies had spurned the year before because the team's African-American players wouldn't have been allowed to stay with their white teammates – they lose meekly to a Wake Forest team led by a guard named Billy Packer. And soon enough, Stith would have his ruined lungs tended to in a sanitarium.
"There are tragedies worse than what happened to Tommy I suppose," Eddie Donovan told me years ago. Donovan was sitting in his office at St. Bonaventure, back working at his alma mater in a fund-raising role after spending 25 years in the pros, helping build both the '70 Knicks and the old Buffalo Braves.
"But there is never a time when I think of Tom and I don't want to cry. I mean it. Every time. Here was a kid who had it all, who was strong and tough and indestructible. Look, it wasn't as bad as what happened to poor Mo Stokes, who really did lose everything once he got sick. Tom's had a great life, and I'm grateful for that. But there is tragedy to the fact that people know who Elgin Baylor is, and they know who Connie Hawkins is, but hardly anyone knows who Tom was. I thought he'd be a household name. And it wasn't meant to be. People should remember him."
In one corner of Western New York, anyway, they always will. My friend Jerry Carr, who was a freshman at St. Bonaventure in that wonderful and ill-fated winter of 1961, said after hearing of Stith's death yesterday at 71: "It was magical. I can still see him scoring on that jump shot in the corner. And he was a class act."
Ok, that is it for today.
Be well pal
Be careful out there.
Have a great day.
You are loved.