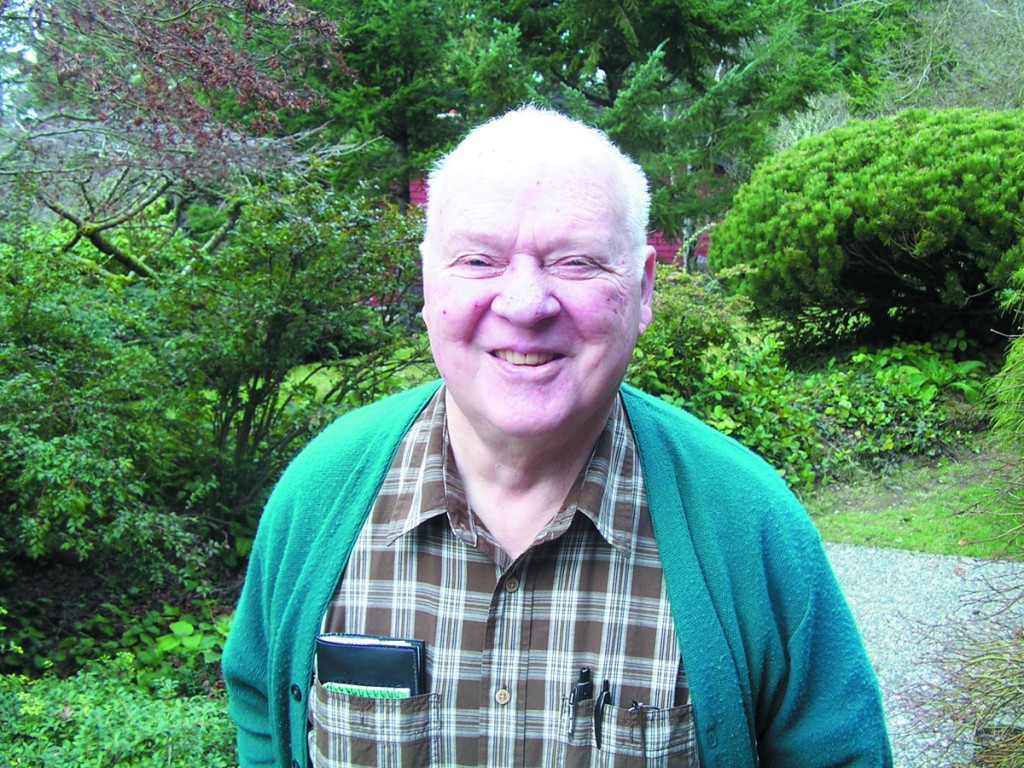 HARLAND BEERY
One day I stopped by to visit my widowed father who was living alone in the family home. He was deaf, wore hearing aides, but when alone – either at home or fishing in one of the local rivers – he took out the batteries and carried them in a small metal box in his pocket.
It was easy to keep track of him when he fished because the batteries rattled in the small box.
I had drive down the gravel driveway and parked in the back yard, rattled the back door (hooked from the inside), and got no response.
Our front porch was glassed in with drop windows at either end for warm-weather ventilation and an inner door to the living room was also closed. Using my keys I let myself in without getting any attention.
As I opened the living room door my father dashed from the bathroom hallway, across the dining room, headed for the kitchen, and talking to himself: "I never knew growing old would be this way! But it happens only once!"
Unwilling to startle him (he obviously had pocketed his batteries), I backed out and banged on the doors until his attention was gained.
IT HAS TAKEN me a few years to understand fully what he was going through. This is not a complaint, because circumstances have left us in pretty good position. Eunice, my wife of 58 years, is still alive and alert and we have a 46-year-old single son living with us.
Erik, the son, is our landscape manager and groundskeeper, except when Ronald, 51, married with two sons, and employed stops by.
Ron is more attuned to his father's wishes than Erik, and often brings appropriate equipment (sometimes including a grandson) and satisfies my wishes without consulting Erik.
But the sons and grandsons get along, share my pickup when they like, and keep our oversized lot livable.
We live on a cul-de-sac with neighbors north and south and have always had good relations with both of them. So what more can we ask.
 MY FRUSTRATION is memory loss. We have witnessed friends and relatives who suffered from aging, even Alzheimer's, and in so doing lost contact with their world and ours.
On a Thursday morning last month we were having breakfast with Fred Lewis, my 100-year-old buddy, and his lady friend, when the subject became sandwiches.
One of my comments was: "My favorite sandwich is a … " My mind went blank!
No one particularly cared to know my favorite sandwich and our chatter continued.
All weekend my memory challenge was the identity of my "favorite sandwich."
Not to worry. Our Sunday-after-church group gathers at Arby's. My sandwich is one listed and pictured above the counter. And there it was. Under the circumstances I ordered yet another Ruben (or Rueben) sandwich.
None of our group thought anything about it, and I didn't tell them.
THE FIRST TIME this my mind went blank was maybe two years ago while writing a story about Silverdale. It was the name of a street that escaped me. Not to worry, by the time I finished I would think of it. Not so.
First I looked in the phone book. They used to include local street maps. None of our phone books did that.
No worry. I knew a couple of people who lived on that street. However, both had side-street addresses and were no help. I couldn't find our county map. It was probably in the car. Eunice had the car.
Two hours later, Eunice got home and I asked her what was Myhre Road called after it crossed the Bucklin Hill Road?
"Tracyton Blvd, you dummy!" was Eunice's sharp answer.
 AS AN INTERN at the Yakima Herald-Republic it became apparent a lot of people quit talking when a reporter opened his note pad and started writing. My problem was one that every reporter has had, and was mentioned to Elwin Nellis, a veteran newsie on our copy desk.
He said I had to work on the memory business. Get as much information as you think you can keep, step behind a door and a support column, write as much as you can, and repeat. He said I would be surprised at how well my memory would expand.
Elwin was right. My belief is that it wasn't so much a memory problem as a concentration problem.
By the time I became a sportswriter I could remember scores, dates, and times – all kinds of things. Of course personal interest in what you are doing, or reporting, has something to do with it.
WRITING LISTS has helped overcome memory loss. When recall of certain situations, friendships, teams, etc. capture my attention I have written lists and put them in a small box, so when a story of subject comes to mind I can go to my collection and find the appropriate list.
You guessed it!
Now the problem is remembering where the box is hidden.