By Terry Benish
Special to The Sports Paper
Ryan Divish of the News Tribune did a great survey of the season that was in that he used a broad rake and covered the whole calendar. You can view the story at http://www.thenewstribune.com/2013/10/06/2824042/roster-bullpen-factored-into-woes.html
It's a great take on what went past, just now.
When you were a kid did you ever count cars on a freight train as they went by? It requires great and steadfast focus to not miss cars and not lose count or double count. One hundred and sixty two games just went by ‑ while staying in the metaphor‑ 91 of them were one kind of car and 71 another.
Having watched and read more game recaps that I care to try to enumerate, I can say that Divish is rare. Good writer, fearless and he actually understands baseball, which has to put him in a rarified place indeed. We once had a twitter fight, but it got ironed out.
Tom Wilhelmsen did fall apart as Divish recounts, and Texas led the American League in save percentage at 81 percent while the Mariners were fourth worst at 65 percent. The Mariners were fourth in the AL in save opportunities with 66. They converted only 43 of them.
If the M's had converted at the same rate as Texas they would have saved 53 games, which would have changed their record to 81 wins. That would have made them almost a .500 team. While that is compelling, three out of five bad starters drove the failure in the pen.
I came to praise Divish today, for that piece by Divish above includes a significant debrief of Eric Wedge, who knew he was quitting, according to Divish, so he was more open perhaps.
Buried within Divish's piece Wedge describes the abject failure from spring training to regular season with some detail. He talks about the failure of Jesus Montero, Dustin Ackley, Michael Morse, Brendan Ryan, Jason Bay, and Franklin Gutierrez and the bad pitching.
Wedge also laments the difference between spring training and reality just a few weeks later.
"Where we were in spring training and where we were very quickly after that, were two very different things," Wedge told Devish. "We were right back in rebuild mode."
When I read that I said to myself, "Eureka!" Because folks, and I have to hope I still have some readers left, that is what I'd written going into the season.
I said then that the rebuild was over last winter, that the team's intent was to win with a bunch of dumpster diving retreads for no money expended.
So when Wedge says that the geezers all broke down and "We were right back in rebuild mode," then that means all other things equal that the Mariners abandoned the rebuild plan in the winter of 2012.
I asked Divish if he thought it was an important point and he said, "I don't care!"
But I care a bit, at least to get to the bottom of things. Or near the bottom anyway, not being a deep-sea diver of note.
At or near the All-Star game break, one reporter and columnist after another in Seattle began to harpoon Jack Zduriencik for the failure of his rebuilding plan. I think he's an ok target, but shoot him for the right reasons as it were – that's figurative of course, so don't go buy a gun and let loose on him or anybody else.
Please don't.
Let me not pass by that too fast. I'll type slower. If the team had abandoned the rebuilding plan in the winter of 2012, then it didn't fail per se in the first week of July. What failed was geezer ball or the ridiculous notion that there are good old players in dumpsters across America that will play for nothing. The kind of nothing I need now, but nothing compared to the high priced guys.
So when Wedge said they were right back to rebuilding then, which as the Cameron article from yesterday showed, the kids did NOT fail, the geezers did.
So the year-end comes and we have Wedge's Last Stand, which the Mariner's spin was about damned kids etc., and Wedge saying he's out of dodge. Howard Lincoln comes into focus and says he – Howard ‑ saved baseball and it's all Jack's deal, the baseball that is, and Howard sees himself as a kind of a docent for baseball in Seattle. That's a big word. Properly used it is some rich person that learns about a museum's stuff and teaches and talks about it for no pay.
Howard is paid and dodges bullets best (see http://blog.thenewstribune.com/mariners/ for Lincoln interview.
For an hour or so Howard dodged and parried questions from our man Divish and seemingly doesn't say anything or accept accountability for anything. He remakes statements about maintaining the experience for non-baseball fans that come to games that he had made to Art Thiel some years earlier for Thiel's book.
Yesterday I asked the reader the question about Jack Zduriencik, about who he was talking to in terms of his kid stuff-statements. In this dialog it seems Howard is buying in to Jack's jabberwocky, or perhaps it is just some larger kabuki theater and previously scripted for the fan's sake. You be the judge.
What's it all about Alfie?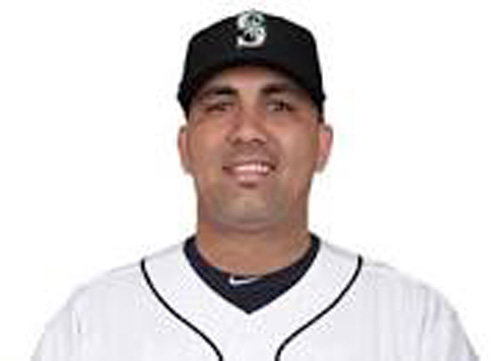 Kendrys Morales
The sort of stalwart in the Mariner lineup last summer was Kendrys Morales. His Agent is Scott Boras. It seems Kendrys was heard to say yesterday something to the effect, "I laugh at your qualifying offer and I spit on it" My source is a little shaky, so take it for what you will. He could come back and I might be selected to be the new Green Lantern, but shoot who knows.
In 2013 Morales was not Babe Ruth to be sure. He had 64 runs scored, 80 RBI, and a slash line of .277/.336/.449, adding up to a .775 OPS. In all of major league baseball, for batters with at least 300 plate appearances, he was ranked 75 on the best hitter list.
To put that in perspective, since he was the M's second best hitter on that basis, each team had between two to three better hitters than did the Mariners.
If you drill down into teams ‑the winning teams in the American League ‑ Oakland had three players that were better offensively.
And Kendrys does not really qualify defensively. Texas had two better in Beltre and Nelson Cruz, and they scored 107 more runs.
Carlos Santana, Jason Kipnis and Yan Gomes for Cleveland were better and all three played defense too. Detroit had six hitters that were equal to or better than Morales: Miguel Cabrera, Prince Fielder, Jhonny Peralta, Torii Hunter, Omar Infante and Victor Martinez. Boston had six as well: David Ortiz, Mike Napoli, Daniel Nava, Jarrod Saltalamachia, Shane Victorino and Dustin Pedroia. For the Rays they had two: Evan Longoria and Wil Myers.
That is a long recitation to be sure, but what it goes to show is this: Kendrys is not the same player he was before he hurt his ankle. Look at his splits, left or right, home and away he was consistently ok to good.  He had two awful months in June and August, and his early part of the season was a little bit better than the back end.
So he was not bad, but not great.
Having made their offer to Morales and been spurned, the Ms get a pick if he signs with somebody else.
If he signs, that is.
He does not represent the Promised Land and $14 million for what he is as a player is steep.
The Mariners released Henry Blanco yesterday. He was the catcher that fell out of the Jesus Montero/Kelly Shoppach fiasco that saw Mike Zunino arrive in the majors awfully soon.
Blanco turned 42 in August, and according to Baseball Reference had 16 years in the bigs, which suggests he made it to The Show really late.
He played three games with the Dodgers in 1997, then, did not return until 1999 with the Brewers. His last semi full season was in 2004, almost 10 years ago with the Twins when he hit.206 and had an OPS of .628.
For one team or another he hung on for nine more years.
Blanco's one skill was throwing and even this past summer he did that well. He has always been a bad receiver, letting up a lot of passed balls and wild pitches (just a disclaimer for future reference there are rules that distinguish between the two, but they are so poorly applied that I add them up). Same thing happened ‑ ball got away from the catcher. He seemingly never could not do it, or didn't care and, here might be some insight, believed that he would only be measured by throwing and hitting over the long run.
So he and his very old tattoos on his arms are gone.
The Mariners picked up a 24-year-old centerfielder from the Angels named Travis Witherspoon. Last summer he hit .214 at the Angels AA team.
One scout in Greg John's blog compared him to former Mariner Mike Cameron. When Cammy was 24 he was at AA in Iowa and had an OPS in excess of 1000. So the  comparison might be a stretch.
Next substantive order of business might be a new manager after the World Series.