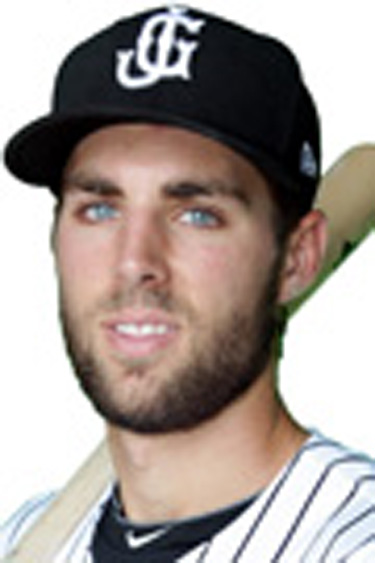 Chris Taylor
By Terry Benish
Special to The Sports Paper
In the Arizona Fall League, the Mariners have two players and three pitchers performing. By far the standout so far is Chris Taylor who is a shortstop that played for High Desert and Jackson this past summer. Simply put, he hit, hit and hit some more.
Although Taylor's listed as a second baseman on the roster, he's playing primarily shortstop this fall. He has a gaudy line ‑ .467 on bag and a .480 slug for a .947 OPS.
While he hit some homeruns in long A for HighDesert, his power is based on gap hitting paired with great speed. He had 38 stolen bases with only five caught stealing. He is yet another seemingly ready for prime time ACC player picked by the Mariners last year in the fifth round.
Taylor is the third player in the middle of the infield with that pedigree. The others are Dustin Ackley and Brad Miller.
Nick Franklin is the outlier, being a high school draftee from Florida. Franklin is younger than the other three and is probably the best shortstop. His range and arm are fine.
Taylor is the second best shortstop and Miller brings up the rear. Ackley this summer played second base, centerfield, left field and first base. His short fall defensively is that he has a really dead arm. No life, no distance, which given his rotator cuff and labrum surgery in college is not surprising. He also did not get to many baseballs. I'm prefer to use range factor versus ultimate zone rating, because well it's just the straight numbers and doesn't rely on applied algorithms to videos as judged by some guy in a basement.
Michael Saunders is a much better player than Ackley.
Ackley though is on a major league contract, is a former first round pick and figures to be somewhere in the mix. His offensive resurgence was built largely on a strong August, but he fell apart in September and looked like the past two years, which is to say not good.
The best thing to remember about all of this is how you get the best players on the field. It involves projection and evaluation, numbers and what the eyes of the management suggest to the player development people. The Mariners apparently ignore what any of the performance numbers tell them and rely on their draft evaluations. Their scouts tell them that Miller will adjust and catch more balls as he learns the league.
There have been off-record remarks the M's see Taylor as a utility guy and are very down on Franklin. It is too early to pick what the team will be like coming out of spring training, but the preferences today would seem to be Miller and Ackley, maybe Franklin but it seems to favor Ackley at second base. Awfully early to ignore what the actual results in the field are telling them, for all the players good and bad.
Similarly, as it plays out in centerfield, the candidates are Saunders, Ackley and Abraham Almonte. Almonte has all the organization's acclaim as being a great centerfielder, except that it does not show up in any of his defensive numbers, beyond a strong arm. He does not get to balls, due to bad routes or whatever; which suggests that he does not show he's a centerfielder.
Saunders is better than both of them.
According to Ken Rosenthal the national correspondent for Fox Sports, the Mariners will sign Jacoby Ellsbury for six years and $126 million. In all likelihood that was a plant from Ellsbury's agent Scott Boras. Historically, Boras has used the Mariners as a stalking horse for his type 1 free agents to get them top dollar.
If the Mariners were negotiating two weeks ago with Boras and he leaked that to Rosenthal it is highly unlikely they would continue. From Alex Rodriguez forward the Mariners have not signed a single one of Boras' top players. There have been players that were low end and were Boras' players that the Mariners signed, who could not play a lick.
So it is unlikely the M's will acquire Ellsbury.
There are two other free agent centerfielders that can be characterized as "offensive" in Shin Soo Choo and Carlos Beltran. Both are really rightfielders, and Beltran did not play in centerfield this year.
All three of these players will have multiple bidders for their services. I can't see the Mariners succeeding with any of them to come to Seattle.
So who is the best second baseman in the entire Mariner organization? The simple answer is Kyle Seager, in all ways.
Well if they moved him to second, who would play third base?
In the long term the answer is D.J. Peterson, the team's first round pick from last year.
What does that all mean?
Well simply put, the Mariners can trade Ackley, Franklin and Taylor and get a third baseman…maybe. The last two might be a better shortstop than Miller, who might be a right or leftfielder and could be put out there to hit with power.
Are there any good free agent third basemen that would come to Seattle?
The short answer is there really aren't any that are good, or even somebody like Juan Uribe, who would not come here.
So maybe they hold off until June and then bring Peterson up and make the trade.
Maybe they trade Seager instead if one of the guys at second base breaks out.
Ok, so I've rambled about three positions second, short and centerfield. It is a situation where the organization has to make the right choices with the players they have rather than free agents they can't get.
It should be interesting.