Bumming around town with Bill Bumerton
Bumerton is a retired Navy fighter pilot who had been missing in action for several years while he traversed the globe looking for greener grass. He discovered the grass is only greener here (it's blue in Kentucky), so he returned to again take charge of his 1954 green Hudson Hornet that had been in storage, refilled his pipe, and is continuing his smokin' ways. Here is what he recently told us at the Sports Paper.
Big Dawg, State of Washington Sports Hall of Fame executive director Marc Blau passed the following stuff on to me and you the other day. It's the latest hall of fame inductees, and I see they didn't follow your vote, which is good. Nobody wants to follow a loser. Here is what Blau wrote: Retired sportscaster Keith Jackson,"Throwin' Samoan" Jack Thompson and "Mr. Mariner" Alvin Davis are among a class of seven voted into the State of Washington Sports Hall of Fame. Joining them in the 2014 class are softball "king" Eddie Feigner, Indy 500 winner Tom Sneva, 11-time Gold Cup winner Chip Hanauer and retired NBA standout Detlef Schrempf.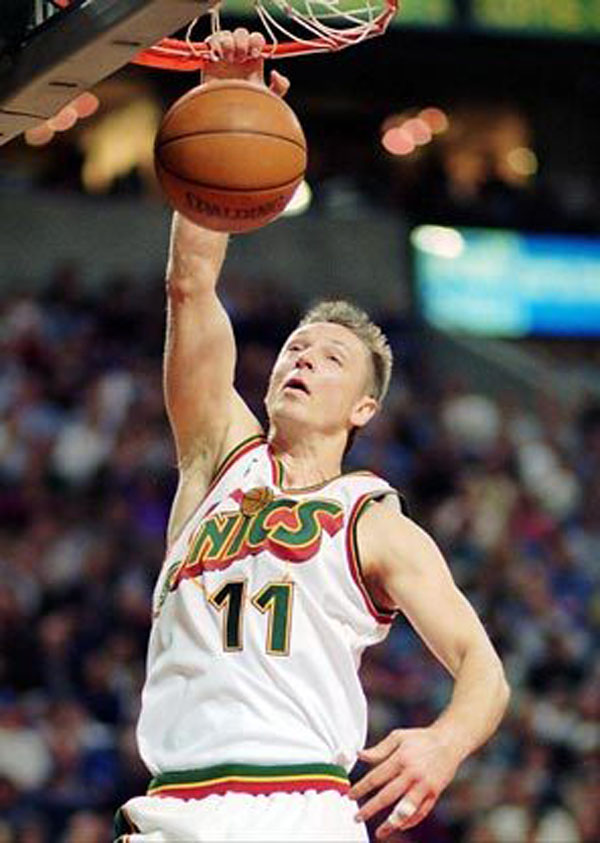 DETLEF SCHREMPF
"This is a bigger class than usual," Blau said. "The voting by our statewide panel was so close that we decided a larger class was justified. There also was a feeling among many voters that every one of these 2014 inductees absolutely deserved to be voted in and the sooner the better." Georgia-born Jackson got his start in broadcasting at WashingtonStateUniversity and worked for KOMO radio and then KOMO-TV from 1954-64. He is best known for his enthusiastic ABC telecasts of college football. Davis played eight of his nine major-league seasons in Seattle and was American League rookie of the year in 1984 and also was an all-star that season. He was the first inductee into the M's Hall of Fame. He was a lifetime .280 hitter and hit at least 20 home runs in three seasons. Thompson may have the best nickname in state history. The "Throwin' Samoan" was nicknamed by late Spokane Spokesman-Review columnist Harry Missildine. Thompson was the most prolific passer in NCAA history with 7,818 yards when he concluded his WashingtonState career. He is only one of two players to have his WSU number (14) retired. He was the third player taken overall in the 1979 NFL draft (by Cincinnati) and played six seasons in the league. He starred at EvergreenHigh School in White Center (leading Evergreen to a 33-22 victory over West Bremerton in the state playoffs in 1973). Feigner traveled the world with The King and His Court and dazzled softball audiences starting in 1946. Feigner, who grew up in Walla Walla, was the king and his court consisted of a catcher, shortstop and first baseman. They performed for more than 20 million fans in 104 countries. Sneva won the 1983 Indianapolis 500. He won season Indy car championships in 1977 and 1978. In 1977 he became the first driver to qualify for the Indy 500 at a speed of more than 200 mph. Sneva is a graduate of Lewis & Clark High School in Spokane and after graduating from Eastern Washington University was a school teacher and junior-high principal before becoming a full-time racer. Hanauer, a graduate of NewportHigh School in Bellevue who attended WSU, drove to 61 hydroplane victories including a record 11 Gold Cups. He entered the Motorsport Hall of Fame in 1995 at age 40, the youngest active racer ever inducted. Detlef Schrempf was a foreign exchange student when he led CentraliaHigh School to the 3A (then AA) state title in 1981. He was All-Pac-10 at the University of Washington then played in the NBA from 1985-2001 with Dallas, Indiana, Seattle and Portland. He made three NBA all-star teams and played in two Olympics, one for West Germany and the other in 1992 for united Germany. Sneva, Thompson, Hanauer and Jackson will be honored Aug. 28 in Seattle when WashingtonState plays Rutgers in the WSU season-opener.  Davis, Feigner, Schrempf and Gary Payton will be honored at a yet-undetermined Mariners' game. Retired Sonic great Payton was voted into the Hall of Fame last year but schedule conflicts prevented him from being publicly introduced as an inductee. The newest class raises the total of inductees in the State of Washington Sports Hall of Fame to 189. The Hall of Fame was started by late sportscaster Clay Huntington in Tacoma in 1960 and is located in the Tacoma Dome. The Web site is www.washingtonsportshof.com. … Dean Richards won the final Kitsap Scratch Bowlers Association tournament of the bowling season – Designs Unlimited Open – held at Hi-Joy Bowl in Port Orchard. Richards knocked off Lonnie Sharkey 235-186 to reach the TV Finale where he beat Mike Hansen, 237-183, to capture his third KSBO title of the season. … In the Miller Chiropractic 205 and Under Division, Brandon VanWinkle defeated Jerry Clark Jr. 178-177 in the TV finale to win his second KSBO title of the year. It was his second straight title win, having won the Non-Champions Tournament. This was the 41st season for the KSBO.