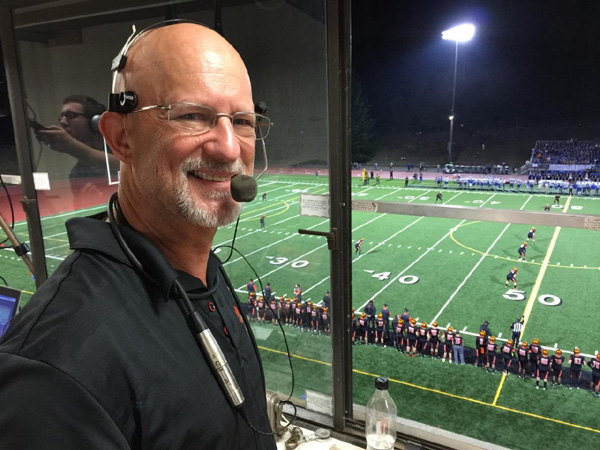 Silverdale Icon  Hanging Up His Spikes
By Larry Tuke
Special to The Sports Paper
After 17 successful seasons at the helm of the Central Kitsap Cougars' boy's golf team, Paul Stensen is passing the baton to a new coach and has retired.
"Stennie" was handed the reign in 1998 from another legendary district coach, Tommy Thompson, and was simply filling a coaching need as he had so many times for the Silverdale school. In his 38 years there he has coached every sport except wrestling, baseball, volleyball and basketball. And he has served as the public announcer for  three of those. Even though he is retiring from the classroom, you can still hear his resonant voice at many CK contests, including Friday night Cougar football games at Silverdale Stadium.
Stensen actually started the girl's soccer program in his second year at CK, and also coached the boy's team for over 10 years.
Stensen's retirement now means there will be at least four new area boys head golf coach positions need to be hired as Chimacum, Port Angeles, and Bremerton veteran coaches have also retired.
When asked about new plans, Stensen responded that he was going to lose a few pounds, and he started that by shaving off his hair.
Stensen is now playing weekly tennis with wife Cathy, and racquetball and some golf. He also has embarked on some detailed remodeling projects for his family.
Many locals also know Paul as a soccer referee after two decades of wearing the stripes on the pitch. He also fulfilled the assistant coaching duties for several sports including cross country, diving, tennis and football.
Stensen was an accomplished diver in High School and a field goal kicker for the Washington State Cougars, so each program was enriched by his expertise. He even coached bowling for several years, but found dealing with some of the students' parents less than enjoyable.
Bill Baxter, Athletic Director at CKHS, described Stensen as, "the guy who has been the backbone of our operation for years. He will be sorely missed because he does so much… not just the coaching and classroom instruction but all our audiovisual, announcing our games for three sports, teaching our staff how to operate equipment and now it will probably take three people to try and replace him!"
Stensen was regarded with affection by his players, who often quoted his puns and wry humorous anecdotes on the putting in practice rounds.
" I never believed in yelling at kids, but made certain that there were expectations," Stensen said. "Among my few regrets are the pictures I did not take of memorable shots my players hit.  I was always eager to watch the swing and the shot rather than photograph it, but there were some unbelievable shots, "
In his early golf coaching years, Stensen coached both girls and boys, however after separate teams evolved and tee times were tighter he found that he had to limit the  number on the team rather than having upwards of 16 golfers.
High school golf draws some curious expectations from students at times. A young man may have never played, yet shows up for tryouts ready to be handed golf shoes, balls and clubs and lessons.
Stensen recounts an incident in which a player made the team, " but decided to show up for a match in Bermuda shorts, Hawaiian shirt and flip flops. No, he was not allowed to play!"
In 17 years,  Stensen does not recall ever having a losing season, however the golf team was a perennial runner up to powerhouse Bellarmine Prep in the 4A Narrows League. He brought some outstanding players to the state tournament, garnering three top 10 finishes including several fifth place trophies.
The Cougars also won many regional championships including the Duke Streeter Invitational at the Peninsula Golf Club in Port Angeles and the Tim Higgins Memorial at Kitsap Golf & Country Club. In fact, his teams won a record five straight Higgins championships from 2010 until last year.
Stensen believes this area has some distinct advantages for young golfers. Kitsap Golf and Country Club with pro Al Patterson has been generous with sharing course time and equipment.
"The area's coaches have always been cooperative and I always liked the culture of the Olympic League," says Stensen. "However, the Narrows League (which CK has played in for several years now) has been dominated by Bellarmine and Olympia, so it was more challenging and involved playing all the Tacoma 4A schools on those courses.
"Both Bellarmine and Olympia had youth programs that fed players into their programs, which Kitsap lacks. I was fortunate that I had skilled players who would model and help other team members.
" John Hausdorf, J.D. Rastovski, Dylan Robbins, Logan Healy-Tuke, and Aubrey MacKenzie all qualified for state berths  and were outstanding leaders. Aubrey and J.D. actually played in the state Tournament all four years."
The 2009 squad was the deepest team with four players going to state (Healy-Tuke, Nick McDonald, Troy Means, and Eric Anderson) and two others barely missing the cut (Adam Hansen, Paul Caswell).
However, the 2014 group may have set the bar for most wins with a 10-1 League record, championships in the Duke Streeter and Higgins Memorial, as well as fifth place in the 4A Sate Tournament. The team was led by MacKenzie, Andrew Hansen, "Ace" Jacobson, Alex Townsend, Ben Milovich, and Chris Kwon.
Yes, Stennie is hanging up his spikes, but his footprints on the CK golf program, school district and its students will remain for a very long time.