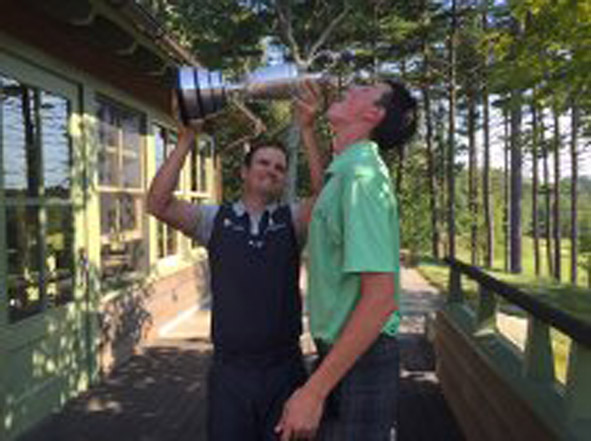 AUBREY MACKENZIE DRINKING FROM BRITISH OPEN CLARET JUG HELD BY CHAMPION ZACH JOHNSON
By Larry Tuke
Special to The Sportspaper
Aubrey MacKenzie, captain of the 2015 Central Kitsap High School golf team, played golf Tuesday (Sept. 1) with British Open champion Zach Johnson and three others from Tacoma at the prestigious Boston Golf Club. He also played with the PGA's six time Player of the Year, Tom Watson. PGA winner Kyle Stanley, who is from Gig Harbor and is a Bellarmine Prep graduate, also joined MacKenzie's group for several holes.
The golf round with the pro's, as well as a flight to Boston and hotel stay, were the prizes for winning Transamerica's national Trickshot Contest. Aubrey and his friends Michael Almonte, R.J. Manke and Brett Manke, all from Bellarmine Prep where they played high school golf, composed a brief video of their favorite trick golf shots which Brett Manke submitted several months ago.
"Most of the shots took 40-45 minutes to perfect and we had fun doing it." MacKenzie laughed.
Stanley, Watson and Johnson are part of Team Transamerica and made the nine-hole round an experience to remember.
MacKenzie started the round by skillfully reaching the first green in regulation – and then rapped his 40-foot putt 15 feet past the cup
. Everyone chuckled when Watson teasingly remarked, "Aubrey, you stroked that one like you were thinking about playing with a five time winner of the British open."
Watson opened up with the young men, sharing stories of his Stanford days.
"He told us he went there with no scholarship money because the golf team budget was only $8,000," MacKenzie said. "He also said his grades were not the best at times, and he had a little too much fun."
Watson's words may have been intended for Aubrey and Brett, who will be freshmen at The University of Washington next year.
Johnson challenged the four contest winners to a contest over the last four holes, offering PGA hats to them if they could beat him, foursome versus his score.
Over the last three years, these four high school players have dominated most Narrows League golf matches and tournaments that Central Kitsap and Bellarmine have entered, and they were up to the challenge. By the time they reached the final hole, two of them (Brett Manke and Almonte) were actually leading Johnson.
The wily pro decided to double down on the finale, offering a drink out of the historic British Open's Claret Jug to ANY of the four who could beat him. His chip on the last hole for birdie lipped out, and two of the young men actually birdied the hole.
"Zach was such a great sport about it," MacKenzie said. "He let us all take a drink from the Claret Jug. Playing with him totally revealed what kind of person Zach really is ‑ he is our favorite tour player now. He's not a fist pumper, but truly a nice guy."
MacKenzie, renowned for is long drives, said he outdrove Johnson, but that Johnson's short game is remarkable.
Johnson was also candid about US Open venue at Chambers Bay, describing the criticism of the greens as warranted but describing it as a great course otherwise.
MacKenzie had one important question that he asked Johnson: "How would you describe the difference between your feelings of winning the Masters versus the British Open?"
"The Masters was shock and awe," Johnson answered. "The open was awe."