TERRY MOSHER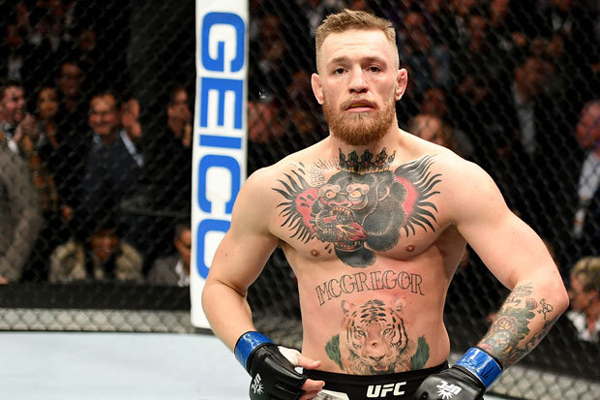 CONOR MCGREGOR
All empirical evidence says that Floyd Mayweather will become the first professional boxer to go unbeaten after 50 fights by beating Conor McGregor Saturday night in Las Vegas and then retires for the second time. Right now, Mayweather is tied with the late heavyweight Rocky Marciano (49-0) with the best unbeaten record in boxing history.
Mayweather is perhaps the best defensive boxer in history. He arguably is up there with Willie Pep who many consider the best defensive fighter of all time. Pep,  nicknamed Will O' the Wisp because he outboxed and outfoxed opponents with superior speed (he once won a round without throwing a punch) was a featherweight that won his first 62 fights and compiled a record of 229-11-1, relying on the same elusiveness that Mayweather employs.
Father time catches up with athletes at some point – even the great Muhammad Ali was caught –and I'm thinking he has snuck up on Floyd, who hasn't fought in 23 months. I like underdogs and McGregor, a mixed martial arts great, is certainly that. The last time I looked Vegas had him as a 12-1 underdog.
Maybe I'm thinking back to my junior high days when kids who couldn't walk and chew gum at the same time would run circles around me when we played soccer in PE class. I was considered the best athlete my age in school at the time and I still think about those times and wish I could go back and get another chance to throttle those suckers.
Or maybe I'm thinking about the time a friend of mine that was eight inches shorter wrestled me to the ground, wrapped his legs around me and easily pinned me. All I remember is I didn't like it and when he finally released me, I said, 'Okay, now we are going to box' and he took off running.
And, yes, he was faster than me so he escaped.
I don't know what it is, but I like McGregor to win this bout. I know I'm going against all the hype, all the experts who say Floyd will win easily. But I have had this feeling in my gut for weeks and I believe Conor will win.
What I believe will happen is that Floyd will do his thing and dance and move gracefully out of danger like Billy Conn did to Joe Louis in their first fight. Conn was the light heavyweight champion and decided he could beat the great Brown Bomber. And almost did.
Almost is the right word to use here. They fought June 18, 1941 for Louis' heavyweight boxing title. Conn outboxed Louis for 12 rounds and then got cocky. He tried to knock out the Brown Bomber in the 13th round instead of continuing to move and score points. Bad mistake. Louis knocked him out.
After the fight, Conn told reporters, "I lost my head and a million bucks"
Asked why he decided to go for the knockout, Conn famously said, "What's the use of being Irish if you can't be stupid."
Five years later, after both boxers had lost some ability while serving in the military, they met again and Conn didn't last as long. Louis knocked him out in the eighth round
Before that second fight, Louis famously said of Conn, "He can run, but he can't hide."
And he couldn't.
I feel the same way about Floyd. He's been running all his boxing life. It has made him millions (one of his nicknames is "Money") and he will make more millions for this fight.
McGregor is a self-assured guy (not that Floyd is not) and very aggressive. I see him being a bit reckless against Floyd and at times that will work against him. But it will also be an advantage because I don't believe Floyd has faced somebody like him, a man who has a lot of courage will do everything and anything to win.
I expect McGregor to catch up to Floyd probably in the middle rounds of this scheduled 12-rounder. Floyd will finally feel father time (he's 40 years old) tapping him on the shoulder and he will take some punishment that will end his run of being undefeated.
That's it for today. I also think, by the way, that Rutgers will give Washington all it can handle Sept. 1 when they meet in a season-opening football game for both back in New Jersey. I keep telling my youngest son – Michael – that Rutgers is going to win.
Okay, I'm just teasing Michael. I see where some odds-makers make Rutgers a 50-point underdog. That is stupid. Rutgers will put up a good fight.
My fight is over for today. I may go cut some brush. May is the key word.
Be well pal.
Be careful out there.
Have a great day.
You are loved.