TERRY MOSHER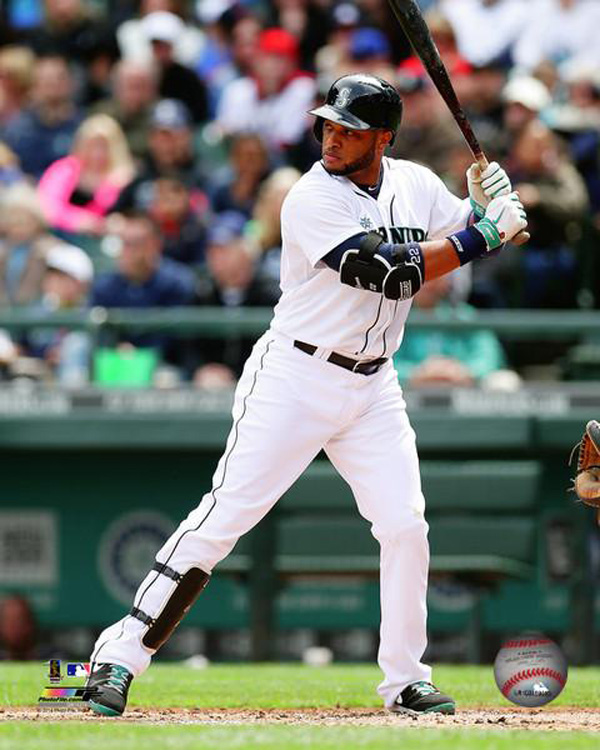 ROBINSON CANO
My head is spinning so it's about time to go back to the Boneyard again and get rid of some of these thoughts swirling through my mind. The past few months have been real crazy, and I'm not talking about politics either, which as you know has been more than a little crazy since the Trumpster got elected President.
No, this is about the sports world, which has rocketed in head-spinning fashion. There is the Robinson Cano news, the sudden emergence of what appears to be a super horse, and the Supremes dishing on professional sports owners by opening up sports gambling to a wider world, the Seahawks finding a quarterback not named Wilson and former Seahawk coach Chuck Knox leaving us.
Let's start with Cano, the 24-million dollar man (Yes, the Seattle Mariners signed Cano to a 10-year contract worth $240 million in 2014). So let me see if I get this right. Cano breaks a bone in his right hand when he gets hit by a pitch Sunday (May13) and on Tuesday we all discover he is suspended 80 games by Major League Baseball for testing positive for a banned substance, which we learned was furosemide, a diuretic that rids the body of excess water and salt. It also can be used to mask the usage of a PED, which is suspected in the Cano case.
Cano was tested positive for the drug prior to the start of the regular season, which trigged an 80-game suspension. He appealed the suspension, but dropped his appeal when an MLB investigation apparently found the reason he took it (and not because as he originally said he was given it by a doctor in the Dominican Republic to treat various medical conditions).
Why would Cano, a respected 35-year-old player that is on track for Hall of Fame credentials, do something that would tarnish his reputation?  He was hitting .287 with four home runs and 23 RBI when he was injured and in 13-plus seasons Cano has hit .304 with 2417 hits and 305 home runs, numbers that are clearly suited for induction into Cooperstown. But this drug suspension puts a possible trip to that upstate New York town on hold, and may be enough to exclude him from the HOF.
One of the better reasons why he did is because he probable wanted to live up to his $24 million dollar man reputation. After all, he's no spring chicken and will be 41 when the contract runs out. And he might have figured he could get away with it by using furosemide because users of banned drugs seem to always be ahead of drug testers, although not in this case.
Teammates Nelson Cruz and Dee Gordon have rebuilt their reputations after being caught using illegal drugs. Cruz, then with Texas, was given a 50-game suspension in 2013 for his connection to the Biogenesis PED case. Gordon was with the Miami Marlins in 2016 when he tested positive for Exogenous Testosterone and Clostebol and suspended for 80 games. Like Cano, Gordon tested positive before the regular season, appealed the suspension, but then dropped his appeal.
Money changes a lot of people, and not for the good. Once that big money comes flowing in you want it to continue. I think Cano could look down the road and see trouble on the horizon for his ability to play the game. The sad thing is his contract is guaranteed so he would have been paid even if he could no longer play it. Now he is suspended without pay for 80 games, which costs him almost $12 million in salary. He also cannot participate in an All-Star Game or the post-season.
The big question that nobody has asked yet is what will a drug-free Cano look like and play like when he comes off suspension in mid-August? Will he be just another baseball hack?
One thing for sure, we will find out.
Is Justify a super horse? We'll find that out soon enough, too. But he sure looked like it after winning the Kentucky Derby easily over a sloppy track. His winning time (2:04.20) was the slowest in eight years, but that may be because of the track conditions. So we'll see Saturday when he runs the Preakness what he is made of, but I expect him to win and take the Triple Crown at the Belmont on June 9, which happens to be my birthday.
I have no inside information that Justify will be a Triple Crown winner, other than he just looks the part. There are good bunch of 3-year-old this year, but some of them – Audible, Magnum Moon, Bolt d'Oro and My Boy Jack – will not be running against him at the Preakness. They apparently have seen the light.
Just don't go bet the house on Justify, because as we all know strange things can happen in a horse race and a winner could come out of nowhere to stun even the best experts.
But I'm all in on Justify.
Speaking of betting the house, the Supreme Court recently struck down a ban on sports betting in the United States and a majority of our 50 states is expected to allow it, once legislation in each state is passed. I would expect Washington to join in, but it's going to take a few years.
Sports betting is a hard thing to ban. We humans just want to do it. It's in our genes, I guess. I won't be doing it. I'm not a gambler and I have been turned off by a few friends I have had over the years that just could not resist taking their paychecks and spend it all on pinball machines (when it was still legal in this state to pay out winners) and poker.
I used to be a regular in the press box at Longacres because I loved the horses. But I was never more than a $2 bettor. And often I would be there and never bet a race. I have written before about the time I was having a hard time figuring out the seventh race at Longacres, and really wanted to place a $2 bet. But I just could not decide between several horses.
Then, I happened. I was telepathy told Summer Sunshine. I looked at my racing form, and there it was. There was just a few minutes left before post time so I raced to the betting windows and placed $2 on Summer Sunshine which was a 17-1 long shot.
Summer Sunshine won and I made $36 on my bet. About a year ago I was thinking about this and I said to myself, "Mosher, why didn't you bet at least $10. You could have made $180."
So it goes.
I was sitting at home in 2009 watching the Belmont Stakes and the talking heads were about ready to predict who they thought would win. And just like what happened at Longacres, I was telepathy told Summer Bird. None of the talking heads predicted Summer Bird. I guess they didn't hear me yelling at them, "Summer Bird. Summer Bird, you dumb heads."
Knowing who was going to win before the race started ruined it for me. I usually pick a horse out and get all amped up for the race to see how it will do. But knowing who was going to win –and Summer Bird won ‑was no fun at all.
That reminds me of this year's Kentucky Derby. I finally decided on Mendelssohn as my pick. Where was my telepathy friend from the "Other Side?" Mendelssohn won the UAE Derby by 18 lengths in March and was a favorite.
Mendelssohn got seriously bumped coming out of the game and was taken out of the race. It finished dead last by 73.5 lengths.
So much for knowing a lot about horse racing.
Who is Alex McGough?
He is the quarterback that probably will back up Russell Wilson with the Seahawks this year. The six-foot-three McGough played four years at Florida International, throwing for nearly 10,000 yards and 65 touchdowns.
The 220th pick in this year's NFL draft and recently signed to a rookie contract with the Seahawks, McGough, who was coached by Butch Davis at FIU, has been impressive in camp.
I believe it's possible that Wilson will not sign with the Seahawks after his contract runs out after the 2019 season and McGough will be the next starter.
Chuck Knox, who died May 12 at the age of 86 from dementia, coached the Seahawks for nine seasons (1983-91) and produced 80 wins and four playoff teams. He had a gruff exterior and a soft interior and grew famous for his Knoxisms.
"Play the hand you're dealt."
"Don't tell me how rough the water is, just bring the ship in."
"Ready for anything, but prepared for nothing."
"What you do speaks so well, there's no need to hear what you say."
Knox also was the first to start an African-American (James Harris) as the starting quarterback, with the Los Angeles Rams.
Tough guys, good guys, do leave us. Knox's departure hurts many, and it hurts further that he is not in the Hall of Fame in Canton. He should be.
That is about it for today.
Be well pal.
Be careful out there.
Have a great day.
You are loved.