TERRY MOSHER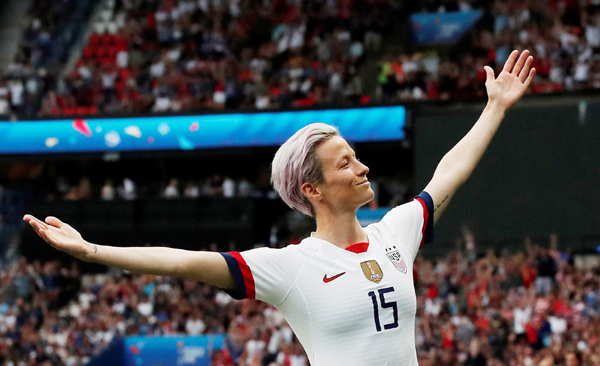 MEGAN RAPINOE
Probably the most disliked Seattle Seahawks owner, Ken Behring, died Tuesday at the age of 91. Behring and Ken Hoffman purchased the team in 1988 from the Nordstrom family and sold it to Paul Allen in 1997.
Behring became disgruntled with the political situation in Seattle with its failure to build a football stadium and actually moved the team to the Los Angeles area in 1996. When the NFL would not approve the move, Behring agreed to sell to Allen.
As much as he was disliked in this region, Behring actually did some good things with his life and his money, donating it to worthy causes.
Wow, what can you say about the soccer talent that is Megan Rapinoe? She is not just very talented, but a leader of people. They are attracted to her like a magnet to steel.
Then there are the two goals she scored against Spain in a 2-1 win that pushed the United States to the World Cup quarterfinals, and then today (June 28) she scored two more goals in a 2-1 win over host France to advance to the semifinals Tuesday against England.
Rapinoe now has five World Cup goals, which ties her with the most in history.
What I find most revealing about Rapinoe is her shot. She hits a very accurate bullet. French defenders played rough with her, knocking her down a couple times when you thought she would not be able to get up. But she bounced back up and fought on to lead the Americans to the World Cup semifinals for the eighth time.
The other thing I like about her is her ability to speak truth to power. She's not afraid to speak out honestly about the inequalities between pay for the men and women and she's the gold standard for the gay community (her and Sue Bird, the injured point guard for the Seattle Storm) are a couple.
I especially like people who stand up for their beliefs and aren't afraid to stand their ground in the face of cascading volume of hate, and that is Rapinoe. Stand tall and proud, sister.
­­­­­­­­­­­­
I have repeatedly said I like Kamala Harris. Again, like Rapinoe, I like strong people who aren't afraid to pile into the middle of a battle and fight the good fight. Harris is tough, intelligent and willing to get down and dirty and erase the stereotype of women sticking to the kitchen. She put Democratic front-runner Joe Biden in his place and captured the night in the debate Thursday night (June 27).
I would like to see a woman in the White House as commander-in-chief and right now it's Harris for me.
Ok, I will list my top five Democratic candidates. This list will probably change in the coming months as reveal themselves. But here is my top give right now:
Kamala Harris
Pete Buttigieg
Julian Castro
Elizabeth Warren
Cory Booker
If you notice, my five are all tough and can stand up to traitor Trump, which is a necessity. Bullies can be defeated if you stand up to them and point out the errors of their ways. And then slap them upside the head.
Be well pal.
Be careful out there.
Have a great day.
You are loved.