By Terry Mosher
Editor, Sports Paper
The year was 1965 and the New York Jets signed Joe Namath, Cassius Clay changed his name to Muhammad Ali, Temptations' "My Girl" reached No I on the Billboard Hit Parade, Mickey Mantle hit his first indoor home run at the Astrodome, Willie Mays 512th home run beat Mel Ott's National League record ‑ and East beat West.
Wait, what did you just say?
East beat West?
Yup, it happened in the third football game of the 1965 season at Bremerton Memorial Stadium. West Bremerton under its future Hall of Fame coach Chuck Semancik had beaten East Bremerton the 10 times they had met since the two schools were born out of Bremerton High School in 1956.
But on a crisp fall night at Bremerton Memorial Stadium the East Knights broke through and beat their archrival, 20-0. That was the beginning of a special year for East. The school would go undefeated and win the Olympic League football championship that season, and it would also win OL titles in basketball, wrestling, baseball and track and field.
Until that memorable night at Memorial Stadium, however, it had gotten bad for the East Knights in football. They were getting tired of taking the back seat to the accomplishments their city rival was getting credit for with headlines in the Bremerton Sun, the local daily paper.
"We had some good players come through the school, but we just never could really put it all together until that year," says Morrie Miller, a junior running back who would much later change his name to Morrie Black-Eagle
But things were building and building on the eastside of Bremerton like a steam kettle and some had a funny feeling that 1965 was going to be very special.
"I think people just kind of felt if there is a chance (for East to beat West), this is the year type of thing," says John Dearing, who alternated at halfback for the East Knights.
Guard Ray Magerstaedt, who would go on to have a long career with the Kitsap Sheriff's Department, says, "When we became seniors we knew we would have a good football team. We expected to win every game we played. We were very much team orientated. We played in our back and white uniforms – mostly black – and that gave us a lot of pride."
Many of the East football players had come up through the peewee ranks with teams – Manette, North Perry Sheridan Park – on the eastside and all were good at the same time.
"We came up through those peewee programs and kind of came together in high school," says Dearing, who lives in semi-retirement in Mesquite, Nevada where he does a little writing, some singing as a duet and plays golf.
Biff Strom, the East quarterback, now lives in Rancho Cordova near Sacramento and is in the pest control business. He said most of his teammates played eight or nine years together (and against each other) on peewee and Boys Club teams, and were on the East freshman team that went undefeated, winning all their games by one score.
"It' was either 6-0, 7-0, or 13-6," says Strom of that freshman year.
The next two seasons didn't go so well, but Dearing said things, "just kept building, building, and building. It was just a fun time, Kind of a magical year."
Still, in the third game of the season, East players were nervous as they entered Bremerton Memorial Stadium and watched West players arrive as if they were kings of everything they surveyed.
"I was almost nauseous," says Strom of the jitters he had before the game, fearful that maybe his team would again fall to West.
But this year was going to be different, and not just because that year Muhammad Ali knocked out Sonny Liston in the first round with a phantom punch, but because the year in sports in Kitsap County was going to be dominated by the school decked out in Black and White, the East High Knights.
And the football Knights of coach Dave Enslow would break the jinx that West held over them on the gridiron. Yes, the Knights would win that night before thousands, taking down the proud Wildcats en route to going 8-0 for the season.
"They had 6,000 at the game," says Bruce Welling, a backup quarterback for East, of the West game. "They were packed in at Memorial Stadium. People were lined all around the bowl."
Keith Gundlefinger was a junior kicker and end for East that year and beating West would be a big thing because, "We all grew up kind of in the shadow of West High and guys like Steve Bramwell and Norm Dicks. They had some really good players and good teams, so to beat them was really a big deal for us."
The score was tied at zero after one half with the game being played mostly between the 20s.
"At halftime one of their guys came up to (East tackle) Larry Love and said, "We are not as bad as you thought we were," said Ted Berney, then an assistant coach but who within a year would be elevated to head coach when Enslow left for Mercer Island. "Larry told him to wait until the second half."
Love was right. After halftime it was all East. Fullback Joe Mount scored the first touchdown and there was a big picture in the Bremerton Sun the next day showing Miller (Black-Eagle) giving the touchdown signal with his hands raised.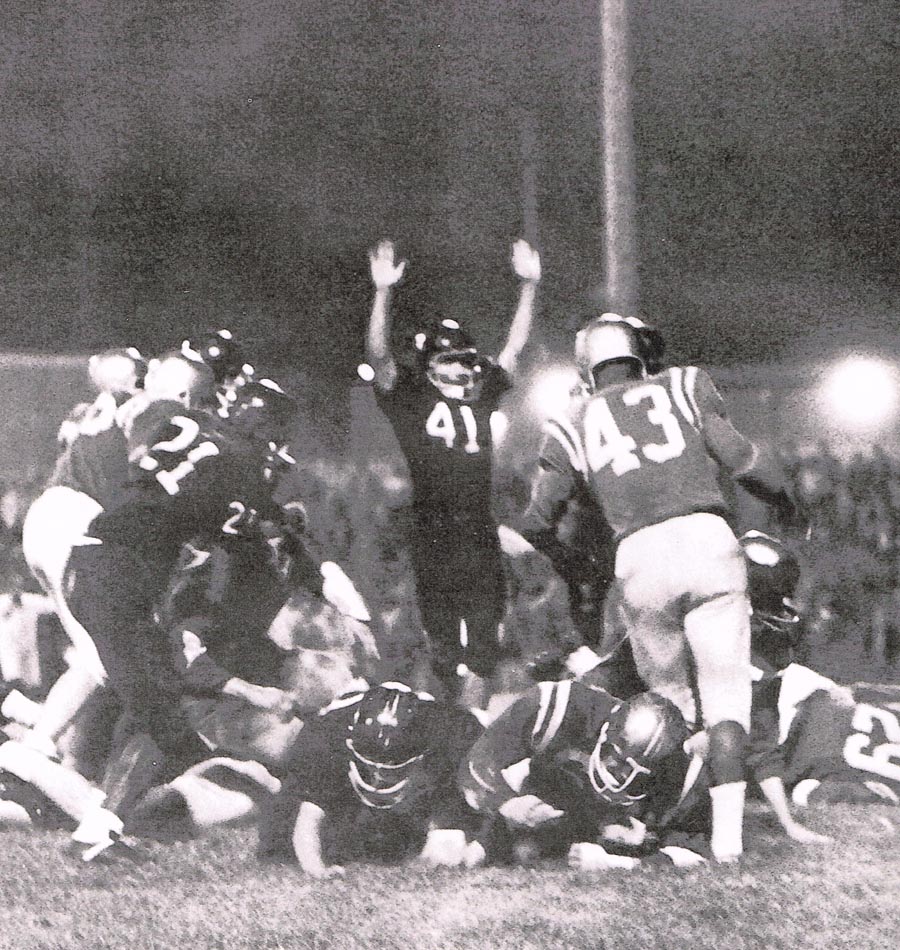 Morrie (Miller) Black-Eagle signals first East touchdown by Joe Mount in historical 20-0 victory over archrival West in 1965
That broke the ice and East went on to roll against the Wildcats, scoring twice more to break the 10-year jinx. Afterward, the Knights' bus detoured downtown instead of going back to East Bremerton and the players and their legion of fans celebrated wildly, although with discipline.
Of that first touchdown, Morrie Black-Eagle said, "The only thing I remember is we were in the huddle and they were going to call a halfback play, and I remember saying something to the effect a senior (Mount, the fullback) should take this ball in. Biff said, 'Ok, we'll call this fullback play.'
"The play went off right tackle. Joe Mount took the ball from Biff and we were in the end zone. I was blocking and the thing that stuck in my head is a picture of me standing up with my hands held high because we had scored.
"Then all hell broke loose. We were on a roll after that. We just built on that and moved up and down the field almost at will for a while."
Black-Eagle, who is the interim executive director for the Suquamish Tribe, says he believes he gained 86 yards in the game, and Terry Durst, the star running back for West, gained about the same.
East had opened its football season that year with a warning to others by beating a talented Mount Tahoma squad – it had wide receiver Bobby Moore, who later became Ahmad Rashad when he converted to Islam and then played in the NFL, and running back Ron Cey, who played 17 baseball seasons in the Major Leagues – 24-13 in Tacoma.
The Knights then went to Kelso to face a powerhouse that had visions of winning the state's mythical championship.
"We beat them badly the year before, and they were supposed to be a powerhouse," says Strom. "I don't remember the score, but it was like 40 to something. I think they were gunning for us."
There is an interesting story surrounding that game. Kelso was going to scout East's game with Mount Tahoma, but the game was held on a Thursday instead of being on a normal Friday night schedule. The Kelso coaches didn't know that, so head coach Otto Koefler instead sent two assistants to a Tuesday practice at East.
When East coach Dave Enslow discovered they were there, he sent his assistant over to tell them they weren't welcomed.
"Enslow said something about bush-league coaching," Black-Eagle said. "After that he checked everybody who came to practice."
That incident just added fuel to the fire that was building on the team.
"The kids were all fired up, says Ted Berney.
Another story is that after beating Mount Tahoma on that Thursday night, the East coaching staff went to Kelso to scout the Highlanders first game.  Berney says the coaches jammed into Enslow's car, but before leaving Bremerton they had to make an important stop.
"We stopped at Milt's Doughnuts (on Sixth Street) and got a big box of doughnuts," says Berney. "There was Enslow flooring the gas pedal to the floor all the way to Kelso, and there we were in the backseat eating doughnuts and looking out the back window for cops."
Kelso had a very good team, but the Knights prevailed 7-0 in a tough battle, souring the mood of the large gathering of loyal Kelso fans that had been accustomed to winning, and winning big.
"Calvin Pharr intercepted a pass from about 25 to 30 yards and ran it into the end zone, "says Black-Eagle of the only TD of the game. "During that game I had one play I was supposed to go up the middle. They (Kelso) kept smashing the middle and we couldn't get anything in there. I ran into the line and broke the play to the outside and had a clear shot to the end zone – and Keith Gundlefinger ran into me. He was going to escort me and he bumped into me and knocked me down."
Then came the historical first win against West. And if you think East could relax a bit because it had done something it had never done, forget it.
Enslow was a tough, old school coach who didn't believe in slacking off.
"He was a hard-nosed coach, but he knew what he wanted and he got the most out of us," says Black-Eagle. "He was pretty strong about discipline and had workouts after we beat West. They were the hardest workouts we had. He was a no-nonsense kind of guy when it came to practice and preparing for a game."
Fullback and all-Olympic League linebacker Rocky Hughes, who owns two Land Rover dealerships in New Mexico, says to this day he remembers three rules Enslow had that he will never forget.
"One, you never take your helmet off, "Hughes said. "Two, you never have a drink of water (that rule would not pass muster in this age), and three, you never talked to anybody."
Hughes also said that part of the rules was that you kept playing and kept looking for somebody to hit until you heard a whistle.
"My favorite day of the week," Hughes said, "was Monday because we would go into the film room – it was an old fashion deal – and Enslow would back up the film 11 times and watch every position. If you executed well, he went on to the next position without a comment. If you made a mistake or missed a block he would run the film back three or four times and chew your butt.
"When we won our first game, we came out of the film room feeling like we got beat 49-0. And that was the way it was the whole year."
After beating West, the Knights mowed down North Kitsap 23-0, Port Angeles 27-6, South Kitsap 45-0 and Central Kitsap 41-7 to set up a battle of unbeatens against the Shelton Highclimbers in Shelton.
This East team was solid on both sides of the ball, especially defensively. The Knights allowed just 26 points all year, and the one TD scored by Central Kitsap was a mistake.
"I muffed a punt on about the 10-yard line," says Black-Eagle. "I was the punt returner and the football bounced off my shoulder pads. They got it and took it in."
I was getting late in the first half and that lone mistake was holding up for a 7-0 CK lead. Enslow was fuming on the sidelines and Strom got into the huddle with just three minutes to go.
"Biff came into the huddle and said' Enslow is pissed," Mount said, "and I don't even want to think about talking to him at halftime if we are behind this thing.' So we march right down and score and tie the game.
"I don't even want to be close to Enslow," Mount added. "We go into halftime and Enslow was trying to make Xs and Ox on the chalk board, and the chalk was just shattering in his hand he was so upset."
After the South Kitsap game, assistant coach Jim Stelson got up on the bus on the way home and announced to the team that if it went undefeated for the season he would jump off the Bremerton ferry dock.
The Knights were ranked second in the state and Shelton seventh and both were unbeaten when the two met in Shelton in the final game of the season to decide the Olympic League championship.
According to Berney, there were at least a dozen rooter buses taking students, family and friends to the game. It was like a long caravan snaking down through Mason County.
This was a big deal. It seemed like the whole of Bremerton emptied out – well, at least the eastside.
Black-Eagle made a bet with a cousin playing for Shelton that the winner would give the other his helmet.
"You couldn't cut the air with a knife," says Hughes of the pre-game. "It was a big game. Both teams were undefeated. They had some big, bruising guys that looked really tough. Fog was rolling in and then they came out (of their lockeroom) in red uniforms and marched in unison numerical from number one on.
"It looked pretty cool," Hughes said. "It's a small town, but the place was packed. But we owned that game (winning 21-0)."
Black-Eagle got the helmet, but Stelson did not jump into the cold Puget Sound waters off the ferry dock.
Enslow put a stop to it.
"I don't want to ever hear that again," Enslow said, according to Hughes. "I don't want our football coach diving off the (bleep) ferry."
Hughes said things looked pretty good after the Shelton victory. The Knights had come into the Shelton game ranked No. 2 in the state and left undefeated for the season. But other teams, especially Seattle Prep, were also undefeated and played their rival games the next week while East was done for the season.
A bunch of East guys went to the Seattle Prep game in Seattle and all of them thought Prep looked awful big. But, still they thought they could handle Prep. But with hindsight of nearly 50 years, that thought has changed.
""We went over there and those guys were freakin huge and were playing in a big stadium," says Hughes. "But I thought we could beat these guys. But looking back, now I'm not too sure.
"One thing I do know, they would have known they were in a dog fight."
Yeah, that's about right.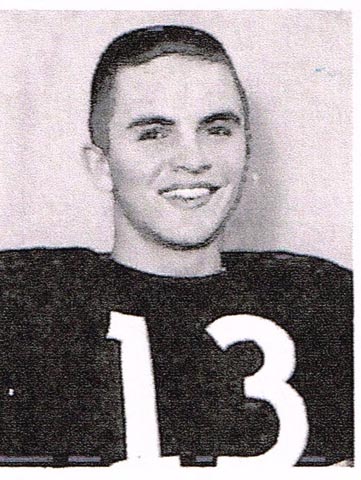 Biff Strom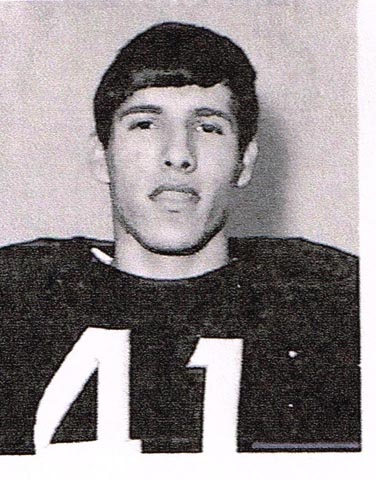 Morrie (Miller) Black-Eagle
Nine East players were named to the all-Olympic League first team. They were (Miller) Black-Eagle, Al Kravitz, Gundlefinger, Mount, Pharr, Hughes, Love, Magerstaedt, and Strom as a defensive back.
Strom gave credit to Enslow and his assistants for their success. They got the East Knights in the best shape they had ever been, and all that young talent that had done so well coming through the ranks came together as a cohesive unit that wasn't going to be denied one last chance to prove that unlike previous years when West was best and East was least, it was now East was best and West was least.
"We just beat other teams in the ground," says Strom. "That is what we kind of did. A lot of teams we just outplayed them as far as being in shape, usually more toward the second half and the end."
In the end, East finished fourth in the final mythical state football poll. They somehow slipped from second to fourth without playing a down. But in the hearts of their fans and people living on the eastside of Bremerton, everybody knew who was the real No. 1
The East Knights.