Bumming around town with Bill Bumerton
Bumerton is a retired Navy fighter pilot who had been missing in action for several years while he traversed the globe looking for greener grass. He discovered the grass is only greener here (it's blue in Kentucky), so he returned to again take charge of his 1954 green Hudson Hornet that had been in storage, refilled his pipe, and is continuing his smokin' ways. Here is what he recently told us at the Sports Paper.
The beat goes on with Washington football. New head coach Chris Petersen has just kicked off the team a player who punched another teammate in the face. It's another good sign that Petersen is going to do it his way, and that means with good character kids and attention to academics as well as putting good athletes in position to have success on the football field. I am liking this guy more and more, Big Dawg. And I also think that Bill Moos is building a good athletic program at Washington. Some people may not like his new basketball hire – Ernie Kent – but I do. Kent is a good character person who stresses good academics, too. He's also a good coach. Maybe the North will once again rise in the Pac-12.  The North already has a good start with the unexpected success of the Washington baseball team. … Warren Cox did the unexpected and upset Lonnie Sharkey in the finale of the 29th Annual Kitsap Scratch Bowlers Organization's Non-Champions/Champions Tournament held at All Star Lanes and sponsored by Don Holtz, Realtor and Talbot Excavating. Sharkey, the county's best bowler has 105 KSBO Titles on his resume and led the qualifying in the Champions portion of the Tournament. Cox, though, hasn't been paying attention to Sharkey's press clippings. He beat Sharkey in the title match 265-258. Brandon VanWinkle won the Non-Champions event, beating Travis Darting, 217-216 in the TV Finale. VanWinkle then won the King of the Hill title when he knocked off Box, 138-223, becoming the 11th Non-Champion to knock off the Champion. The final KSBO tournament of the season will be held Saturday (April 12) at Hi-Joy Bowl in Port Orchard. It's the Design Unlimited Open and the Mille Chiropractic 205 and Under Division. … We will find out soon just where two South Kitsap kids stand in relation to some of the better track and field athletes on the West Coast. Nolan Van Amen, a freshman that leads the state in the discus with a toss of 172-07, and Mason Villarma, a junior miler, are competing this weekend at the prestigious Arcadia Invitational in California. Van Amen is competing in the men's open against some of the best strongmen around and Villarma is running the mile. Van Amen is tied for 38th in the nation in the discus with two others, including another freshman, Bronson Osborn of Esperanza High School in Anaheim, California. … Central Kitsap senior Rose Christen is second in the state and is fourth in the country in the 800 with a time of 2:10.64. Camas junior Alexa Efraimson tops the state and is second in the country with a 2:08.83. Christen is first in the state and 42nd in the country with a 56.63 in the 400. … Olympic sophomore Jaleel Elmore leads the state in the 400 at 49.45. That time is 101st in the country. Jeffrey Green, a senior from Miami Northwestern, has the country's best 400 time of 47.27. … You were impressed, Big Dawg, by the turnout Thursday night at McCormick Woods for the Elton Goodwin fundraiser. Around 200 people paid $30 a pop to attend and help raise money for a memorial scholarship in Elton's name, and to help pay for the renaming of the baseball field and for the scoreboard at South Kitsap High School where he won three state baseball titles and won over 500 games.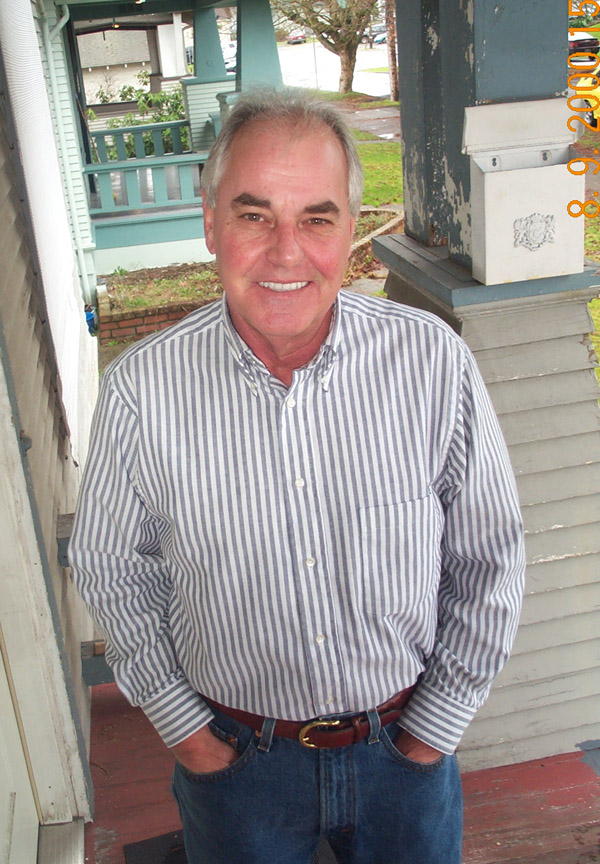 PAT WESTHOFF
And around 400 people attended the Pat Westhoff memorial at Our Lady Star of the Sea Catholic Church Friday in Bremerton. Westhoff died April 6 at the age of 67 from cancer. He would have been 68 on Friday. His two daughters – Heidi Westhoff Reyes and Wyndi Westhoff Prouse ‑ gave beautiful and very moving accounts of their life with their dad. Heidi posted this on Pat's Facebook page after the celebration of his life: "Wyndi, we are blessed! Today we buried our dad, Patrick Westhoff, eulogized his memory, and celebrated is life! Wyndi Westhoff Prouse…we did it! 400 people showed up today to celebrate our little dad! My life is forever changed but I am thankful for the beautiful years he was here! Dad, I left your glasses on the counter, put your coffee away, and made your bed with clean sheets just in case. I love you forever!" How beautiful is that, Big Dawg? He was quite a guy. Pat was not big – Heidi let the cat out of the bag at the memorial and said he was just five-foot-three – but he had a big heart, a big presence and huge determination to make a difference. He did that in spades. He will not only be missed, Big Dawg, but will never be replaced. If the City of Bremerton fails to name something after him it will be the biggest mistake it will ever make.