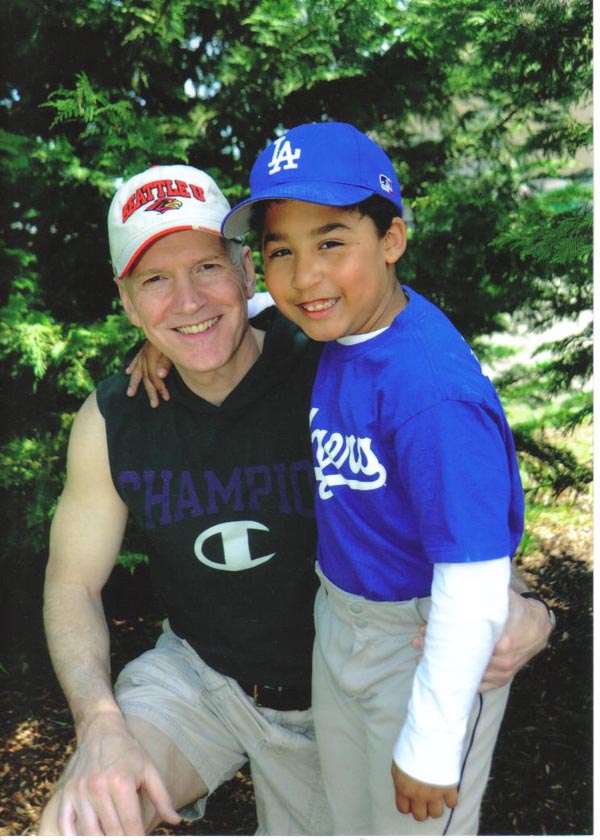 CLAY MOYLE AND SON CALEB
I participated in the hottest Spokane Hoopfest 3-on-3 event ever over the past weekend with my former Bainbridge Island High teammates Dave Campbell and Mike Livingston and Gonzaga rowing coach Dan Gehn and survived to tell the tale.
Livingston had warned us a week in advance to expect very hot temperatures and the forecast was pretty much right on the money. The city experienced record highs for the dates of June 27 and 28 with official temperatures of 102 and 105 degrees over the two days.
I've heard that it was probably as much as another 10-15 degrees hotter playing out there on the asphalt and I believe it. Liquids and more liquids were a must, as well as finding a place with air conditioning between ballgames to escape the heat and recuperate.
I've never played ball in that kind of heat before and it will suit me just fine if I never do again. But as Livingston said, it was a dry heat for whatever consolation that was. Of course, while his son's team played downtown on a street that was in the shade the bulk of the time, we found ourselves playing on an arena parking lot that was fully exposed to the sun throughout the day.
But, by a stroke of luck, we were also one of four teams in our 12-team over-50 competitive division that received first round byes. As a result, we didn't play our first game until 11:00 a.m. Saturday. But, it was already 91 degrees by the time we took the court.
Each game is played for a maximum of 25 minutes or until one team reaches 20 points, whichever comes first. Two points are awarded for any made shot beyond the arc and one point for anything else inside.
We entered the game knowing that a victory would earn us the rest of the day off and we wouldn't have to play again until 9:30 Sunday morning. We really couldn't have asked for a better draw and found ourselves matched up against a team that I felt we should have beaten. Unfortunately, unlike the temperatures we were playing in, Livingston and I were ice cold and must have combined to shoot something like 3-20 from the field and instead of heading for his lake property afterward we found ourselves in the loser's bracket and scheduled to play another game at 1:30.
So, it was off to Mike's air conditioned home to cool off and hydrate as we lamented our missed opportunity. But, before I put my feet up I went out and shot around on the hoop in his driveway to rediscover my missing shot.
By the time we took the court again at 1:30 that afternoon, I was told the temperature had reached 99 degrees. Luckily, the little bit of shooting I'd done in Mike's driveway paid off and I quickly drained my first three shots from behind the arc and we raced off to a big lead and managed to get off the court under the 25-minute limit.
But, that victory meant we'd have to play our third game of the day only an hour or so later at 3:00. So, it was off to a local watering hole within walking distance to find some air conditioned relief and ice cold lemonade to recharge our batteries.
In no time at all, we were back on the court under an unrelenting sun and I was told it was now either 101 or 102 degrees. Our opponents were playing their fourth game of the day but we looked and played like the more tired of the two teams and went down to a crushing defeat.
So, for the third time in as many years we were bounced from the tournament with a record of 1-2. I suggested to my teammates that a more appropriate name for team might be 'Three-and-Out' as that seems to be the norm for us.
While it would have been nice to make a deeper run in the tournament, I'd pretty much already resigned myself to the fact that we're not really very likely to do that with our current roster. Our big man has had two full hip replacements and hadn't picked up a basketball since last year's tournament.
And while I like to win as much as the next guy, I can't say that I was all that disappointed that we weren't going to play ball on Sunday when the temperatures were going to be even higher. The team that made it to the finals out of the loser's bracket in our division had to play four games Sunday in that parking lot hell. It would have been five if they'd managed to defeat the outfit from the winner's bracket when they met.
I've somewhat reluctantly come to accept a single victory at Hoopfest as a measure of success for the broken down former Bainbridge Spartans and whenever we can emerge from the experience without suffering any injuries as we did this year and enjoy some laughs it's all good.
We'll return again next year and hope for cooler temperatures.