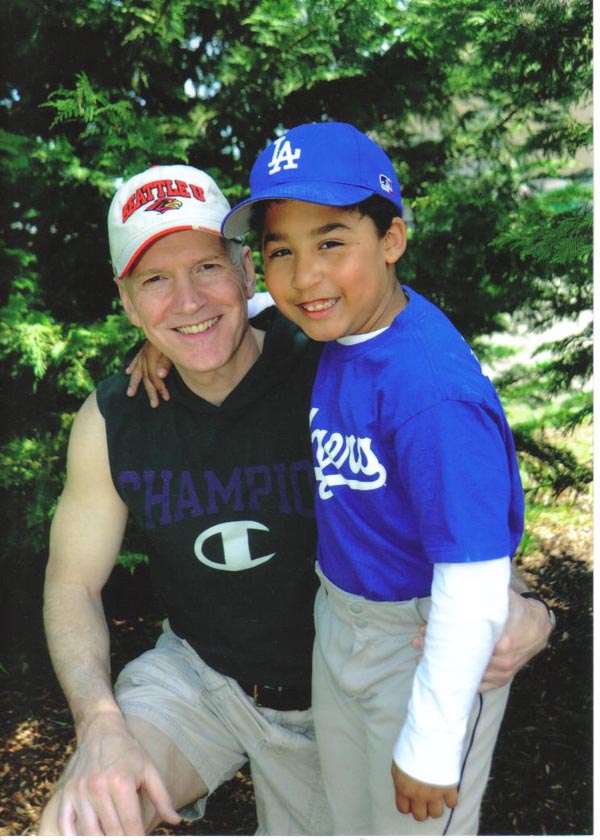 CLAY MOYLE AND SON CALEB
Dr. CURT BAXSTROM
By Clay Moyle
Former East Bremerton Knight Dr. Curt Baxstrom of Northwest Vision & Learning Center was a valuable contributor to the schools cross country, basketball and baseball teams during the late 1970s. His main sport was baseball, where he served as a steady middle infielder and enjoyed numerous successes during his career.
In fact, he split duty during his sophomore season with the 1976 junior varsity and the varsity baseball team that went on an unlikely late season run that led to a state championship under Coach Bob Battermann. The team was inducted into the Kitsap County Sports Hall of Fame in 2012.
I was a patient of the doctor for almost a year before we got to talking about basketball and learned that we'd played high school basketball in Kitsap county and only missed facing one another on the court by a couple of years.
East Bremerton was a basketball power under coach Les Eathorne while I was in high school and won consecutive state titles during the 1972-73 and 1973-74 seasons.
Curt was born in Seattle but his family moved to Bremerton when he was in second grade and he competed in the local Manette Pee Wee athletic programs. During the sixth grade he received his first pair of glasses from local optometrist Dr. Robert Black and not only began to see things more clearly but developed an interest in the pursuit of a career in optometry where he could make a positive difference in other people's lives.
So, once he graduated from high school, Curt attended Olympic Community College and transferred to Pacific University where he completed all the credits he needed to apply for Pacific's College of Optometry. He was accepted as the youngest student in his class as a result of the summer schooling he'd put in to speed up the entry process.
During his third year of schooling, he watched a television documentary and first learned of Dr. Robert C. Pepper, who was providing vision therapy services to local high school athletes and the Portland Trailblazers. Curt explained that this was back in the days when optometrists were primarily helping athletes with contact lenses, but were slowly expanding upon their role to assist athletes in visual performance and those who suffered concussions with vision therapy.
After watching the documentary, Baxstrom took the initiative to phone Dr. Pepper and asked if he could come and visit to learn more about the services he was providing. The doctor agreed and said he would share with Curt his vision therapy techniques by taking him in as a patient. This would allow Curt to experience firsthand many of the insights that Dr. Pepper had gained in his.
It was a bit of a financial and time commitment after graduating from optometry school, but Baxstrom agreed to spend a week working one-on-one with the man who then became his professional mentor.
"Pepper had a great way of explaining things," Baxstrom said, "and I followed that training up with some single-day training here and there."
It was the work with Dr. Pepper that Baxstrom credits with really jump starting his career. He and some other protégés of Dr. Pepper developed a course on his methods that has been provided for approximately the past six years. The purpose of this course was to continue to share the insights that Dr. Pepper had gained so that many other optometrists could continue to provide care for those with visual needs.
These visual needs were not simply the ability to provide glasses to see. More importantly it was to help those who were struggling in school and their occupations. Through this work many children and adults continue to succeed in life through various aspects of optometric vision therapy.
Upon graduation from Pacific, Baxstrom went to work in Dr. Black's optometry practice in Bremerton. But, after two years, he determined he needed to learn more about vision therapy and the best way to accomplish that would be to join a practice that was providing full-time vision therapy.
"There were no real college course programs for advanced vision therapy at the time," Baxstrom said. "The only way to learn more about it was to go and work in a practice that was providing those services."
He found such a practice in Fresno, California and spent the next three years working there under the direction of Dr. Shaw Yorizane before moving back to the Pacific Northwest with a plan to open his own practice, specializing in vision therapy and rehabilitation.
Shortly after arriving here, he visited all the optometrists from as far south as Olympia and as far north as Renton and asked them how far north and south they would be willing to refer patients for vision therapy. Federal Way was the primary answer so that's where he set up his practice in 1992.
Twenty-four years later, his thriving practice is still in Federal Way where he's providing invaluable visual services related to visually related learning difficulties (ADD/ADHD, Dyslexia, visual information processing skills and other academic aspects), children with special needs (Asperser's/Autism spectrum, Cerebral Palsy, Down Syndrome), strabismus (eye turning) and amblyopia (lazy eye) and visual issues related to acquired brain injuries (traumatic brain injury, concussion, stroke, and other neurological conditions).
I am one of his patients in the latter category, having suffered a mild traumatic brain injury and fourth cranial nerve palsy as a result of a fall off a ladder in September of 2015.
Immediately after my accident, I had blurry and double vision and went to see my local ophthalmologist. He said that I had fourth cranial nerve palsy, and that there was nothing I could do but rest and wait.
"There's an 80% chance it will clear up on its own, but if it doesn't you will likely have to wear prism glasses the rest of your life," he said. "You won't be able to go back to wearing contacts."
I left there feeling pretty depressed by the news. It didn't help that at that point in time I had to tuck my chin down toward my chest and use an upward gaze to avoid blurriness and there were multiple gazes that resulted in double vision.
But, another doctor in the rehabilitation department at Good Samaritan Hospital had strongly recommended that I see Dr. Baxstrom and as it turned out there had just been an appointment cancellation when we phoned his office and I was able to get in a few days later.
Dr. Baxstrom put me through a series of tests, had me perform a vision therapy tracking exercise involving the use of a small bean bag, and tested me again. I demonstrated a small amount of improvement immediately after the exercise and he told me he believed he could help me through the use of vision therapy with some appropriate vision therapy activities.
I religiously performed the various exercises morning and night, and sometimes more frequently throughout the day, over the next year. And many of the exercises along the way seemed downright nuts at times and even made me a bit dizzy and/or nauseous afterward. I'll get to one of those examples in a moment.
But, although the improvement seemed agonizingly slow and small along the way, I recognized continual improvement and stayed the course.
There were many milestones achieved along the way. For example, getting to a point where I could raise my head and shave below my jaw line with both eyes open and it no longer being blurred while doing so. That took a couple of months.
Another was to sit on the couch in my living room and look at a picture on the wall across the room and see how far I could tilt my head back until the picture split into two images. It was only about 6-8 inches for seven months. I can't tell you how happy I was when I eventually reached the point where it no longer split into two images while tipping my head back.
I'm convinced that milestones such as those and many others were achieved as a result of the vision therapy exercises that I diligently performed under Dr. Baxstrom's direction.
At the three month mark, I went back to my ophthalmologist for a follow-up appointment. He put me through his own series of tests and suggested I start wearing prism glasses.
"What? I thought you said it would typically take as long as 3-6 months to recover from this type of cranial nerve palsy!" I replied.
"That's true, but most of the improvement typically comes within the first three months," he dryly responded.
I told him I was seeing a vision therapist and felt as though I was slowly making progress and would continue along that path. He was very dismissive of vision therapy and suggested we meet again three months later.
But, that was it with the ophthalmologist as far as I was concerned. My progress hadn't been nearly as much as I would have liked at that point, but it had been sure and steady and I had much more faith in Dr. Baxstrom and his treatment plan of visual rehabilitation.
So, I promised to share more details about one of the crazier exercises I've performed. Roughly six weeks ago, my vision had improved tremendously. I no longer suffered any blurriness of any kind. The only remaining issue I was suffering from was a bit of double vision when I glanced peripherally to my extreme mid-left.
After all the visual improvement I'd realized to that point, I felt very fortunate, and if that was as much I could achieve I'd determined I could live with it. But, I was determined to get all the way back to where I was prior to the accident if at all possible and fortunately I was working with the man who could help make that happen.
Dr. Baxstrom explained that we have six extraocular muscles that control movement of the eye. Those muscles from one eye have to work in a coordinated fashion with the muscles from the other eye. The ability to do this is influenced by other information including vestibular (inner ear) and proprioception (muscles).
He further explained that by doing therapeutic activities with the integration of this sensory information, the visual control can be improved.
So, based upon the remaining issue I was suffering from, Dr. Baxstrom prescribed the following exercise for me to perform twice/day for the next month: Sit on a swivel chair, tilt my head downward 30 degrees, and to the left 45 degrees, close my eyes and perform five rapid 360-degree rotations.
Then, come to a stop and open my eyes. He explained that while I was recovering from the spins the fluid in my inner ear canal would still be sending information to move the eyes. Then I would have the opportunity to learn better control of the eye movements and extend my range of movement with better binocularity. I was then to take a tranaglyph (used for binocular therapy) that I'd been using for the past year with some special glasses and work on some convergence and divergences exercises in various gazes. This allowed my range of binocularity to improve to all directions of gaze.
After the first week, I noticed that the double vision to the mid-left periphery would disappear for a while but it wouldn't last. But, sure enough after a month of doing that exercise twice a day the problem was resolved and as far as I'm concerned my vision now seems the same as it was before falling and receiving my head injury.
Baxstrom told me I was one of only two patients with a head injury that he'd ever treated who had been able to get back to wearing monovision contacts. He credited that to my diligence in performing the prescribed exercises and how demanding I had been of myself.
I feel extremely fortunate to have been referred to him. I can only wonder how many other folks who experienced something similar might be wearing prism glasses today because they followed the advice of an ophthalmologist who had no idea of the possible benefits and potential of vision therapy.
Dr. Baxstrom explained that vision therapy is an extension of traditional optometry services and it takes time to learn. As a result, there aren't a lot of vision therapy service providers in the area and there is a great need for more optometrists who can provide those services.
There are presently some colleges who teach basic vision therapy, but very few such as Pacific University (the only optometry school in the Pacific Northwest) provide vision rehabilitation courses. The next closest school that includes vision therapy in their curriculum is found in California and Arizona.
Six years ago, Baxstrom discovered that several vision therapy service providers in the U.S. had begun to develop private practice residency opportunities for optometry graduates. He realized that this was an excellent opportunity to help develop more providers in this specialty area.
Since beginning a residency program in his own office, there are now 18 vision therapy residency opportunities per year available across the U.S. This now provides an increase in optometric providers with the expertise to be able to provide these vision therapy services to those with visual needs.
He currently trains one resident in his practice each year and once they complete their program, they branch out on their own. His most recent residency trainees have moved on to develop vision therapy practices in Arkansas and Wisconsin.
In addition to running a very busy practice, Baxstrom also works in the rehabilitation units at Good Samaritan Hospital in Puyallup and St. Joseph's Hospital in Tacoma. He is a very important contributor to the rehabilitation team.
Baxstrom is also a Fellow of the American Academy of Optometry, the College of Optometrists in Vision Development and the Neuro-Optometric Rehabilitation Association.
He is also consultant to several school districts in the area.
Baxstrom has lectured nationally and internationally on visual development, reading, dyslexia, head trauma, amblyopia and strabismus. He has also published
original papers in a number of journals. He also recently completed two years as the President of the Neuro-Optometric Rehabilitation Association, International.
I never had the pleasure of witnessing any of Dr. Baxstrom's athletic endeavors, but I'm awfully thankful that I, and countless other patients, have reaped the benefits of his vision therapy practice.
The services he provides are invaluable and I hope that his admirable efforts to expand upon the number of similar practitioners' will prove fruitful.