TERRY MOSHER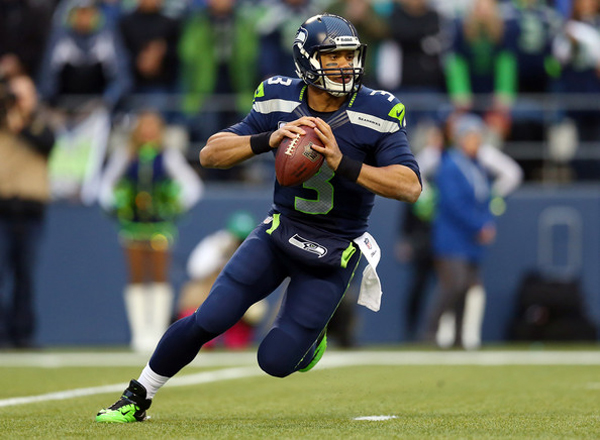 RUSSELL WILSON
I don't get it. Just don't. We have all played a little football and I know from being a quarterback that the most important component is having some blockers in front of you. You don't have them you are in big trouble as we all saw Sunday in Green Bay when Russell Wilson could have sued for the lack of support from those guys in front of him. Man, he was racing for his life most of the afternoon.
When I was a young kid so many years ago and played quarterback we had some terrible teams. I would get the snap from center and turn to handoff or to pass and before I could do any of that I would be swamped by defenders that weren't too nice in their approach to me. I would go back to the huddle and ask, "Can anybody here block?" as I straightened out my helmet and knocked mud off of it.
By the way, I never got an answer to that question. They all looked stoned-faced at me like I was an alien from another planet.
So what gives with the Seahawks?  Russell like me could have asked, "Can anybody block here?" He probably didn't, though. He's too polite. But I hope he has plenty of insurance because if that continues on for any length of time, he will need it.
Already, some people are on social media wanting offensive line coach Tom Cable fired. Wow!! Even Cable can't take chicken (bleep) and turn it into filet mignon.
The problem is that the biggest chunk of the Seahawk's budget for payroll has gone to quarterback and core elements of the defense and leftovers have been used to bring in offensive lineman and the old saying applies to his: You get what you pay for.
Of course, being a former quarterback, I don't understand this. Why don't they pay more to get better? Wilson makes an average of nearly $22 million a year (through 2019) and because the quarterback position is the most important you would think the number one priority of ownership and coaching staff would be to do everything possible to provide as much protection for him as possible.
So I'm not surprised by what I found when I researched the salaries. Left tackle Rees Odhiambo is making $714,000, left guard Luke Joeckel is at $7.25 million, center Justin Britt $2.349 million; right guard Mark Giowinski is at $701,000 and right tackle Germain Ifedi is at $1.878 million. That puts the total offensive salary at about $13 million and dead last among the NFL's 32 teams (Oakland is first at about $43 million).
Can you win this way? Sure. It's tough. And it is risky because of the harm that can come to your quarterback. But defenses win championships. And the Seahawks have a good, if not great, defense.
Take that first game last Sunday. The Seahawks suffered from some bad calls by the officials, which cause them at least one touchdown, and one mistake by Wilson (a fumble that resulted in a Green Bay touchdown) and yet they only gave up 17 points to the best quarterback in football and did it on the road in Lambeau Field in Green Bay where it's difficult to win.
The flip side of that is that you can't continue to rely on the defense to win games. It just creates too much pressure to be perfect and eventually the defense will crack and real trouble begins.
I don't have answers. You can't make something out of nothing, so I guess we will see what happens this Sunday when the Seahawks host the San Francisco 49ers, a rebuilt team that is certain to be more offensive than in recent years with new coach Kyle Shanahan, an offensive guru. It will be interesting, that is for sure.
As for the Mariners, they are done. They just don't know it yet. I feel bad for the team because they gave all they had but were hindered by a slew of injuries and a roster that changed it seemed almost on a daily basis. Given everything that have happened this team is lucky to be on the fringes of the second wild card berth with 17 games left and 3.5 games behind.
I still don't get how South Kitsap can be such a state power for so long under former coach Ed Fisher and now, almost suddenly, be in the dumpster. The Wolves are 0-2 and have been outscored 111-6. Sure, they lost to two very good teams (Graham Kapowsin, 56-0, and Sumner 55-6), but it doesn't get any easier. They play Ferndale, my old school and a state power since the beginning of time (we were undefeated my senior season and beat Bellingham, the first time they ever met, 12-6 in a special Thanksgiving Day game), and then comes Puyallup and Olympia the following two weeks, and those two are also pretty good.
When I first arrived here in 1970 to write sports for the old Bremerton Sun, South Kitsap was still in a long winning drought. For 11 seasons from 1963 through the .73 season the Wolves didn't have a winning season and were 21-67-5 overall for a winning percentage of .226. That changed when Fisher arrived in 1974, but before he arrived I couldn't figure out why one of the state's largest schools could not compete on the football field. I saw a couple games in which the team was severely overmatched.
So now they are back in the losing mode again and again I can't figure out how the state's largest school can't field a competitive football team. It would seem just by numbers alone (about 2800 students now) it should win at least half its game. At least.
But here we are and the Wolves look like easy prey.  It has three middle schools feeding it and they each have football programs, there are youth leagues below that. So why can't they win? You tell me.
South's former coach Gavin Kralik, by the way, is 2-0 as head coach at Eatonville. The Cruisers beat Elma 55-7 and Highline 42-6 in its first two games. Kralik was 4-16 in his two seasons at SK.
Enough of this. I have to run an errand before I get put on suspension.
Be well pal.
Be careful out there.
Have a great day.
You are loved.