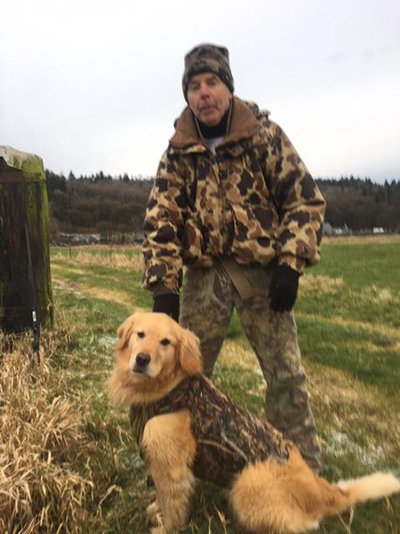 DAVE RYLES AND MOLLY
By Patti Ryles
Dave is doing well and I think he likes his new home better than Issaquah. For those of you who have not visited since he moved, it/s a private home in a residential area that has been converted into an adult family care facility. They can take up to six patients and right now have five.  Unfortunately, 3 of the patients are quite elderly, one is younger than Dave but they all have similar health and mental issues.
Dave is getting a little stronger. His left arm is still very weak. I put a sweatshirt on him the other day and he couldn't help at all with his left arm. It's like he has no control over it.
He is standing and walking a few steps, still with maximum support from the therapist. His left leg is still the problem. He has very little control over what it does and for this reason I really don't ever see him walking, but pray I'm wrong.  He is starting to understand that there is something wrong with his mind. He doesn't know what, just that something isn't right.
Also, if Dave asks you to call me, please do so. I always feel bad bothering the staff when I call to speak with Dave, so it's very helpful to call when you're there.
For those who have seen Dave's room, there is no place for guests to sit.  If anyone has a recliner in good condition that is not being used and would like to donate it to Dave, please call me at 206-953-2376.
I would like to reinforce the rules for visitation. You must call ahead, 1-2 hours before you'd like to visit. The number is 425-658-3455. This is to ensure that no one else is visiting and Dave isn't in the middle of physical therapy, etc.
Also, visitations must be limited to 30-60 minutes. Dave seems to have a very hard time after visitors leave if they stay past this time limit.
Also, the house has now set visitation hours. Visiting hours are from 11 to 3 and 5 to 6. I'm sorry that this is such a short time frame but again, Dave isn't the only patient there and these are the hours the owner has requested.
Please keep Dave in your hearts and prayers.
Thank you