TERRY MOSHER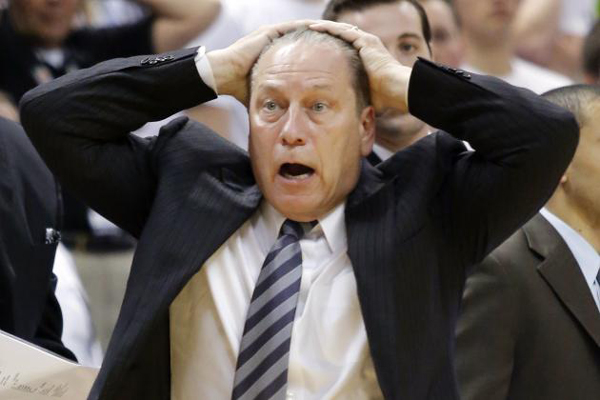 TOM IZZO
This is not a normal college basketball season. Teams we think of has perennial powers – Kentucky and Duke, for example – are not so untouchable that we all should automatic take one of them in the office pool.
No, this is the year that parity is the norm. It's why St. John's (3-11 in the Big East and 14-13 overall) can end an 11-game losing streak to beat Duke and then No. 1 Villanova in back-to-back games.
It is why St. Bonaventure can beat No. 14 Rhode Island, handing the Rams their first Atlantic 10 loss in over a year. (I threw this in because I use to live 10 miles from St. Bonaventure and have followed the Bonnies since I was a little kid, which is about 100 years ago).
It is why Michigan State was nearly upset by Northwestern today. Tom Izzo's Spartans had to come back from a 27-point first-half deficit to win 65-60, holding Northwestern to just 11 points in the second half.
Parity was bound to happen. The days when one major power could dominate for years is about over. Kentucky, for example, had to rally late today to snap a four-game losing streak (only the seventh such streak in its 88-year-history) against Alabama. Because of the abundance of select basketball programs, which start training kids at a very young age, there are more and more quality players coming out of high schools.
These better-trained kids are changing the face of the game, along with the 3-point line. It wasn't long ago a tall due like the late Chris Welp could come along and his high school team would suddenly be a state power, as Olympic became in 1983 when it won this area's last boys state championship.
Welp would still be a force today if he was playing high school ball. But there are now many like him around the country, but even more talented in that they now have been  training to not only rebound and score but to handle the ball extremely well, be able to move out to the three-point line and shoot the three, but also to lead the transition game.
I'm still in awe what 15-year-old can do on a basketball court. We never saw a dunk in my day and now it's as common as a peanut butter and jam sandwich.
I never saw a 7-footer run the floor like they do today back in the day. Heck, I didn't see those 20 years ago.
The bottom line is that every college in the land has one or two players that do amazing things on the court. So a team like Nashville's Belmont, with an enrollment of fewer than 8,000 students in can come to Washington and give the Huskies all they can handle.  It's why Houston could stun Cincinnati, which had a 16-game winning streak. It's why Washington could go to Kansas and stun Kansas.
Washington, though, has run out of gas after having a season that defies logic. The Huskies are playing their first year under coach Mike Hopkins, who was for 22 years an assistant at Syracuse. Hopkins brought the Orange's 2-3 zone to Washington and an underrated Husky team quickly adapted and was 17-6 and sitting second in the Pac-12 before losing their next three games to Oregon, Oregon State and Utah.
The Huskies are entertaining Colorado as I write this. I expect them to snap their losing streak, but even with a win it's doubtful they will reach the NCAA Mark Madness Tournament. They could, but it would surprise me.
Why would it be surprising?
It's because the Huskies really don't have a good outside shooter. In today's college game you need to have a slew of players who can move out front and nail threes. Making threes is extremely important to punch holes in a defense. Dominic Green, who comes off the bench and plays on average 20 minutes a game, is Washington's best three-point shooter at 41 percent. But because he sees limited action his contribution (other than an amazing three at the buzzer in overtime that beat Arizona) is also limited.
Opponents have finally realized Washington is limited from the three-point line and thus construct zone defenses against the Huskies, daring them to shoot from three-point line.
Washington also is disadvantaged inside. Noah Dickerson, who at 6-8 and 245-pounds, is the most effective Husky big. But he doesn't have great jumping ability and can be smothered by other bigs who can.
So the Huskies live and die by a 2-3 zone that works well in cutting off passing lanes as well as tightening down on three-point shooters. But because the Huskies are short on shooters, that defense has to be the difference, and that is asking a lot. Utah the other night played a high-low offense to take advantage of the 2-3 zone weakness in the middle near the foul line, and then when the Huskies scrambled to shut that down, Utah began firing from three-point land. The Huskies had no answer for it and lost.
You have to give Hopkins big-time credit, though, for rescuing the Husky basketball program in his first year. Nobody would have thought that to be possible. I figured it would take him 2-3 years to get the Huskies back in contention in the Pac-12. But here the Huskies are, defying all expectations.
The sad truth, though, is that no matter how good the transition to Hopkins has been, and no matter how hard the players work on defense, the Huskies are limited because they have no effective and consistent shooter. If they had a couple guys that could bomb away from outside, this Husky team would definitely be a March Madness participant. It still might be. But I would not expect it to get past the first round if it does make it.
So who can win the national championship? In normal years we would say Kentucky or Kansas or Duke or North Carolina and win our pool. Not this year, though.
Virginia, Villanova and Michigan State look to me to be the best.  But you could argue almost anyone and I couldn't argue. Cincinnati and Texas Tech look tough. I thought Auburn would fit in there until it got beat by South Carolina today.
The one thing I would do is not pick a Pac-12 school. That conference is weak this year. Arizona is the top team and the Wildcats are very beatable, as Washington proved.
Among the schools that might not be contenders in past years, there are teams like Nevada, Tennessee,  Rhode Island,  West Virginia,  Auburn, Clemson, Xavier, Missouri (if Michael Porter Jr. is ready to play) that could have a chance to win a national title.
And, of course, St. Bonaventure. I have to have the Bonnies in there, although I would not bet the mortgage on them.
So good luck on your pool this year.
Be well pal.
Be careful out there.
Have a great day.
You are loved.