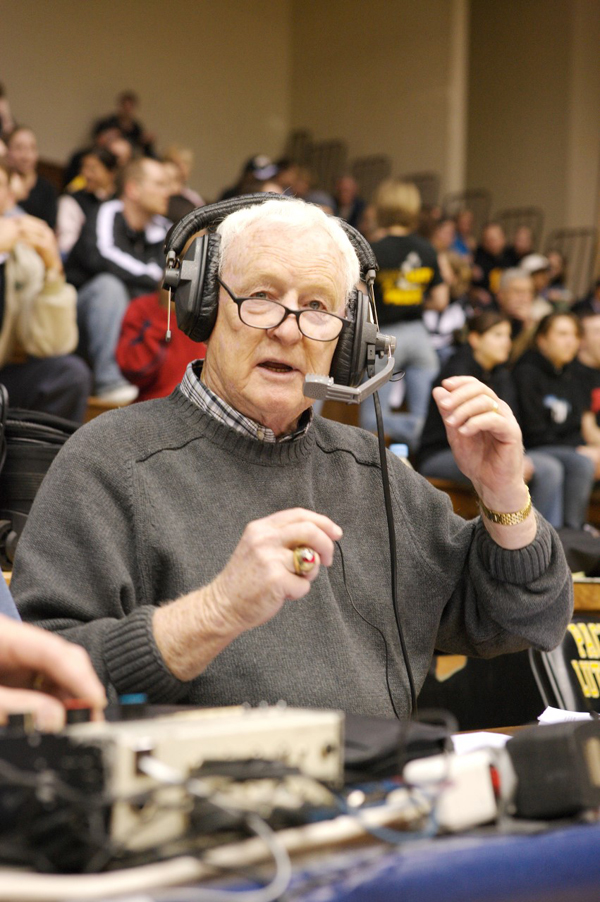 BOB ROBERTSON
By Marc Blau
Special to the Sportspaper
TACOMA, Wash. — The Tacoma Rainiers today announced the Cheney Stadium home radio suite will be renamed in honor of the club's longtime broadcaster, Bob Robertson. The "Bob
Robertson Broadcast Booth" is scheduled to be unveiled during a special in-game ceremony at the Rainiers home game this coming Sunday, Aug. 26.
Since Tacoma's origins in the Pacific Coast League in 1960, Robertson has played an integral role in the club's success in the community through numerous roles. Most recently, for the past eight seasons, he has served as a guest broadcaster during Rainiers Sunday home games alongside Rainiers lead play-by-play broadcaster, Mike Curto.
"All of the fans have cheered and encouraged me on all these years, and for that I am forever thankful," Robertson said. "This has been a true family affair."
Robertson has been honored as the Washington Sportscaster of the Year 12 times, and is a member of a multitude of halls of fame including the State of Washington Sports Hall of Fame and the College Football Hall of Fame. He also holds claim as the final radio broadcaster to re-create a road game, translating written and phoned-in reports of far-away action into a complete broadcast.
"The decision to put Bob Robertson back in the Cheney Stadium broadcast booth is one of the best decisions we ever made," Tacoma Rainiers President Aaron Artman said. "To honor him is to honor his family and friends — especially his late wife, Joanne — and it's a privilege for this organization to be a part of it."
Sunday's in-game ceremony will honor Robertson's immense contributions to Tacoma baseball and his impact upon generations of fans for the region's sports franchises. A plaque inscribed with the story of Robertson's career will be installed outside of the Cheney Stadium home radio suite, while a large sign marking the booth will be proudly displayed facing the stadium's seating bowl.
"I've been fortunate to know Bob for most of my life, and have always been impressed with his ability to make you feel a part of anything he was describing, on the air or in person. It never mattered the subject or the sport or the team," Rainiers owner Mikal Thomsen said. "He is, and will always be, one of the ablest wordsmiths and nicest guys you will ever have the opportunity to meet or listen to."