TERRY MOSHER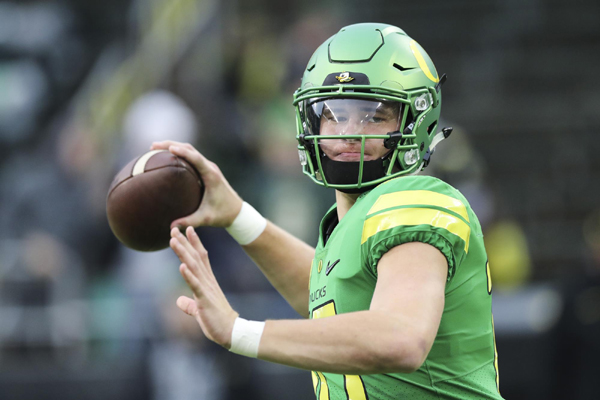 JUSTIN HERBERT
Washington football started the season as one of the favorites to make the college playoff system. I have learned over nearly 50 years writing sports to be skeptical of preseason predictions, and this was one of them.
Chris Peterson is a heck of a coach, and maybe even better as a builder of character. As long as he gets paid big bucks and is healthy, Husky football will be a major player on the national scene. He is not the reincarnation of Don James, but he is close.
But you need to be wary of making too much of this. Even thought it hurts me to say this, Pac-12 football is not on the same level of play as major teams back East like Notre Dame, Ohio State and most of those in the South like Clemson, Alabama, LSU, Georgia and Penn State to name those that easily roll off the tongue.
Football on the other side of the Mississippi is a religion. Instead of going to church, die-hard and sometimes crazed fans go to practices and to games. And that is consistent with Pop Warner football, middle school football and high school football. It's almost cult-like, the fanatic following the sport enjoys. Kids grow up on that side of the Mississippi wanting to play the sport almost as soon as they can walk.
Football is such a thing that I sometimes think when archaeologists dig around a 100 years from now they will scratch their heads while trying to solve the mystery of what these big stadiums were meant to house? It's crazy how crazy Saturday afternoons can get in some of these places like Tuscaloosa, Greenville, University Park, Columbus, Baton Rouge and South Bend.
You get 100,000 hyped-up people crowded together, all wearing the colors of their school, half-drunk on their love for their team and half-drunk on the spirits they consumed at massive tailgate gatherings in the parking lots, you have an out-of-control emotions that live and die not just over the final score, but every play made or missed.
So here we are less than 48 hours before No. 7 Washington runs on Autzen Stadium in Eugene before blinding green and yellow colors glaring from nearly 54,000 crazed Oregon Duck fans looking for their 17th-ranked team to pound the Huskies and gain revenge for the 70-21 pasting they took the last time a Washington football team showed up at Autzen.
Don't look for a similar score to show up in the Huskies' favor. This is a new Oregon coaching staff and a new quarterback, six-foot-six junior Justin Herbert who has already thrown this season for 1411 yards and 15 touchdowns.  He is completing nearly 65 percent of his passes, 27 of them to six-foot-two junior Dillon Mitchell for 442 yards and two touchdowns.
Oregon is averaging 47 points a game and while the Ducks have not played anybody of note other than Stanford, and that was a 38-31 overtime loss three weeks ago, they had an off-week last week so have had two weeks to prepare for  what they promise is a revenge game.
Washington has what many see as a vaunted defense in the secondary that really has not been tested yet by a true passing team like Oregon. The Huskies have not shown a consistent ability to rush from the edge and get pressure from its defensive front, and that will be the critical key in this game.
The Huskies should be able to score on the Ducks, but can they score enough? That is the big question.
Washington is favored by three points in this rival match-up. Take Oregon and the points.
That's enough for today.
Be well pal.
Be careful out there.
Have a great day.
You are loved.