TERRY MOSHER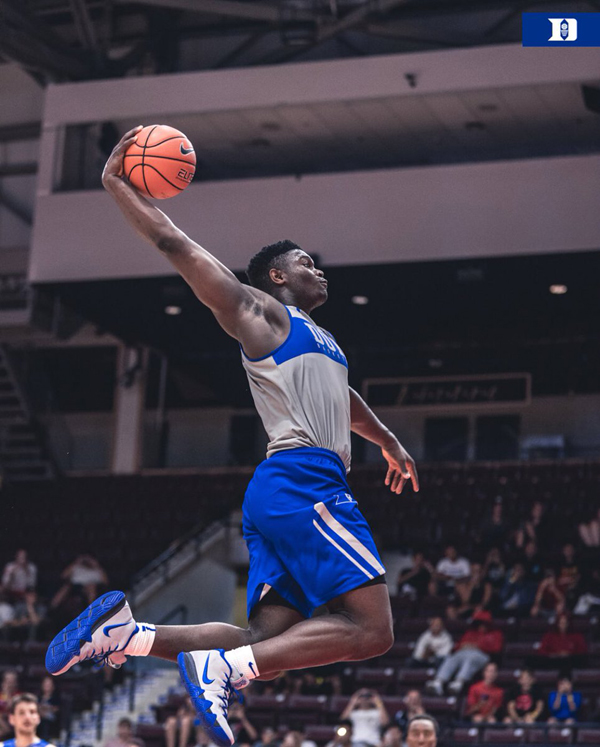 ZION WILLIAMSON
I've got to go to the Boneyard today to get rid of all my thoughts swirling around in my brain. It's almost too much on me, and sometimes my mind gets so busy I can't sleep. So here I am today going to the Boneyard and lighten my load.
First of all, wow, the Washington Huskies men's basketball team put on a defensive display last night at old Hec Edmundson Pavilion that astonished even me. My memory isn't so good anymore, but I can't remember a better defensive effort by a college basketball team than what the Huskies did to Utah.
There are a few qualifiers in this. One, is that the Pac-12 is a mediocre conference at best. I don't know how it happened, but from top to bottom it's not very good. Can you, for example, remember a time when no one – not one – team from the conference was ranked among the top 25 teams in the nation by the two available polls – AP and Coaches – this late in the regular season? Sure, Washington gets some votes, but not enough to put them among the top 25 despite having a 12-1 conference record, 21-5 overall and being unbeaten in 13 games this year at Hec Ed.
While the spotlight last night was on the North Carolina at Duke came and the knee injury to Duke's Zion Williamson, the best player in the college game, Washington was putting on a defensive clinic.
Utah jumped out to a 17-7 lead and sat at 20-9 when the Huskies finally woke up and took a 33-27 halftime lead. Then they put the 'cuffs on the Utes. With just several minutes left, the Utes had scored just nine points in the second half.  They often couldn't even get off a shot because the Huskies' 2-3 zone just swallowed them whole.
Man, that was impressive. Utah finally got to 45 points, but did so against the Husky bench in garbage time. I don't know what was going on with the Huskies, but I started looking for Superman's cape.
Utah coach Larry Krystkowiak is good. I sincerely mean that. But, boy, I would have changed my strategy in that game. The Utes rely on three-point shooting. They are good at it. Sedrick Barefield hit his first four shots, all three-pointers, to give the Utes their 17-7 lead. Then he got two fouls and went to the bench, and the Utes went downhill from there.
The Huskies are not real good inside on defense, they don't rebound well, and they don't shoot the threes well. If I had been Krystkowiak last night I would have pushed the ball inside, a high-low offense, and I think that would have been very effective, and would have opened up the perimeter to Barefield and their other sharpshooter, Parker Van Dyke.
But, no, he didn't do that. The Huskies are susceptible when teams like Arizona State push it inside. Arizona State beat the Huskies with that strategy, going inside with 6-8 Zylan Cheatham and 6-8 Romello White (a combined 27 points, 17 rebounds). Of course, the Sun Devils also have a great point guard in Remy Martin, and he was very important to their 75-63 win over the Huskies.
The guy to watch in a Husky game is Matisse Thybulle. The 6-5 senior is a treat to see play. He's amazing defensively. He gets steals and blocks with incredible timing and a wing span over 7 feet. And he's picking up his offensive game, driving to the hoop for jams that bring a roar from the UW student section, the Dawg Pound.
Thybulle is a sure NBA draft pick. He's got to get better in his shooting, but it's coming along.
Bottom line is the Huskies are fun to watch. I love defense, and they play it with the zeal of a child on a playground. They get after it.
It is pretty clear the Huskies will make Midnight Madness. I'm not sure, though, if they can win the Pac-12 Tournament, which again is in Las Vegas. Oregon State and Arizona State are also contenders, but really any one of the conference teams could win it. Ok, I lied. California is not going to.
As for the injury to Williamson, which happened seconds into a game the nation was waiting for, including former President Barack Obama, who had a front-row seat at the Cameron Indoor Stadium. Williams blew out a shoe and sprained his left knee in the spill and did not return as North Carolina blew away the Dukies, 88-72.
If Williamson had been able to play, I would have expected Duke to win a close game. Now, of course, NBA players, including former Washington Husky Isaiah Thomas who tweeted, "Zion sit you a—down, and we will be  ready for you in the big boy league" are encouraging him to take a seat for the rest of the season so he can be ready to play in the NBA.
I'm just one of a large chorus that says Williamson is incredible. I haven't seen a player like him. He's big, 6-8 and at least 250  pounds,  is as quick as a cat and has, I believe, a 44.5-inch vertical. But he's like a jumping jack. He will leap, come down, and go back up almost as far as you can blink. He's simply amazing, and he has a soft touch, including from three.
And, the kicker about Williamson, is everybody says he's as nice off the court as he is good on it.
So, yeah, if I was him I would sit out, although reportedly he has an eight-million dollar insurance policy to guard against him getting injured and not being able to play in the big boy league.
I wish, by the way, I had an eight million dollar insurance policy that would kick in if I can't write. I don't know who is paying the premiums for Williamson, but somewhere in the shadows is a big sugar daddy.
Baseball is on my mind. I covered it for almost 30 years and played a little semi-pro, so I know a bit about the sport. It's becoming clear that  teams are using more and more analyticals that suggests it's nearly as good to go with younger players with less experience over older veterans that command bigger salaries.
So what you are seeing, and will continue to see, is teams like the Seattle Mariners dumping high-priced veterans and signing young players who they have control of for three years at the MLB minimum salary, which this year is $550,000. The Mariners got rid of Robinson Cano, Jean Segura, Mike Zunino, James Paxton and Alex Colome among others, including ace stopper Edwin Diaz.
Cano is making $24 million this year,  Segura $14.9 million, Zunino $4.4 million, Paxton $8.5 million and Colome $7.35 million. Diaz will make just over the minimum. So that is $60 million the Mariners got rid of.
In return, the Mariners have corned the market on young prospects with small contracts they hope will blossom into good MLB players for the 2021 season.
What  the Mariners have done is not the exception. That's quickly becoming a trend as more and more data suggests younger players can contribute at earlier age and make an impact on the field without breaking the club's bank.
It is accepted that MLB players generally start regressing after the age of 32, so it is risky to sign players to a huge contract takes them into the mid-30s. San Diego just took that risk when they inked many Machado , a four-time  All-Star, to a 10-year $300 million contract.
Machado is 26 and it will be interesting to see how well he plays at the tail end of the contract when he is 36. My guess is not well. Some guys like Nelson Cruz, who  left Seattle as free agent and signed with the Minnesota Twins for one year at $14 million is 38 years old and is the exception to the age risk factor. Although, who knows? Maybe Cruz will crash and burn. And if he does, there will be people around baseball that will say, "I told you so."
You know, this brings up something else that is rattling around in my brain and needs to get let out so I can sleep better. The sports entertainment business is going crazy. Billions are being made by professional teams in the NFL, MLB and NBA and player salaries are going through the roof in two of them – NFL and NBA – and on occasion in MLB as the Machado signing shows (Bryce Harper is up next).
I remember when Mickey Mantle signed a $100,000 contract with the Yankees in 1963, which tied him with Joe DiMaggio as the highest paid Yankee, and how big a deal that was. Now that isn't even close to the minimum salary in baseball.
Baseball is a funny game. You need good pitching to win. Pitching is crucial to success. But you can win with good pitching and so-so players behind that good pitching. They have to play together. They have to combine to create good team chemistry. But if that is accomplished, and the pitching holds, you have a winner.
People often ask me, who is going to win the game tonight? And I have no clue. A good pitcher gives the team a good shot. Still, you have to have players that will give their all to help the pitcher.
And if you have figured out how to creat good chemistry, you need to bottle it  and sell it because you will become wealthy in a hurry. When you have a guy like Bobby Wagner on your team, you have a good chance at good chemistry. Same I would say about Matisse Thybulle. These two guys are winners. They lead by example, and if you can't follow them you are lost.
Ok, enough for today. I feel better already. Some of the load off my busy mind has been lifted. Glad to see the snow gone, I hope now we can head into warmer weather and see flowers starting to emerge from their winter hibernation.
Be well pal.
Be careful out there.
Have a great day.
You are loved.