TERRY MOSHER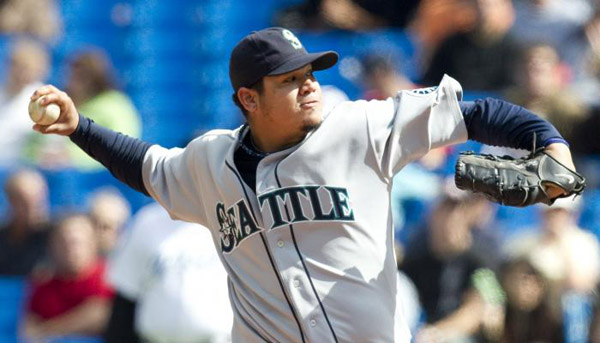 FELIX HERNANDEZ
It's a shame what has happened to Felix Hernandez. Here is a guy who gave his everything to a baseball franchise and now at the relatively young age of 32 (he will be 33 next month), he is nowhere near the pitcher he once was. Throwing too many innings for a team that in most of his 14 seasons was not close to being as good as he was caught up to him.
Sad!
What is even worse is that Felix still thinks of himself as King Felix, the strikeout ace that developed a huge following known as the King's Court, despite the reality of not being the over-powering thrower he once was. He stubbornly sticks to what made him great as his power has declined and hitters are now raking against him
If only King Felix would step back and realize he could still be a good major league pitcher if he would change in a reaction to what he now is. Take Tom Seaver, the Hall of Fame pitcher who as he aged changed. Here's a story written by Ron Clemente almost two years ago that illustrates that.
"Let me tell you a story about velocity," Seaver told Bill Madden of the New York Daily News. "Late in my career, with the White Sox, I didn't throw as hard as I did with the Mets, but I knew how to pitch and I was still winning games. I did win 300, you know (chuckles).
"So this one game, I come back to the dugout after the first inning and Dave Duncan, our pitching coach, comes up to me and says: 'You ain't got s— today.' I said to him, 'I know that' and then I pointed to the other dugout, and added, 'but they don't know that!"
The point is that Felix knows how to pitch and he just has to take a step back, take a deep breath, and realize he no longer can just blow hitters way with his velocity. He can use all his knowledge of how to pitch and focus on getting hitters to get themselves out. He has to admit to himself he's not the way he once was and throw pride and stubbornness out the window and just concentrate on hitting bats and depend on defense to get outs. It can be done. Seaver proved that over and over again, as did another Mariners, Jamie Moyer, who couldn't throw hard enough to break an egg yet won 269 games in his career, 21 of them for Seattle in 2003 when he was 40.
Having said all of that, I don't believe Felix is going to change. His manager and others have tried to talk to him about it, but he, so far, hasn't budged. And I don't think he will.
So what happens next?
Felix has been slotted into the No. 5 spot in the five-man rotation for this season. He doesn't like it. He still thinks he's the ace of the staff. He's owed $27 million in the last year of his contract, so the Mariners are riding this out with him. But if he fails being the No. 5 starter – and we will know after the first month of the season – then I think the Mariners have to cut him loose, take the financial hit and move on.
It's easy for me to say that. It's not my money. But they have to pay him if he's on the roster or not. And if he is getting hammered every time he steps on the mound, it would be pure stupidity to keep pushing him out there. Let him go. The club has a guy – Justus Sheffield, acquired from the Yankees – they are sending to AAA Tacoma who I think is ready to be a MLB starter. Bring him back up and let him take Felix's place.
Okay, enough of this. It's a sunny day and maybe spring is coming early. I hope so. I'm tired of the snow and cold. Let's warm up.
Be well pal.
Be careful out there.
Have a great day.
You are loved.