TERRY MOSHER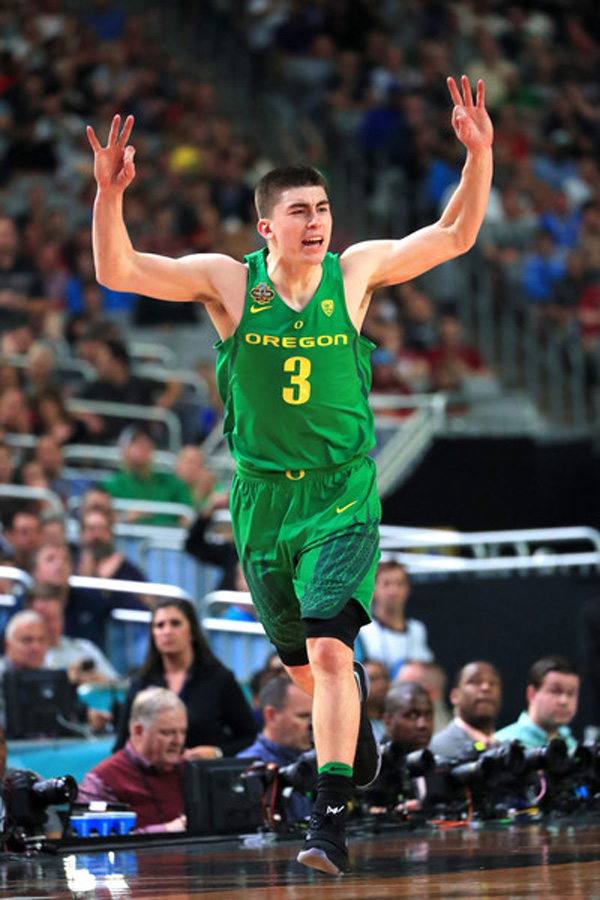 PAYTON PRITCHARD
I beg to differ on who is the Pac-12 MVP of the year. The conference says Jaylen Nowell and, yes, he's a very good player. I didn't even think of doubting he was it. I might have made a case for Oregon State's Tres Tinkle, but Nowell, yes that is a good choice.
Then I watched the past three days the play of Oregon's Payton Pritchard, a 6-1 sophomore from West Linn, Ore. Pritchard is the key to Oregon's surge that has the Ducks (22-12) on a seven-game winning streak headed into today's game Feb. 16) against Washington for the conference tournament championship.
Pritchard is unbelievable. He's like a coach on the floor. He is quick, fast, great hands, great instincts and court awareness and can shoot the eyes out of the basketball. He tops Oregon in scoring (14.5 points a game) and assists (4.8).
And to top it off, he is the most composed, most calm player I have seen in a while. He doesn't seem to get rattled, doesn't let his emotions play him, but plays with emotion.
Oregon beat Washington 55-47 halting the Huskies 14-game home unbeaten streak at Hec Ed in the last regular season game and I expect the Ducks to win this one. The conference tournament championship was played last night when the Ducks won in overtime 79-75 over Arizona State, which incidentally also beat the Huskies during the regular season. That game last night was a donnybrook and the two conference giants traded leads most of the night.
I think Oregon has too much Pritchard, too much man defense, especially full court, and the Ducks have shooters and rebounders. Since coach Dana Altman began using a starting lineup that included four bigs – Louis King, Paul White, Kenny Wooten and Francis Okoro, all six-foot-nine – with Pritchard at the point the Ducks have been unbeaten.
The Huskies don't match up well with this kind of starting lineup, especially with Pritchard orchestrating the play from the point. Altman also inserts a second point guard with Pritchard sometimes and that makes it even more difficult for teams to bring the ball up the court and get into their offenses.
If Washington wins this game I would be shocked.  Even with a defeat here in this championship game, the Huskies are in the NCAA Tournament. However, I don't see them advancing far. They may go out in the first round.
Be well pal.
Be careful out there.
Have a great day.
You are loved.