TERRY MOSHER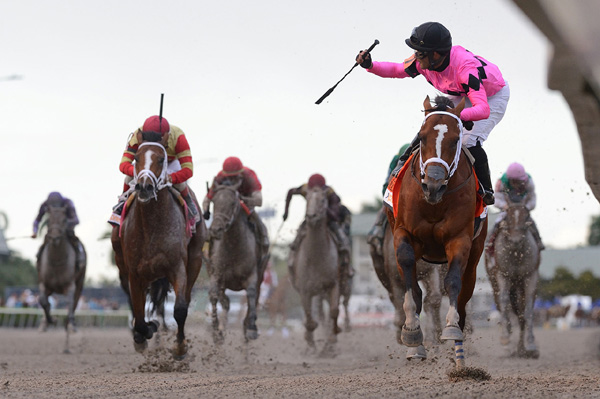 MAXIMUM SECURITY (RIGHT) IN APPARENT WIN
It's getting tougher and tougher to get rid of all the thoughts swirling around in my busy mind. That is due to the critical situation this country is facing with the guy I call a traitor sitting in the White House, but I'm going to try and get these sports thoughts out in this visit to the Boneyard, where my many thoughts are sometimes discarded.
Today's Boneyard visit has to be headlined by the Kentucky Derby and the disqualification of the apparent winner, Maximum Security for impeding horses while coming around the final turn for home. It's the first DQ of a winning horse in the immediate aftermath of the Crown Jewel of the Triple Crown series.
According to the strict interpretation of the rules, the decision to DQ Maximum Security was the right one. A front-running horse cannot impede a horse or horses from having a chance at winning.
I am bothered by the decision because Maximum Security was clearly the best horse in the field. He ran away from the rest down the stretch on a track that was declared sloppy. It really was no contest.
Furthermore, Maximum Security did not impede the second-place house, Country Home, which was declared the winner once the Stewards reached their decision to DQ Maximum Security, which veered out from lane one to lane three and did impede War of Will, which faded to seventh.
The Stewards claim that War of Will then impeded 18 of the 21 horses running. That makes little sense because any final analysis would show that nobody was going to beat Maximum Security, including War of Will. For me, it would be like DQing the great Secretariat after winning the 1973 Belmont Stakes by 31 lengths for interfering another horse.
I have to give Country Home credit, though. It was a 65-1 long shot, the second longest odds horse to win the race in history.
I believe Houston is going to beat the Warriors in their series. It is 2-1 Golden State going into today's game in Houston, but the Rockets won the last one after figuring out they have to play with more physicality to counter the way the Warriors play. And James Harden is an incredible shooter. You give him an inch and it's too much. He will score.
Me and my youngest son, Michael, saw Harden play twice against the Washington Huskies when he was at Arizona State and he was every bit as dangerous a shooter then as he is now. The only difference is he didn't have the beard. I can still see him shooting from the corner against the Huskies, time after time, and making them.
I also believe Denver will take out Portland, although I would like to see Portland win. The Nuggets have the youngest team in the NBA, but boy are they good. And they play well together.
Conversely, the 'Blazers don't play well together. They have two incredible shooters and scorers in Damian Lillard and C.J. McCollum and often it's just those two getting the ball and shooting it. There is no togetherness.
What is remarkable is that Lillard and McCollum are keeping the 'Blazers in it with their shooting. But the series is now tied at 2 and Denver has two of the next three games at home if it goes to seven games.
But I like the Nuggets' Nikola Jokic, a seven-footer who passes the ball like a point guard, Jamal Murray, a tremendous shooter and scorer, quick Gary Harris and Torrey Craig and the veteran 34-year-old Paul Millsap, who is as smooth as soft butter.
I haven't really figured out the Seahawks and what they did in the NFL draft yet. I'm always suspicious of guys who are taken later in the draft, although the Hawks seem to do a better job than any other team in acquiring nuggets in the later draft rounds.
So much of the Seahawks' success depends on quarterback Russell Wilson and that scares me. The Patriots do a great job of providing protection for Tom Brady, but that protection hasn't always been there for Wilson, and you never want your prime guy to be hit more than necessary.
At some point, and it may not be this year, Wilson's escape mechanisms are not going to work as well and he will be exposed to defenders ready to knock him silly. Until then, you cross your fingers and pray that he can still avoid danger at the last moment, as he has for the most part for his first seven years in the league.
You know, I covered the Seattle Mariners for this region's daily paper for nearly 30 years and it boggles my busy mind the difficulty the franchise has had putting together a winning team on a consistent basis.
Part of the problem is that baseball is an unusual sport because of the many games it plays over a six-month regular season and then there is another month or so of playoffs. I tried to explain to my peer group one time that it's tough to be a baseball player. They scoffed at me, mainly because players were making so much money to play what is essentially a kid's game.
That was not my point. Try playing a game, any game, day after day and combine that with playing half of the 162-game schedule on the road, and the road for the Mariners is the longest in MLB because Seattle is located, as some people on the East Coast believe, is somewhere near Alaska.
The remoteness of Seattle is also a factor why many of the top free agents don't sign with the Mariners. It is too far away from the mainstream located east of the Mississippi in places like New York City, Baltimore, Pittsburgh, Boston, Philadelphia, Atlanta, and Chicago and West in a major market like Los Angeles.
You would be surprised to know how many people where I grew up (well, I never grew up) in New York have no idea where Seattle is.
But baseball is changing and what general manager Jerry Dipoto is doing may work even in Seattle. Teams have figured out, finally, that going with younger players is not only less expensive, but teams can be just as good if not better using them because of the advance of analytics in baseball that allows them to scout better, teach better and to make players better much earlier.
Houston was the first to advance this theory. The Astros broke down their team and went through some terrible years, losing over 100 games in three straight years (2011-13) before coming out of the desert and winning 101games in 2017 when they won World Series to last year when they won 103 games.
So Dipoto stripped away money and good players to retool a franchise that has not been to the playoffs since man last landed on the moon. Well, not really, but it seems like that long. The last time the Mariners were in the playoffs was 2001 when they won a MBL record-tying 116 games.
Hey, I got to go mow he lawn, so that's enough for the Boneyard for today. See you late.
Be well pal.
Be careful out there.
Have a great day.
You are loved.