TERRY MOSHER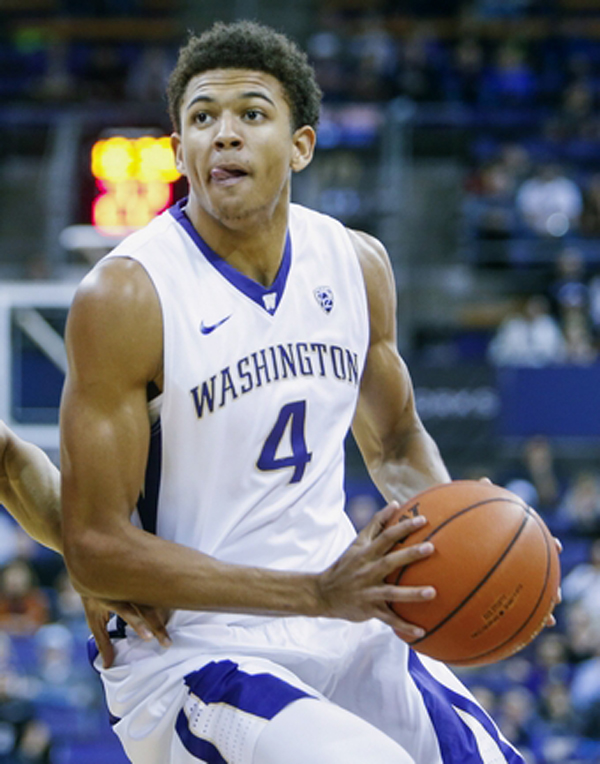 MATISSE THYBULLE
There are good guys and then there are guys like former Washington Husky Matisse Thybulle. I don't know how you get any better than Matisse, who was picked in the first round (20th overall) in the 2019 NBA draft by Philadelphia, which made a trade with Boston to move up four spots to take him.
As good a basketball player as Thybulle is – he was the defensive player of the year in the Pac-12 in back-to-back season – he is even a better person.  He plays hoops with joy and uses his spare time to help others. He told ESPN that, "I try to give back as much as I can, and I feel like the NBA has given me an amazing stage to do that and I can't wait."
During an interview post-draft, Thybulle choked back tears as he talked about his mother – Elizabeth – who died four years ago of leukemia.
"I wish she was here to see it," Thybulle said. The way she fought for everything, even until the end when she was getting sick she never let anything stop her from doing what she wanted to do.
"You saw that from when she became a doctor. It was just a trend throughout her whole life. I just try to be like that as much as I can."
You have to root for guys like Thybulle. He played four years at Washington and did it with a smile and enough energy to light up a room for days. He wasn't a great scorer, but was the engine that led the Huskies in back-to-back 20 win seasons, stealing balls and blocking shots and generally being a team leader.
Our region seems to have a lock on good athletes and good people. Edgar Martinez in baseball and Russell Wilson in football and Sue Bird with the Seattle Storm.
­­­­­­­­­­­­­­­­­
My age shows every time a son of a guy I covered in sports shows up as a talented scholarship kid. The latest is Mark Bruener's son Carson, who verbally committed this week to the Washington Huskies football team.
Carson is a three-star linebacker that played at Redmond High School. He follows his dad who played high school at Aberdeen and from 1991-95 as a tight end for the Huskies, was drafted into the NFL by Pittsburgh and played 14 seasons in the league for the Steelers and Houston Texans.  He currently is a scout for the Steelers.
I'm mystified about the 2019 Seattle Seahawks. They have a lot of good, young talent, but I don't know much about the other teams in the NFL so it's hard to rank the Seahawks.
The offensive line is predicted to be good, maybe the best in the league according to a few experts. I don't think I would put the line that high, but if they can figure out how to pass block better I might go along with that.
As usual, success depends on the health of quarterback Russell Wilson. If he gets good protection and if the new flock of receivers is as good as some say, maybe we are talking 11-5 or 10-6 for this season.
I do know that the Seahawks won't have it easy in their first three regular season games. They open Sept. 8 at home against the Bengals, go on the road to play the Steelers and come back home to meet the explosive Saints. That's a tough 3-game stretch.
Fans will likely be starved for some success by the time September rolls around. That's because the Seattle Mariners are on pace to lose 94 games in their step-back season.
It will be interesting and downright tragic if John Bolton gets his war with Iran.  Traitor Trump's National Security Advisor has been gunning for Iran for years. He is the worst war hawk we have had in recent memory.
Bolton was the one as Undersecretary of State for Arms Control who pushed George W. Bush into war with Iraq that started this whole mess in the Middle East in the first place. If Bolton gets his way, the Middle East will explode into fire and fury because Iran is no Iraq.
Iran's proxies, including Hezbollah, are ready to battle the U.S. if it dares attack. That will bring Lebanon and Israel into the conflict and Syria, which is chomping at the bit that is being held tightly by the U.S., will jump into battle and attack Israel to regain control of the Golan Heights.
And Iraq, which is largely controlled by Iran, is also ready to turn against the U.S. if it attacks.
While Saudi Arabia, Bahrein and the United Emirates have good relationship with Israel, they fear Iran and God only knows what will happen with them if the fire and fury get too close.
If you know just a tad bit about the Bible, you know that the End-Time is going to come with a huge conflagration between powers from the North and powers from the South and the Middle East will explode in terror as a prelude to the second-coming of Jesus.
The current potential for war may not be the End-Time, but as the situation heats up who knows what will happen. All I do know is that if we attack Iran, the cost will be horrific in assets and in men. It will erupt like a California wildfire and be just as hard to contain.
The traitor was right in pulling back last night. But I'm afraid with Bolton leaning over his shoulder we are not out of danger yet.
Be well pal.
Be careful out there.
Have a great day.
You are loved.