Terry Mosher
Just received an email from former Sun sportswriter Roger Underwood and he said Don James is home under hospice care.
Don is 80 years old and is suffering from a malignant tumor on his pancreas. It doesn't look very good. It's a terrible thing to be witness to good friends and people like James leave us. I have had more than my share of it.
James is a very special person. I used to not only cover Washington football games on Saturdays at Husky Stadium, but also would go over to Seattle on Monday for his post-game wrap-up that in later years was held at the Don James Center at the stadium, and he was always on time, always respectful and thorough in his presentation.
You could not help but respect James. He was highly disciplined, focused and determined. But when he was first hired away from Kent State in December of 1974, I think most of us wondered, who is that?
It didn't take long for us to figure out who he was. He's the best coach I have experienced in my nearly 44 years of covering everything from pee weeks to pros. He left no stone unturned in his quest to turn the Huskies into a national power. I especially remember him talking about the need to model the program after the then standard bearer, not just in the then Pac-10, but also in the nation, the USC Trojans.
He knew he had to get better quality and bigger and stronger and quicker players to match what USC had done, and was doing. It took a few years and in 1991 he assembled the greatest college football I have ever seen. That team, led by Steve Emtman, would beat Michigan in the Rose Bowl and go undefeated (12-0) and share the NCAA National Championship with another solid team, Miami.
I believe, and I'm a little bias, that the Huskies would have beaten Miami.
Don's not the biggest guy around. Maybe five-foot-nine. But he was like a little Napoleon – tough as nails. I wouldn't want to mess with him. Or bump into him in a dark alley, not unless I had the backing of a small army.
As I have written, I like tough guys. If we selected sides to play a pick-up football game, I would take all the tough guys I could and let you have the more talented guys. My tough guys would not quit and when the going got tough would get tougher, and they would win.
I understood that about Don. He was tough and he wasn't going to back down, and he didn't want guys around him who would. That's what made the Huskies so special once he got his guys and the program took off.
Those of you who sat in Husky Stadium and watched his teams play on Saturdays knew before you got to your seat that no matter the outcome the opponents would know they had been in a battle of their life.
When the Huskies were going bad before Sark took over, the thing that you heard and the thing that you might have said is the Huskies lacked toughness; they didn't play hard all the time and seemed to give up at times.
And that was true. Those Husky teams didn't look like the Husky teams that I knew from 1975-92. Even before James got the Huskies on a par with the USC Trojans, his teams gave everything they had on Saturdays.
I used to walk the sidelines – this was when it was allowed for beat writers – and the games against UCLA seemed to be to be especially brutal. The hitting – on both sides – was unbelievable.
There was one game in which the Rose Bowl hinged on the outcome and late in the game UCLA was driving into Washington territory. If the Bruins scored, they would win and the Huskies would be denied a Rose Bowl bid.
It got down to fourth down and the Bruins were about on the Washington 45. They went for the first down as the clock ticked down. It was raining, it was cold, and all afternoon these two teams went after each other like they were gladiators and lions.
A pass was thrown and the UCLA receiver went high up in the air on about the Washington 30 and appeared to have hauled in the ball for the first down.. As he started coming down he just got hammered something fierce. I can't remember who hit him now, but the violent collision separated the receiver from the ball and 70,000-plus fans, including maybe you, exploded in a deafening road that I can still hear.
That exact moment defines what Don James and Husky football was all about. A great defensive play made in the worse of weather conditions at a moment when a great play had to be made.
One other game also stands out. That would be 1981 game at Husky Stadium against the dreaded USC Trojans that also had Rose Bowl implications.  The game was tied 3-3 late in the game when Chuck Nelson booted a field goal in pouring rain to make it 6-3 Huskies.
I think there was about three minutes left, which was enough time for the Trojans to at least tie it and at best for them to win the game. Nelson kicked off and the ball sailed right toward me as I stood right next to the goal line on the northeast sideline, right near the Husky Tunnel.
Todd Spencer, a fullback for the Trojans, was on the 10-yard line, just to my left. The kick came right at him, end over end. It bounced in front of him and he reached up to grab it and because the ball was slippery it went right through his hands.
The ball went right pass me and landed in the end zone. All I saw was a big pile of bodies staking up on the ball and, then as if frozen in time, the ball squirted out from under the pile and almost in slow motion freshman Husky linebacker Fred Small came into my picture frame, flying through the air and falling on the ball.
Touchdown Huskies.
I looked up and hundreds of dark green garage bags that fans had brought to the stadium to protect themselves from the rain were soaring above the crowd in the rain, blowing high in the air with the wind, and my arms had big goose bumps on them. It  was the biggest Husky moment I ever experienced.
Again, that was Don James football. Tough, brutal, determined. Even when the Huskies lost, I didn't feel they got cheated. There were a few times after defeats it was hard to stomach as the opposing victors pushed their way into the Husky tunnel barking like dogs as they stormed through.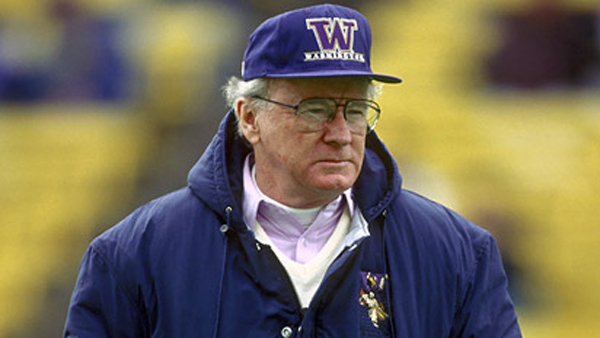 DON JAMES, THE DAWGFATHER
 Don ran his program with the strong discipline that he adhered to in his private life. I always felt there was an iron curtain over it; no outsiders allowed in side. But you can't argue with the results.
He did it his way, rebuilding a storied program to new heights. Along the way he developed a nickname that when uttered down the road in some future time will be quickly recognized as belonging to Don James.
I covered Husky football in all the years Don was there. And whenever I got to Husky Stadium I felt secure knowing that he was in charge, and that his team would be well prepared and ready to fight the good fight.
I don't think we will see his kind again for a long time.
I think prayers are in order for the Dawgfather. You are witnessing the end of one of the great football coaches of all time.
Be well pal.
Be careful out there.
Have a great day.
You are loved.