TERRY MOSHER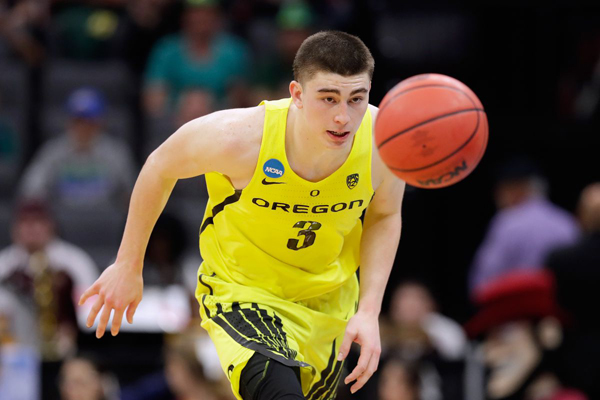 PAYTON PRITCHARD
Oregon is the outlier in the NCAA Sweet 16 scheduled to start Thursday in games at Louisville and Anaheim. The Ducks are the only double digit seed left in March Madness, having dispatched Wisconsin and Cal Irvine as a 12 seed and now play in Louisville against No. 1 Virginia, coached by former Washington State headman, Tony Bennett.
I like the Ducks, as I have from the start. They are peaking at the right time and have a dynamite point guard in Payton Pritchard, who is everywhere on the court it only seems.
I watched every single game of the tournament so far. I know, I know, I have to be crazy. But I find these games interesting because it gives me a chance to see teams and players I haven't seen, and, man, do I see some great court talent, including Pritchard. But the Ducks have two other remarkable players in six-foot-four guard
Ehab Mohamed Mohamed Amin Saleh (Ehab Amin for short), who is an Egyptian that transferred to Oregon after three years at Texas A&M-Corpus Christi where he led NCAA D-I in steals his last year there, and six-foot-nine Kenny Wooten, a shot-blocking fool.
Amin stole the show Sunday as he jump-started the Ducks in the second half with his steals and his scoring in a 73-54 drubbing of Cal Irvine. Amin had 12 points, but really sparked the Ducks after Cal Irvine scored the first 14 points of the second half to take a two-point lead. Then Amin took over.
Purdue plays Tennessee in the other Sweet 16 game at Louisville on Thursday. Tennessee baffles me. The Vols have some great players, but they bi-polar. They play extremely well one game (or one half) and then play badly in another game (or another half, as they did in squandering a 25-point halftime lead over Iowa and then had to go overtime to win).
But you have to watch six-foot-six, 2240-pound Admiral Schofield. He is incredible. Also a Tennessee player to watch is 6-7, 236-pound Grant Williams and speedy 6-3 guard Jordan Bone.
If the Vols don't bi-polar it, they should dispatch Purdue in their Sweet 16 match-up. But the good thing about the post-season is that anything can happen, and usually does, so Purdue has a chance.
We all should know about Gonzaga by now. The Zags go up against Florida State in their contest to be held in Anaheim on Thursday. Food for thought: Tennessee beat the Zags 76-73 and so did North Carolina, 103-90, in back-to-back games on the road. Schofield had 30 points and Williams 16 against the Zags.
North Carolina's Luke Maye, Cameron Johnson and Colby White starred for the Tar Heels in their win. Johnson is a 6-9 guard, Maye a 6-8 forward, and White a 6-5 guard. They collected 60 points. Johnson scored 25, Maye 20 and White 15. Maye also had 16 rebounds.
White and Maye are really, really good. Maye is a block of cement, but is also very smooth and can shoot the eyes out of the basket.  White is the team's quarterback and is essential to North Carolina's success.
Florida State plays well together and shouldn't be dismissed. The Seminoles don't back away and the Zags will have their hands full with them.
One of the disappointing losses for me was Wofford's loss to Kentucky, 62-56.  Fletcher Magee, who established a record for career three-pointers in the Terriers win in the first round against Seton Hall, 84-68, missed all 12 of his three attempts against Kentucky. If he had just hit two of them, the Terriers likely would have beaten Kentucky.
The Terriers weren't deep in talent, but their starting five of 6-8 Cameron Jackson, 6-9 Keve Aluma, 6-4 Magee, 6-4 Nathan Hoover and 5-11 Storm Murphy was the best starting five I saw in the tournament.
The other game in Anaheim pits Michigan against Texas Tech. I like Michigan because they play tough defense. If they can keep the game in the low 60s, the Wolverines win.
On Friday in Kansas City, North Carolina meets Auburn and Houston and Kentucky collide. I believe North Carolina and Auburn will be a run 'n gun thriller, but Tar Heels just have too much talent to lose. Houston, on the other hand has a chance against Kentucky. This is not the best Kentucky team that John Calipari has had and if the almost loss to Wofford hasn't gotten the Wildcats attention they could lose this game.
I can't figure out LSU. They won two close games against Yale and Maryland and face a Michigan State team that is peaking and has Tom Izzo on the bench. That should be enough for the Spartans to advance to the Elite Eight when they meet Friday in Washington, D.C.
The other bracket in D.C. pits lucky Duke against Virginia Tech. Duke lost to Virginia Tech 77-72 in the regular season, but the Blue Devils did not have the services of the national player of the year (most likely) in Zion Williamson. So I have to go with the Blue Devils, even though they were a roll of the ball from getting beat Sunday by Central Florida, coached by former Duke player and assistant coach Johnny Dawkins.
It was Dawkin's son, Aubrey, a 6-6 guard, who tipped a missed shot as time was expiring in their game. The ball rolled across the rim in anguishing slow-motion it seemed and then rolled off as Aubrey, who scored 32 points, dropped to his knees in tearful frustration, realizing if the ball had gone in Central Florida would have won 78-77 and be in the Sweet 16.  How it did not go in is a question a physicist should be asked.
So that is it. Washington unceremoniously got swatted home 81-59 by North Carolina on Sunday in the round of 32.  It was a mismatch and shows just how much further coach mike Hopkins has got to go with the program to reach the level of the North Carolinas, Dukes and Kentuckys. The Huskies are good, but good doesn't cut it when it comes to March Madness. You have to be very, very good and even lucky, as Aubrey Dawkins discovered.
Okay, enough for today. Stay warm.
Be well pal.
Be careful out there.
Have a great day.
You are loved.