TERRY MOSHER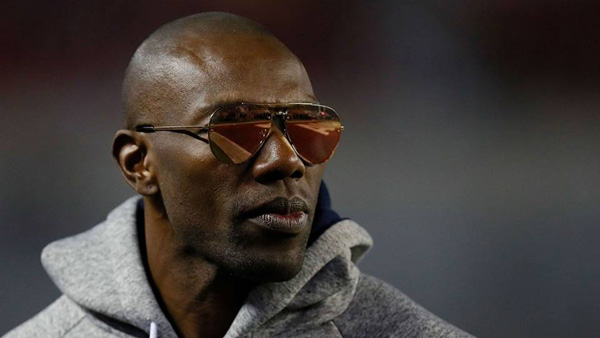 TERRELL OWNS
It's time again to wander over to the Boneyard to get rid of all the thoughts swirling about in my over-active mind and get some rest, especially with more heat predicted for this week.
I'm going to try and stay away from Traitor Trump blasting LeBron because, well, because that is what the Traitor Trump does. He is full of hate and has to release it almost every day and yesterday it was LeBron James that he spewed his hatred at, with most people speculating he did it now because LeBron has departed Ohio, a state Trump needs for a possible election and for Republicans that are running for office, and so now that LeBron has moved to California he can safely attack him without causing himself harm.
There is so much hatred coming from that man that it is almost an honor to be attacked by Traitor Trump. I think we and the world would be better off if we just ignored him. Let him ramble on into the winds of silence. So goodbye Traitor Trump, go back into your dark hole.
Speaking of a dark hole, the Seattle Mariners have found it. On July 5, the Mariners were 56-34 and then they started to sink down that hole. They have lost 16 of their last 23 and have been outscored 120-73 in those 23 games. That's averaging barely three runs a game while allowing over five.
So what has happened?
General manager Jerry Dipoto gets a lot of credit for the deals he makes. They don't call him Trader Jerry for nothing. He has pulled the trigger on umpteen trades just his season and they are usually for players who have been largely forgotten or have been largely ignored among the noise made by others.
I consider most of his deals to be made for guys who are second and third tier guys. Take Marco Gonzales, Ryon Healy, Guillermo Heredia, Wade LeBlanc, Mike Leake, Denard Span, Andrew Romine, James Pazos, Juan Nicasio, Nick Vincent, Chasen Bradford, Sam Tuvailala, Ben Gamel and Mitch Haniger and you have a collection of baseball cards that might fetch 50 cents each on the open market.
Yet, Dipoto took these guys and somehow made it work….. for three months.
Now the real quality of some of these second and third tier guys is starting to show up. Haniger was lights out for most of the first half and now has slumped something awful. He's hit under .200 for almost a month with just one home run. He's a good rightfielder, but he's not looking real good right now and maybe that is a sign of what he really is – a good 4A player.
Baseball is a constant game of adjustments. Hitters adjust to what pitchers do to them and pitchers adjust back. The real good players can overcome these adjustments, but the ones that ride the roller coaster between the major leagues and triple-A don't.
Oakland gave up on Healy because it thought it had a better first baseman in Matt Olson. Healy is a good defensive first baseman and has power, but he is an all-or-nothing hitter that belongs in the major leagues, but, man, you wish he could connect more often with his bat.
The one guy out of the list above that may be the surprise of all of them is Gonzales. A former Gonzaga star, the St. Louis Cardinals made him their first pick in the 2013 draft. Injuries have hampered his rise, including Tommy John surgery, but he shows signs of being the pitcher the Cardinals thought he was when they drafted him. Right now, Gonzales is the No. 2 starter for the Mariners behind James Paxton.
The rest of these guys you can throw their names in a hat and swirl them around before blindly picking one because they are all going to add something, but they all also come with negatives that are obvious.
I do like Span. He's a battler who doesn't mind getting dirty and grinding away at the game. But the rest of them have to show me more than they are probably capable of before I believe they will lead the Mariners to a resurge through this last two months of the 2018 season. I think we saw the best out of these guys and now they are going to be exposed for who they really are.
There is a long shot that the return of Robinson Cano from his 80-game suspension will add the fuel that will help the Mariners reclaim some of the fire needed to stay in playoff contention. We'll see about that. It'll be interesting, at the very least. But they better get off their butts in a hurry because Oakland has acted like the 1995 Mariners in roaring from the middle of the American League West pack to challenge not just for the second wild card, but also challenge talented Houston for the division title.
You know, I heard Terrell Owens give his Hall of Fame speech at his alma mater – Tennessee at Chattanooga – and I bristled when he attacked voting football writers for keeping him out of the Hall of Fame until his third year of eligibility. TO has never been one to be humble and he was very bitter and it showed in his speech as he blasted the writers who he felt held him back from being inducted the first year of eligibility.
He was right that writers who vote are not supposed to vote on the basis of personality, but on the value that the player brought to the game. But I'm here to tell you that writers do hold biases and grudges against players like TO who treat them like dirt during their careers and then expect them to ignore those slights when it comes time to vote for them. You get hammered day after day, week after week and season after season and see how you feel when it comes your turn to have the hammer.
So I was incensed when he attacked writers in his speech. Who does he think he is? Yes, he was a great receiver in the NFL, but that does not give him the right to treat writers like he did.
I know there were a slew of writers who couldn't stand Barry Bonds because of the way he treated them during his career with the Giants. And if Bonds hadn't allegedly used PEDs I'm sure he would not have been a first-ballot Hall of Fame inductee. Writers instead have kept him from being inducted because of their belief he took PEDs.
Just for the record, Bonds treated me well the one time I had a chance to interact with him. I was warned of the trouble I was walking into, but he was very accommodating and friendly to me for the 45 minutes we sat in the visitor's lockerroom in the Kingdome and chatted.
But I did not vote for Bonds with my Hall of Fame ballot because I was protesting his alleged use of PEDS. I do believe, though, that Bonds was a genuine Hall of Fame baseball player well before when I think he started to take PEDs.
Regardless of whether Earl Thomas ever plays for the Seahawks again, I believe that this season will be extremely interesting and better than many believe as the team reloads its roster under almost a completely new coaching staff.
The running attack is sure to be much better and that should allow Russell Wilson more time to lead an effective offense. The defense probably won't be as good, at least in the early stages of the season with the absence of the Legion of Boom, but barring key injuries the defense should be fine.
I see the Seahawks finishing 10-6 and making the playoffs.
The team that will have the biggest regional impact his football season is the Washington Huskies. That September 1 game in Atlanta against Auburn is a doozy and is a prelude to a tough game the next week at Utah, but all signs point toward a Final Four appearance for them.
I told my youngest son the other day that I think Washington will beat Auburn 40-0. He about fainted. I just smiled.
Hey, it's another great day out there so I'm outta here.
Be well pal.
Be careful out there.
Have a great day.
You are loved.