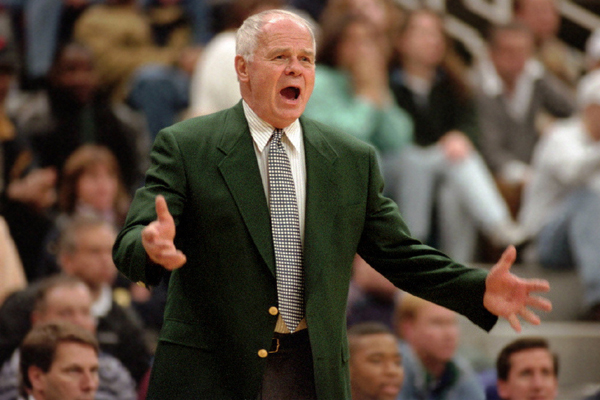 JUD HEATHCOTE
 By Terry Mosher
I wrote this story on Jud Heathcote in April of 2015. In it, you can see the Heathcote humor and his zest for life and for coaching. You know by now that he died at the age of 90 Monday in Spokane, where he had lived for years. One of the great guys not just of sports but of life is gone, and the world really is a lot worse for it. It really is. Here is the story:
Its been70 years since former Michigan State basketball coach Jud Heathcote graduated from South Kitsap and that old bugaboo – Father Time – has slowed him down to a cane and walker and limits him to .his house in Spokane. But if time has attacked him physically, it has not dimmed his mind and mouth. He can still spit out one-liners as easy as Jerry Seinfeld.
"Here's a joke for you," Heathcote says during our phone conversation on Monday. "This guy gets married and a friend says to him that every time you have sex that first year put a marble in a jar and every time you have sex after that take a marble out of the jar.
"On his 50th anniversary he and his wife are getting rid of things and he turns to his wife and says, 'What should we do with this half-full jar of marbles?' "
Heathcote, 87, is one of the last guys that at one time were the cornerstones of college coaching achievement in the Northwest. One of the more fabled ones died the other day when former Washington State baseball coach Bobo Brayton gave it up at the age of 89. Heathcote and another one of the old coaching gang, Don Monson, will drive from their homes in Spokane Thursday to attend Bobo's funeral service in Pullman.
"Bobo was sure a great guy," says Heathcote. "He impacted a lot of lives."
Heathcote and Brayton were teammates on the baseball team at Washington State. Heathcote, though, acknowledges that Bobo played much more than he did. He says he was limited to pinch-hit duties here and there.
Then Heathcote, as is his want, coughed up a funny Brayton story.
"We played together on the Labor Union baseball team in Anchorage, Alaska for two years," Heathcote says. "The first year I had a bet with him who would have the highest batting average. He doesn't drink beer, so the bet was a case of beer against the biggest bottle of wine you could buy.
"The last time at-bat I hit a high pop-up right above second base. The second baseman or the shortstop could have caught it but they think the other guy is going to catch it and it drops in between them. By baseball rules it's a base hit. So I hit .358 to his .356. Without that hit I get .352 and he wins the bet. Bobo says you can't take that (bleep) and he won't pay me.
"Ten years later I get the assistant basketball coaching job at Washington State to Marv Harshman and we are all in the same office. I tell Marv the story while Bobo is listening in. The next day there is a case of beer on my desk and he says, 'I don't want to ever hear that story again.' "
Because Heathcote played baseball, Bobo would occasionally run something by Heathcote. One day Brayton says he is sitting Dale "The Whale" Ford because he hadn't hit in several games.
"You can't do that," Heathcote says he tells Bobo. "Bobo says, 'Why not?' He's your best hitter."
So Bobo hits Ford and Ford hits the longest home run in Cougar history.
"He hits it clear over the fence and over to the golf clubhouse," says Heathcote. "It's about a 500-feet home run."
The legend of Heathcote started at SK where he was a three-sport star athlete in football, basketball and baseball (all-state in baseball and basketball and all-league in football as an end).
The baseball scout that signed Ron Santo wanted to sign Heathcote and send him to a D League, and Heathcote laughed because there was no way he was going to do that. So he signed with the Navy in its V-5 program and was sent to the Butte School of Mines (now Montana Tech). When the program closed he and nine others were sent to Colorado College about two-thirds the way through football season. Nine of the guys turned out for the football team and three were retained on the team, including Heathcote.
Heathcote was an end in high school, but thought he should be carrying the ball so he was a fullback at Colorado College. He got one carry with the ball in three games, and rushed for 22 yards. So he figures he has the all-time record for rushing average.
Heathcote was also the leading scorer on the Colorado College basketball team and then decided to leave and attend the University of Washington on a basketball scholarship offered by Hec Edmundson.
Love, though, intervened. Or the lack of love. He broke up with his girlfriend and decided to get out of town so he got in his car and drove to Pullman where Jack Friel had offered him a basketball scholarship, but did not expect him to take it.
Heathcote figures he started three games at Washington State, but he eventually would make up for that by famously coaching 20 seasons at Michigan State (1976-1995). He was the head man in 1979 when the Spartans led by Magic Johnson captured the NCAA championship by beating Larry Bird and Indiana State, 75-64.
Heathcote has remained in close touch with the Michigan State basketball program, although he has a close relationship with Gonzaga coach Mark Few (he and Few have lunch about every other week) and didn't miss attending a home Gonzaga game this season.
"(Few) likes to say that he is 23-3 and after we have lunch he is 3-23," laughs Heathcote, who offers suggestions to Few when asked.
Getting to lunch and just getting anywhere is a struggle for Heathcote, so he doesn't go often, and doesn't go far when he does.
"Five years ago this summer I shattered my right femur," says Heathcote. "I have two replaced knees, two replaces hips and they are doing okay. I have a coil in the femur to stabilize it and despite the work on it the muscle does not get stronger so I have a cane and a walker and I don't go far.  When I go to (Gonzaga) games they wheel me in and I stumble into my seat and just sit there and watch."
He also watches Michigan State games either on ESPN2 or the Big-10 Network. Like some others, he wonders how the Spartans have managed to get this far. Many NCAA brackets have been busted because of a team that finished 12-6 in conference and 23-11 in the regular season.
"I told Tom (coach Izzo) I want him to send me those mirrors he's winning with and maybe they will help me walk better," quips Heathcote. "I don't know how they are winning. He probably coaches better than anybody else, but I claim you can't make chicken salad out of chicken (bleep). There is little a coach can do."
Heathcote still drives the car, but not as often as he once did. His wife of 56 years (Beverly) wishes he would throw the keys away, that his reflexes are not good.
"So I grab for her and show her I do have good and fast reflexes," Heathcote says, laughing.
He keeps in touch with Michigan State through his association with  Izzo, who was his associate head coach for five years and who he is a very close friend. Heathcote pushed to have Izzo replace him when he retired from coaching in 1995 despite objections from several high MSU officials and boosters who either waned to hire a black or conduct a national search. Heathcote used all the bargaining chips he had accumulated to get trustees and the acting president on board to go along with his plan for Izzo.
Not long after Michigan State stopped Louisville 76-70 in overtime on Sunday, Izzo called Heathcote. He knows the health situation with Heathcote and would do just about anything to have him there in Indianapolis this weekend for the Final Four when the Spartans take on Duke Saturday to determine who will go to Monday's championship game and face either Kentucky or Wisconsin.
Heathcote, though, passed on going.
"He called this morning (Monday)," Heathcote said. "He said if I could go he would send a private plane that I could take to the Final Four. I said logistically I didn't want to be wheeling around in a wheel chair with everybody staring at me, so I turned that down."
Heathcote believes the Michigan State-Duke game is a toss-up. He said that Gonzaga did not play well, or its usual game against Duke on Sunday. But he gives credit to Duke for that.
"(Kevin) Pangos couldn't get looks. The guy defending him was on his toes," says Heathcote. "Same with (Gary) Bell. But I think Tom will have a good game plan. I don't think Matt Jones and the other Jones (Tyus) are getting the threes like they did against Gonzaga.
"I think it will be a close game. I'm through ruling out the Spartans. They don't have a lot of talent, but somehow they have a way to play well."
Like millions of others, Heathcote believes Kentucky will beat Wisconsin in a close game. That would pit his Spartans against the most heavily favorite team perhaps in March Madness history.
Heathcote goes on to tell a few more jokes and reminiscence about the times he and Harshman would have coffee with John Wooden when their respective teams would meet on the hardwood.   Then he says, switching gears, "Many people would love to be 95. I'm not going to do that. There are people who want to be 88 who are 87. I fall into that category."
So we say goodbye for now to one of the good guys. He's down but not out. There are still a lot of games to see, starting again on Saturday.