TERRY MOSHER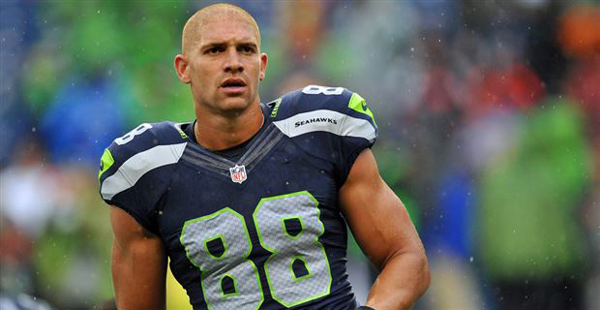 JIMMY GRAHAM
This appears to be the Jimmy Graham trade week. Can't say I blame them, all the pundits. Graham has been a major disappointment since being acquired in trade from New Orleans two and half years ago. It's probably because he came with such high expectations that he hasn't been able to live up to.
At six-foot-seven and 265 pounds with speed, Graham certainly fits the prototype of a quality NFL tight end. It was known when the trade was done that Graham was no your typical blocking tight end. But he was supposed to be a dynamite target for Russell Wilson, especially in the Red Zone.
However, that hasn't quite worked out that well.  In the Seahawks first two games, Graham has caught four balls for nine yards. Not exactly statistics that has opponents quivering in their shoes.
Should the Seahawks trade Graham? Well, if they could get an established left tackle for him I wouldn't protest.  I doubt the Browns would trade Joe Thomas for Graham, but, again, I would cringe over that one.
So coach Pete Carroll promised things would be different Sunday when the Seahawks take on the Titans in Tennessee. So what does he mean by that? A different offensive line? A better offensive line? If he is talking about anything but the offensive line than he needs to rethink his thoughts.  The offensive line needs to pick it up or Wilson will one day get clobbered real good and then the Seahawks will be in deep doo-doo with backup quarterback Austin Davis back there trying to dodge incoming flack from menacing defensive lineman, linebackers and blitzing safeties.
I can't figure Carroll and John Schneider out. They have had two years now to put together a solid offensive line and have failed miserably. What gives with that? I realize that you have a certain budget for payroll and there are complicated rules on salary in the NFL, but c'mon, they are smart guys and can figure that out. At least, I think they should. But I guess not.
There is always the hope the line will get better as they play together longer and get used to each other. That is always the hope, of course, and I guess that is all we can do is hope.
One more thing and then I will give this up. Where are the big game-breakers on this team? Tyler Lockett? Maybe. Paul Richardson? Maybe. But, like hope, maybes just don't cut it. Of course, when your quarterback is running for his life because the offensive line can't block, it's difficult to throw downfield to guys like Lockett and Richardson with any consistency.
As for the running game, I like Chris Carson like you do. And I don't like Eddie Lacey, just like you. There is a reason why Lacey is no longer in Green Bay. He just doesn't have it anymore. The life of running backs in the NFL is just over four years and this is his fifth. So the actuarial table on Lacey says he's done.
I'm not surprised that some scouts see the Seattle Mariners the same way I do. I spent nearly 30 years around the Mariners and I think I know the buckwheat from the bulls…t. The Mariners put up a gallant fight considering all the injuries they had, especially to the pitching staff, but when you shuffle the lineup as much as general manager Jerry Dipoto did while trying to fill in the gaps you can't gain any positive chemistry, and as we all should know good chemistry is an important ingredient to success.
And, by having a yo-yo going on between their triple-A club in Tacoma and Seattle there were bound to be players getting on a major league field that were not major league caliber. There were quite a few of them in the Mariner lineup and as a result the team never could quite match-up with the better teams like Houston.
It's easy to be critical of Dipoto for plugging in guys who were not major league ready, but it's a tough job looking under all the rocks trying to find good players everybody else has overlooked. I'm sure he was also hindered by salary restraints, so it wasn't like he could trade for a quality player with a large salary.
The sad thing is that the Mariners' farm system is in bad shape. There is not a lot of help down there. It will take years to get the system back to where it once was when guys like Edgar Martinez, Mark Langston, Dave Valle, Harold Reynolds, Alvin Davis, Tino Martinez, Ken Griffey Jr. and Alex Rodriquez were all coming through.
Dipoto will have a tough assignment putting together next year's team. Felix is about done. The most you can expect from him is maybe a No. 3 starter,  I doubt Iwakuma will be back and James Paxton is always hurt so you can't rely on him being your ace, although he's good enough when healthy to be the ace. Drew Smyly didn't pitch at all this season after having Tommy John surgery and who knows how well he will be or even if he is on the roster.
Then you have a bunch of triple-A or 4A players that played most of this season, and really can you expect them to be much improved next year? I'm talking about Mitch Haniger, Ben Gamel, Danny Valencia, Taylor Motter and Guillermo Heredia.
So we'll see. It's been 17 seasons now since the Mariners have made the post-season and with 12 games left this season and four games behind the second wild-card spot it looks pretty dim they will snap that drought.
I know I have touched on this before, but I can't believe how far South Kitsap football has fallen. It just seems unreal. Nearly 3,000 students there on the school on the hill in Port Orchard and they are as low as you can get on the football field.
And, I'll point out once again, that the Wolves former coach, Gavin Kralik, has the Eatonville Cruisers 3-0 in his first season as coach there. The Cruisers have now outscored their opponents 154-26. So how do you figure that out?
I guess you don't.
Be well pal.
Be careful out there.
Have a great day.
You are loved.