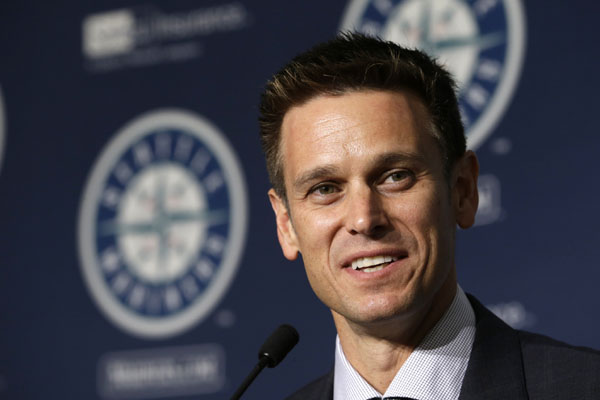 JERRY DIPOTO
By Terry Benish
Special to The Sports Paper
The Seattle Mariners saw a team in their division run away from them this past season and ultimately win the World Series. The Mariners in a season fraught with injuries and roster turnover won 78 games, a decline of eight wins from the 2016 teams.
So what way is the franchise going? Up or down?
Mariners' CEO John Stanton says up. He committed to the Mariner fan base in October that the team would be in the playoffs in the 2018 season.
But was he being too optimistic?
Ten days before that Stanton's optimism, general manager Jerry Dipoto said, "We have a long way to go to bridge the gap from where we are today to where the Houston Astros are. I don't believe we're nipping at the heels of the Astros. That's going to take some time, and frankly, a little bit of luck."
The Mariners tried hard shorten the distance between them and Houston by making a serious attempt to acquire Shohei Ohtani the young superstar from Japan. The effort wasn't enough, though, and the Los Angeles Angels won the bidding war.
So Dipoto went back to what he does best – make deals. He is quickly gaining the name of "Trader Jerry" for his many moves as he keeps trying to build a competitive roster that will put them in contention in the American League West with Houston and the rest.
Two trades he made were for Ryon Healy and Dee Gordon, and one rule five draft and one free agent, Mike Ford and Juan Nicasio respectively. Healy will play first base with Ford, Gordon goes to centerfield and Nicasio, a free agent signing from the Pirates will be the apparent setup to closer Edwin Diaz.
But is Dipoto hitting his head against a brick wall? The Mariners have struggled to field a competitive team since winning a major league record tying 116 games in 2001. They are now the only team in the four major sports – soccer, football, basketball and baseball – that has not been in the playoffs in the last 17 years.
And if you are a long time follower of the Mariners, you probably know the organization is known more for its marketing brilliance then for its baseball expertise.  Former Seattle P-I columnist Art Thiel explored that in a book ­– Out of Left Field: How the Mariners Made Baseball Fly in Seattle ‑ he wrote in 2000.
In contrast, the St. Louis Cardinals from CEO Bill DeWitt Jr. down are steeped in baseball operations. Dewitt learned from his father who learned from Branch Rickey/ While he has non-baseball reports, DeWitt has John Mozeliak as head of baseball operations along with a new wave general manager (Mike Girsch), who is an analyst specializing in valuing talent, and has a tremendous minor league system and process because they're a baseball organization that sells some beer and hot dogs as opposed to a team that sells seats and beer and sushi and uses baseball as the lure.
A few years back I did an analysis of the average duration of minor league players  before they made the major leagues. The Cardinals kept their players in the minor leagues longer than other teams, expressly so that when they arrive, they are ready to play.
The Mariners do the opposite of that and historically rush players.
Houston is like the Cardinals as are the San Francisco Giants, the Chicago Cubs and the Boston Red Sox.
So Dipoto is correct when he observes Houston is far better.
Run differential, the difference between runs scored and runs allowed, is a very simple metric way to compare teams. Usually over a full season the winning team has a large run differential.
This past season, Houston scored 896 runs and the Mariners scored 750 runs, a difference of 146 runs. The Astros allowed 700 runs while the Mariners allowed 772 runs.  So a total of 218 runs separated the two teams. That is a run and a third (1.34) runs per game, which is terrible.
Let us now break down the offense, defense and pitching with one last caveat that should always be in your mind.  What is different about Houston and Seattle and does it play in this analysis?
The two parks and settings could not be more different. Houston is a small park that plays small and the roof is closed always. The park the Mariners play in is a huge park that is a cold and moisture-laden during the spring and fall. So yes it might be a key factor. Keep that in mind when we get to chatting about the Mariner pitching and home runs allowed.