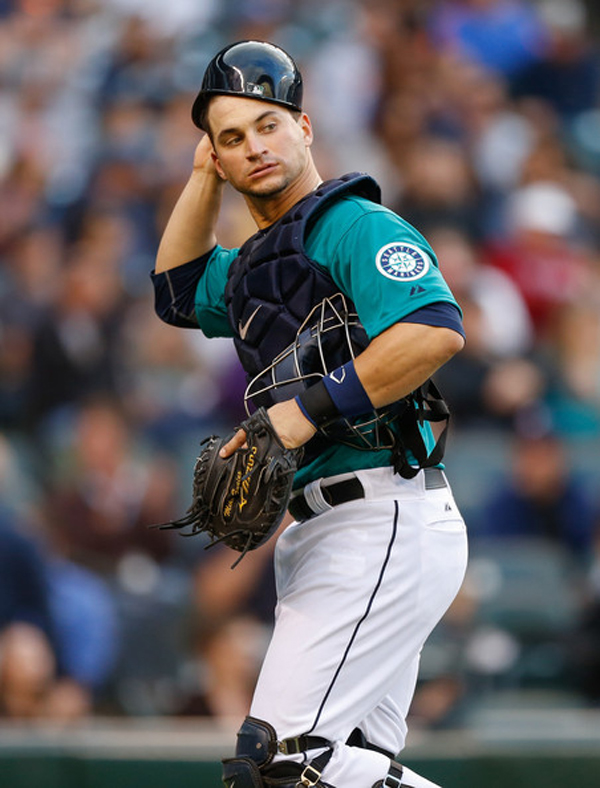 MIKE ZUNINO
By Terry Benish:
Special to the Sports Paper
To get a clearer picture of where the Seattle Mariners are in relation to the world champion Houston Astros it would help to look at the teams position by position.
So let's look at catching. The Mariners' Mike Zunino made a big leap forward last season when it looked like he might be a big bust. His BABIP (batting average on balls in play) surged to .474 in September (the mean is .300).
That big jump could be he just got lucky. If so, he could regress back. In other words, we don't know where he is at. He could be finally getting it and become the hitter that long has been expected of him or he could go back to being a bust.
As for being a catcher, Zunino only threw out 24 percent of runners trying to steal a base. That ranked him 23rd among catchers in both leagues and 11th in the American League (Wellington Castillo of the Chicago White Sox led all catchers at 49 percent).
Zunino was not especially good at passed balls. He allowed 10, tied for fifth among all catchers. If you throw in wild pitches (52), Zunino had a tough time blocking balls.
Houston's Brian McCann was the worse catcher in baseball when it came to throwing runners out. He had a 13 percent success rate. He had six passed balls and 47 wild pitches in 95 games, which suggests he was a bit worse defensively than Zunino. They were about equal in hitting. Zunino batted .251 with 25 home runs and 64 RBI to McCann's .241/18/62 in 29 less games.
I'd probably prefer Zunino because he's just a bit better defensively and is seven years younger with more upside to him. So put the Mariners in front, 1-0.
Let's look at first base. The Astros have Yuli Gurriel, who is 33 going on 40 (he played in the top Cuban League for 15 years and there is some speculation that he is much older than he says).
How old is he? I'm not going to guess with any exactitude, so instead will suggest he's in a range from three to five years older. He also is a very very good hardball player and a good hitter who was one of the best hitters in Cuban baseball.
Gurriel is a decent, but not great first defensive baseman. However, examining his monthly splits last year, he got better month after month after a clunker May. He has inverse splits against right and lefthanders in that he crushes right handed pitching and he is not bad against lefthanders. Right-handers should fear him.  I think he is poised for a monster season, unless he is 40years old and breakdowns occur.
As for the Mariners, Ryon Healy is the primary first baseman, but Mike Ford will play too. Both Ford and Healy are twenty five years old.  Healy has two seasons in the bigs and by rule, Ford, unless traded back to Yankees will play for the Mariners, too.
Healy physically seems to be a younger doppelganger for former Mariner Mark Trumbo. Healy's first two seasons at age of 24 and 25 are very similar to first two full seasons for Trumbo at ages 25 and 26. He's Trumbo through and through. Streaky power, long stretches where he never sees the bases is his deal.
Ford is a rule five guy claimed from the Yankees. He played college ball with Scott Servais son. He is a six-foot tall and a left hand hitting guy that weighs 230 pounds and has one of the rarest of attributes of a modern player. He is a developing player, a power hitter that walks more than he strikes out.
I'm going to suggest that Healy is insurance for Ford not making it big. Ford is an ok defensive first baseman with big power. The player that he most reminds me of is Ken Phelps who played for the Mariners and Yankees and A's to name a few teams.
I'm sort of excited about Ford. Time will tell if he is real. This position battle surely favors the Astros. But Mariners may be better than they've been at first base since John Olerud if Ford is real.
So the advantage at first base belongs to the Astros, making the score 1-1.
Second base comes down to Robinson Cano versus Jose Altuve. Cano has played hurt the past three seasons and his numbers suggest he is fading. Offensively and defensively his speed and quickness are giving away. So he either played hurt or it may be mostly over
I think that organizationally they've run him out there nearly every game for six months, which has contributed to his breakdown the past few years. A day off once every two weeks to target him playing 152 games a year probably might help, if only a little bit.
Altuve had a marvelous season last year leading the Astros to a World Series victory. He had a great, offensive season with a OPS of .957. He played very good to great, month after month. But he did not play great defensively. However, if you look at the greatest player that stood five feet six inches tall the two finalists are Altuve and Hack Wilson.  Go find out how good Hack Wilson was.
The Astros have a clear edge at second base, making the score 2-1.
Third base is between Houston's Alex Bregman and the Mariners' Kyle Seager. Bregman had a breakout year last summer and clearly performed at a higher level than Seager. Bregman's OPS made up of power and getting on base show him to be younger (by seven years), faster and stronger than Seager.
Seager at the age of 30 slumped in a sense from the big contract year he had in 2016. Widening the focus over his whole career, the 2017 Seager is pretty much what he's been – a .323 on bag and a .450 slug describes three out of last four years almost exactly.
However, Seager is the best defensive third baseman in the American League, closely followed by Adrian Beltre. Bregman is not close to being that kind of defender. They both had the same number of runs scored and RBI. Although Bregman should follow on to be a wonderful hitter, Seager is the fuller package now.
So advantage is to the Mariners at third base and the score is now tied 2-2.
Shortstop comes down to Houston's Carlos Correa versus Jean Segura, who despite being on the disabled list twice had a nice year as Mariner shortstops of recent vintage go. That the Mariners have not had a good shortstop in a long time begs the point because a .776 OPS comprised of a .349 on bag and a .427 slug was an upgrade.
Correa, on the other hand, had a monster year with an OPS of .941, .391 on bag and a .550 slug,
So what about defense?
Correa is 23 and is six foot four inches tall and is fast. His range factor is low at 3.89, but part of that is being new to the league. Huge arm and good hands too suggest that he will improve.
Segura is the worst shortstop in the American League. He lacks arm strength and has the least ability to get to balls in the American League. He is listed at five foot ten and two hundred and seven pounds. Not sure he is that tall at all. He has huge thighs and played second base with the Diamondbacks, which is a better position for him.
Advantage to the Astros at shortstop to push the score to 3-2.