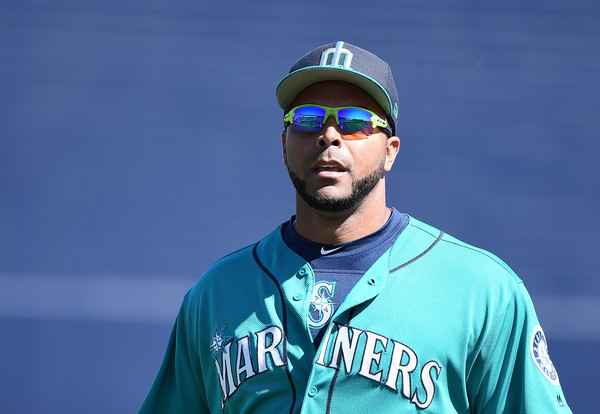 NELSON CRUZ
By Terry Benish
Special to the Sports Paper
This is third and final series on comparison of the Seattle Mariners and the world champion Houston Astros. We have looked at catching and the infield and now we will take a peek at the outfielder and pitching.
In leftfield it's Ben Gamel versus Marwin Gonzalez, who played shortstop when Carlos Correa was out and was good. He played second base and first base too, but mostly he played left field.  He is so so with a low range factor.
Gamel is a good left fielder with a superior arm. He had ridiculously good June and July stats, .849 and .949 OPS respectively, but crashed to earth in August.
This advantage goes to the Astros. The score is now 1-0.
It's George Springer versus newly acquired Mariner Dee Gordon in centerfield. Springer is a slightly below average centerfielder with a good arm.  Gordon has never played centerfield and as a second baseman was moved there because his arm was inadequate to play shortstop.
So far this is the big off-season move by general manager Jerry Dipoto. At the end of the day, Gordon probably will be additive in terms of catching fly balls in centerfield such that all the fly ball pitchers should be good for the Mariners, but the lack of strong arm will hurt.
Gordon is projected to bat leadoff for the Mariners and has a mediocre on bag at .341.  Springer's is higher at .367.
If you add up Gordon's hits plus his walks the sum is 226. He scored 114 runs. The ratio of runs scored to being on bag is just over 50 percent. That's an extraordinary number. You wish that he also had 50-70 walks and then you would have something really special.  Instead he makes a lot of outs and will probably strike out at least 100 times this year.
Advantage Astros, although Gordon makes this closer. Score is now 2-0 for Astros.
Its josh Reddick versus Mitch Haniger in right field. They have virtually same OPS, .847 versus .843. Defensively, Haniger gets to many more balls than Reddick, but he has bad hands however. Really bad hands is an understatement. They both throw well.
Advantage Astros, but it is close.  The score is now 3-0 Astros
The designated hitter comes down to Nelson Cruz versus whoever replaces Carlos Beltran, who retired at the end of last season after 20 years. This is a big advantage to the Mariners, no matter who will be the DH for Houston. Cruz has been a spectacular hitter. He had one sub-par month (May) last season, but was still productive then.  His September was strong despite being banged up. At the age of 37, it is natural to suspect that the onslaught of age will show up suddenly and that could happen this coming season. For that reason, the advantage to the Mariners is shrinking. Astros finish with a 3-1 advantage in the outfield plus DH.
Assessing starting pitching is tricky because the Mariners have announced they will use a seven-man rotation instead of the traditional five-man. Right now the Mariners have seven projected starters ‑ 1. James Paxton  2. Mike Leake  3. Felix Hernandez 4.  Erasmo Ramirez 5. Ariel Miranda  6. Andrew Moore and 7. Marco Gonzalez.
Traditionally when there is a discussion about the starting rotation composition it is about picking the best five guys, who might make it and who might make it out of the minors in mid-season. The Astros exploded that out of necessity last year due to injuries and it worked. The interesting thing is the Mariners were in the same situation and mostly failed with the exception of Mike Leake.
Then there is a perceived and talked about second trend where starting pitchers are going fewer innings per start by intent. This latter presents a chicken and egg thing in that did the manager take the starter out to preserve his arm or was he doing terrible and had to be removed.
In the Mariner's case they could hardly find a body to go four innings most of the year. But it would be very logical to say that the Mariners will intentionally do this in the 2018 season due to the makeup of their seven-man rotation.  It will probably be a much discussed issue that the general manager plans for seven starters in the off season and secondly it will be pushed on field manager and pitching coaches to reduce innings pitched and pitches thrown.
The obvious inference to determine if that is true is what Jerry Dipoto has simultaneously done to improve the length and breadth of the bullpen. How many guys will they keep for entire staff and how many if any guys to pitch innings five and six, if not seven.
Mind you at any point in time the rotation will be five guys with the extra starters in Tacoma as club control players. Thus the question is the entire staff 12 or 13?  The four or five inning starter argues for eight relievers.
Quick notes are thus ­‑Paxton is very, very good and if healthy a top five pitcher in the American League. If healthy being the key phrase. Mike Leake was good for a month here and is a good No. 4 starter elsewhere. Prior to being traded to the Mariners Leake was terrible the last two months in St. Louis.
Felix is owed $26 million and will pitch (he's a junk guy now so don't hold your breath) His splits show an inability to get left-handed hitters out. Left-handed hitters turn into Babe Ruth and while he does do better against right handed hitters but still give up a huge amount of extra base hits.
Ramirez had extreme splits getting right-handers out, but not left-handers and Miranda  might have been the worst starter in baseball the last three months of last season. I don't think he ran out of gas by end of June, but just could not locate, up down in the zone as well as middle of plate. Velocity sustained throughout the year sat 91-92, touching 94.
Moore, like Ramirez, has extreme splits and could not get left handed hitters out although his September was ok. If you want me to get Pollyanna about it,   Gonzalez was a human tether ball averaging one and one half hits per inning and walking a third of a batter per inning which is two runners an inning, mostly. He was a big deal out of Gonzaga and blew his arm up and had Tommy John surgery. Gonzales came back and got pushed by Mariners and it was very ugly. He pitched one game in St. Louis and the rest in triple A before the trade and so maybe he was coveted by Dipoto, but that said, his September was not bad and the babip against for him was enormous. The same thing happens if you throw pitch after pitch down the middle of the plate. Maybe he comes back a bit.
Gonzales was a number one pick in 2013 by the Cardinals.  Last summer he threw harder than he did prior to being hurt. He sat 92-93 and touched 94 last year, while it was 90-91 and 92 in 2014. He throws a ton of change-ups and prior to his injury, the velocity of his changeup was 78-80 and while with the Mariners it was 85-86 and touched 87.
The top six starters for the Astros before they traded this week for Pittsburgh's Gerrit Cole were 1. Justin Verlander  2. Dallas Keuchel  3. Brad Peacock  4.  Charlie Morton  5.  Lance McCullers  6.  Collin McHugh.  By obtaining Cole, the No. overall pick in the 2011 draft, Houston tightened its rotation with Cole expected to be the No. 3 starter behind Verlander and Keuchel.
Five of those guys on the Astros roster would surely be in most of the team's starting rotation if presented.  By contrast Paxton would be the best pitcher right now on either staff. If Mike Leake is the Mariners number two, he would be the Astros number five or six.
That is a quick segue to saying that the total bases allowed plus walks by the Astros is a much lower number when it was projected in contrast to the Mariners.  Three runners per game lower is enormous.
So then you ask the question, well what if the Mariners give more innings to their relievers than do the Astros? Does it matter?  Or is a bad pitcher bad no matter how many innings he throws?
For starting pitchers the advantage goes to the Astros.
The Mariners set a record for the number of pitchers on their roster last summer by having over 40 guys play. There were guys that shuffled back and forth to Tacoma as starters and long relievers. More than half of them were relief pitchers.
While I have projected the remaining guys it might be better observed that a great number of the relievers from last year are gone now. Current names include:  Edwin Diaz, Juan Nicasio, James Pazos, Nick Vincent, David Phelps,  Dan Altavilla and Marc Rzepczynski. There will be others for sure.
Meanwhile in Houston, Ken Giles, Chris Devenski and Joe Musgrave were very good last year. Musgrave, however, went to the Pirates in the Cole deal.
Summing up what we have learned, the Mariners could be more consistently good, but probably not good enough to run down the Astros. Could the Mariners grab a wild card berth?  It's possible. But they will have to fight off the Los Angeles Angels.
The best player in baseball is the Angels' Mike Trout. They also signed Ohtani a left-handed starter and their pitching is way better already than the Mariners.  So barring injuries to key players for Astros, Angels and Rangers the Mariners are in tough in the AL West.