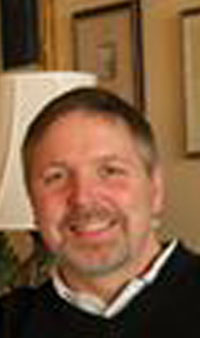 JOE PERDUE
By Joe Perdue
Special to the Sports Paper
Mom, don't read this.
I must be getting old. More and more, when something happens, it reminds me of something similar happening earlier in my life.
For instance, when I almost rolled the tractor here at Hidden Meadows Golf Course (Old Town, Maine) the other day while I was plowing, it reminded me of my days at Clover Valley Country Club in Port Orchard. I worked there on the grounds crew for two summers while I was on break from college, and came to have a life-long appreciation for how difficult it is to maintain a golf course.
One of my daily duties at Clover Valley was mowing the greens. We had an old Jacobsen triplex that worked a lot better than it looked, and even though it was held together with bailing wire and duct tape, it did the job.
You really had to pay attention when you were mowing the greens at Clover Valley. Several of them had steep banks, and if you weren't careful when you made your turns, it was questionable if you were going to go forwards or backwards.
I had one such incident early in my mowing career there. The 8th hole at Clover Valley was a 270 yard par 4. The last 150 yards was straight up a hill. I can't tell you how many times I nearly drove that green, only to have the ball roll all the way back down the hill, leaving a full 150-160 yard blind approach shot. The hill was that steep.
One morning I was mowing that green, and it was the mowing pattern I always dreaded on that hole, the 6-12, which had me in line with the fairway. If you didn't start your turn before you got off the front of the green, it could be pretty dicey.
Well, I didn't start my turn quite soon enough, it was raining (really, in Washington, rain?), and the mower started to go. I rode that mower sliding sideways the entire way to the bottom of that hill. There was no way for me to bail, so I just hung on for dear life. To this day, I have no idea how that thing didn't roll. There isn't a roller coaster ride that has scared me anywhere close to as much as I was scared that morning.
After I got to the bottom of hill, I caught my breath, looked around to see if anyone had seen my wild ride (it was 5:30 in the morning and nobody was around, thank goodness), pretended nothing had happened and went back up and finished mowing the green. Fortunately I had a change of clothes in my car, as I needed a new pair of shorts after that.
Over the course of the next month, unbeknownst to the course manager, I took it upon myself to make sure that never happened again. Every day I would mow less and less of the front of that green, and soon there was about four feet less green. I don't know if anyone ever noticed, but nobody ever said anything. And it created just enough space so that it was a lot safer to turn that mower.
To this day, 37 years later, I still shudder a little bit thinking about that, and just shake my head.
After my second summer working there on the grounds crew, I ended up getting a job as an assistant pro at another course in Port Orchard, and 2 1/2 years later got my first job as a head professional at Clover Valley.
That job also included me being the green superintendent as well. Whenever I was training someone how to mow greens, #8 was the first place we'd go. It was a great way to teach a new person how to respect the mower. It certainly made a life-long impression on me.
Perdue is a 1978 graduate of West Bremerton High School and is co-owner of Hidden Meadows Golf Course.