---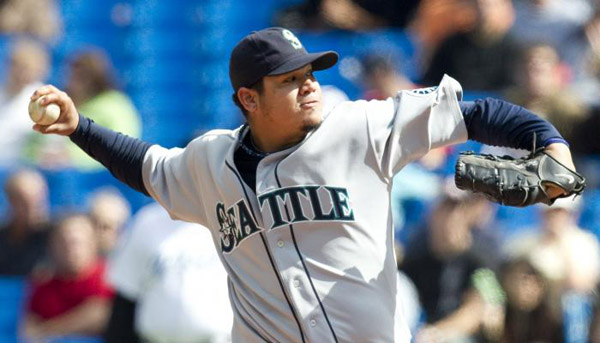 FELIX HERNANDEZ
I find it extremely difficult these days to get excited over the sports things I used to because of the political scene in our country. As you might know by now, I'm no newcomer to politics and despite my nearly 50 years in sports writing, I have a deep passion for all things government.
That passion was fueled early. I can remember reading as young boy of about four reading the paper about World War II (yes, I could read that early) and getting sucked into the daily war reports coming out of Europe.
Then in college at Western, I gravitated to political science after two years studying accounting at a college back east. Some of my best years were as a junior and senior at Western taking courses that dealt with governments from Central America to Europe to our own
I supplemented those studies with a heavy dose of economics and history that eventually led me to a good understanding of how the world works (and doesn't work).
Sports, though, has always been a part of me, from hitting rocks into and over the Allegheny River to getting crushed as a quarterback when opposing lines smothered me time after time to the basketball court where I was a guard before I spouted to almost six-foot-five and on the baseball diamond where I became a dangerous hitter that was certainly aided by my ability as a young boy to eventually ‑ after many hours and days and weeks and months and years ‑  to swing a wicked stick and belt rocks soaring  from the top of the dike over the Allegheny and into the trees on the opposite shore.
So I'm sort of a Dr. Jekyll and Mr. Hyde because I'm deeply enmeshed in both worlds and on a daily basis in my home loft I'm almost constantly at the keyboard scanning news outlets for sports and politics and being swamped emotionally with both of them.
It's weird how much time has flown since I was in the middle of the baseball scene in Seattle. I was talking with our 22-year-old son (Michael) just yesterday how I've gotten away from baseball because now I don't recognize hardly anybody who is playing the game. All the guys I once knew are retired or now coaching the game at some level.
For nearly 30 years I was involved with Seattle Mariners baseball, either covering it for the Sun or working as Major League Baseball's official scorer at their games. And I enjoyed every second of it.
At this point I'm supposed to give you some expert advice on this year's Mariners, but I'm probably going to disappoint because like you I'm only looking at them from afar.
As you may know – should know actually – baseball like softball depends on success from pitching. You don't have pitching you don't have success. It's pretty simple, really.
Felix Hernandez is once again considered the ace of the staff and gets his 10th opening-day start Thursday when the Mariners host Cleveland. King Felix has pitched 2500 innings over the past 13 seasons. That's almost 200 innings a season and when you consider he's been injured quite a bit the past two seasons and logged just 240 innings in total in that time, it means he's been a heavy-duty contributor for a long, long time. I would not expect a lot from the King. It's just too much to ask. It would be remarkable if he suddenly bounced back from two sub-par years, and he'll be 32 in 11 days and 32 is old for a pitcher that has thrown that many pitches.
James Paxton is the heir to be the ace of the staff. I didn't realize that he's 29 years old. I thought he was closer to 25. He has problems with injuries. That happens to some people. It's just the way it is. I would not expect him to go through the season without getting injured again. When healthy, though, Paxton is among the top tier of pitchers in the American League.
Mike Leake appears to be the No. 3 pitcher and if you are looking for the key to the staff this is the guy. His WHIP (walks and hits divided by innings pitched) is 1.278 in eight years and that is pretty good. Felix's WHIP is 1.184 and Paxton's is 1.220. So he's right there with those two guys and if he can avoid giving up home runs (he averages 25 a season) could be the surprise of the staff. Safeco Field is a pitcher's part so that should help him keep balls in the park.
Marco Gonzales, who pitched collegiately at Gonzaga, is the No. 4 guys, at least for now with Erasmo Ramirez out with a strained lat injury for probably one start. Gonzales would have to have a career year to help this staff. He is prone to giving up home runs (same average as Leake) and hits. His WHIP is an unsightly 1.694 that covers the three years he's been a Major League Baseball pitcher. He had Tommy John surgery in April of 2016 and missed that whole season so he is somewhat of a mystery. He was St. Louis' top pick in the 2013 draft, so he could be a good find for the Mariners. But, he will have to pick it up.
Erasmo Ramirez is in his second stint with the Mariners. If he repeats what he did once he arrived from Tampa Bay last July in a trade, then he could be a solid contributor. Ramirez had a WHIP of 1.161 in 11 games pitched after rejoining the club.  He is prone to giving up the long ball (21 average over 162 games).
This staff would have to collectively have career years to make the Mariners a contender in what promises to be a tough American League West with World Series champion Houston back as strong as ever, the improved Los Angeles Angels the easy pick for second place and an Oakland team that could surprise.
The Mariners should score more runs this season with a lineup that has been puffed up with the addition of speedy outfielder Dee Gordon, an improved performance in the spring of first baseman Daniel Vogelbach and the promise of catcher Mike Zunino that he will finally reach the expectations many have placed on him. Baseball, though, is a funny game. You can win 10-0 one night and the next lose 10-0 and getting on a roll like the 1995 club or the 2001 club did is not probable.
But, anything can happen in a 162-game, six-month season of baseball. Guys that can't hit .200 suddenly crush everything, pitchers that can't find the plate begin to paint it like Picasso and managers that stumble out of the dugout and fall flat on their faces suddenly walk proudly without a misstep and a region that has seen one of the longest playoff droughts in major sports history suddenly become the West Coast Yankees of 1927.
Just don't bet on it
Be well pal.
Be careful out there.
Have a great day.
You are loved.