TERRY MOSHER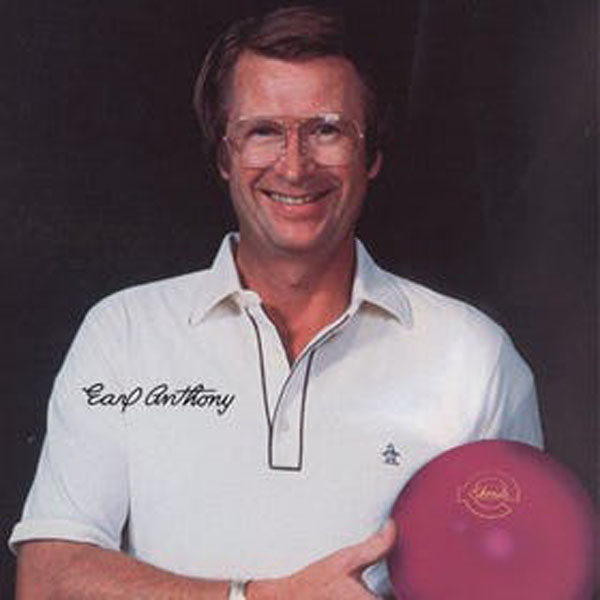 Earl Anthony
 TOP OF THE TOWN – A book, "Earl: The Greatest Bowler of All Time" on the great Earl Anthony has been written by Barry Sparks. It's the first biography on Anthony, who was 63 when he died in 2001.
These notes are taken from Luby Publishing, which put out the book and added some information on the great Anthony, who was a southpaw from Tacoma that dominated the Professional Bowling Association from 1970-83, winning 43 times, and was named in 2008 as the greatest player in the PBA's 50-year history.
"It's mystifying how any athlete who is considered the greatest in his sport could go this long without a biography," said Sparks, a writer from York, Pa. "Imagine if there were no biographies of Hank Aaron, Michael Jordan, Wayne Gretzky, Peyton Manning, Arnold Palmer or Jimmy Connors."
Sparks thought it was an injustice, and he set out to rectify it. He spent two years interviewing people, researching and writing the biography.
Keith Hamilton, president of Luby Publishing, the world's leading publisher of bowling periodicals, said, "As the years march on, the heroes of our game who were cherished by bowling fans will fade from memories and become less revered.  But bowlers like Anthony, Dick Weber, Carmen Salvino, Don Carter, Don Johnson and Billy Hardwick and others from the past should continue to be cherished and celebrated, much as Ruth, Gehrig, Mantle, DiMaggio, Aaron and Mays are still revered by baseball fans. It's my hope that Earl's biography can help make that happen."
Sparks says Earl Anthony was bowling's unlikeliest superstar. He didn't pick up a bowling ball until he was 21. He didn't go on the PBA Tour full-time until he was 31, an age when many athletes' careers are ending.
After winning three Player of the Year awards, he suffered a major heart attack in 1978. With a fierce determination, he returned to the lanes to win Player of the Year three more times. PBA founder Eddie Elias called Anthony's feat "one of the greatest comebacks in sports history."
Sparks takes a season-by-season look at Earl's impressive career. He shares the challenges Anthony faced, the reasons he was able to enjoy unparalleled success, his greatest achievements and his frustrations.
The author interviewed more than 100 people, including 23 PBA Hall of Famers, to get a greater insight into the superstar, who defined greatness. Earl's peers shared stories about his work ethic, competitiveness, adaptability, temper and humor.
The 293-page book can be ordered online at www.earlanthonybook.com
Ten percent of the book's profits will be donated to the Earl Anthony Scholarship. … The Bremerton Parks and Recreation is accepting team and individual registrations for a boy's basketball league. Age limit is 15-18 years old. League play runs from December 7-February 8 and games are played on Saturdays at the Sheridan Park Community Center Gym. Each team plays 8 division games plus automatic entry into the Bremerton Kiwanis Goldenball Tournament.
Registration deadline is Nov. 15. It costs $375 for a team and $48 for an individual registration for players requesting a team assignment. For additional information contact the athletic Office at 360-473-5427 or view the city website at www.ci.bremerton.wa.us; Go to Quick Links, Athletics and Basketball. ,,, LeBron James stuck his nose into the NBA-China dispute and got into trouble with people who believe he is sticking up for money over freedom of expression. James needs to learn that freedom is worth more than what money can buy. Traitor Trump is worst. He refuses to say anything about the protesting in Hong Kong, which is typical for a guy who hopes to become a dictator like Putin. Here is what the BBC says about the situation:  "Hong Kong's protests started in June against proposals to allow extradition to mainland China. Critics feared this could undermine the city's judicial independence and endanger dissidents. Until 1997, Hong Kong was a British colony – meaning it was controlled by Britain. Since returning to Chinese rule, it has more autonomy than the mainland, and its people more rights. The arrangement is known as "one country, two systems". City leader Carrie Lam agreed to suspend the extradition bill, but demonstrations developed to include demands for full democracy and an inquiry into police actions. The bill was withdrawn in September. But clashes between police and activists have become increasingly violent, with police firing live bullets and protesters attacking officers and throwing petrol bombs." China is increasingly throwing its economic muscle around as the Communist Party that runs things is trying to keep its anti-democratic power going. To have LeBron James, the face of the NBA, side with China is a bit much for most people. The NBA is trying to walk a fine line with China so as not to lose 1.4 billion potential customers. But there comes a time, much like the cowardly Republicans in Congress, when there is a need to stand up to power that limits freedoms. What is more important: money or freedom? The Republicans in Congress believe they can have both. Wrong. We will not forget their lack of principles if they don't stand up to the would-be dictator, traitor Trump, and do what they were sent to Congress to do – fight for their constituents and the constitution. Hopefully, LeBron will have learned a lesson from this that freedom is more important than putting a basketball in a hoop. That's enough for today.
Be well pal.
Be careful out there.
Have a great day.
You are loved.