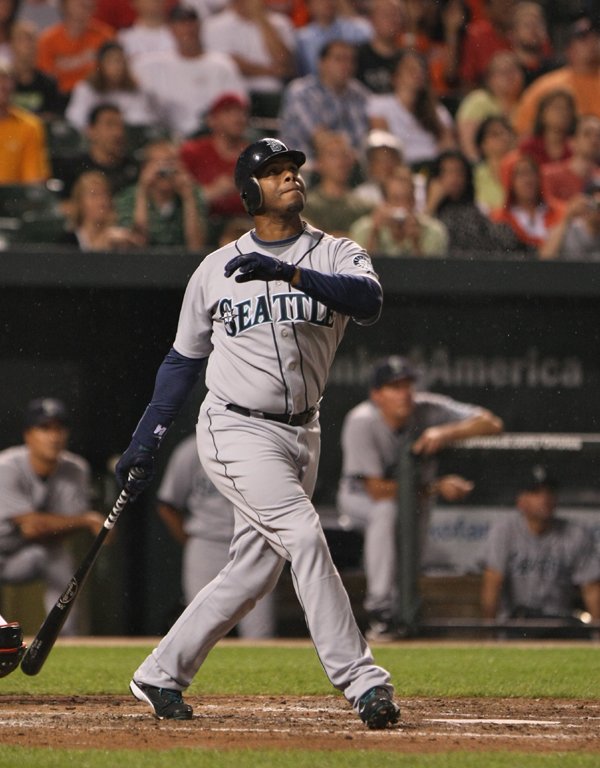 KEN GRIFFEY JR.
By Marc Blau
Special to the Sports Paper
Ken Griffey Jr. is among eight former athletes, coaches or owners named today to the State of Washington Sports Hall of Fame.
Griffey was admitted to the Baseball Hall of Fame in 2016 with a record 99.3 percent of the vote. He was a 13-time all-star in his 22-year major-league career and his career touched four separate decades. "The Kid" played 13 of his 22 years as a Mariner and is sixth on the all-time list with 630 home runs, 417 of them smacked as a Mariner.
The other members of the induction class of 2018 are former Washington State University football coach Mike Price, WSU running back Reuben Mayes, Sonics coach George Karl, jockey Alfred Johnson, Olympic heptathlete Kelly Blair LaBounty, softball pitcher Louise Mazzuca and pioneer Seattle baseball owner Dan Dugdale.
"These eight inductees bring the total of 215," said Blau, executive director of the hall of fame that was founded in 1960. "It's a memorable class with Griffey as an obvious 'lock,' but also honors seven other deserving people. Our panel of voters, most of them sportswriters and broadcasters spread throughout the state, always put effort into their selections."
Everett-native Price led WSU to Rose Bowl appearances in the 1997 and 2002 seasons. He had an 83-76 overall record in Pullman in 14 seasons and was 3-2 in bowl games.
Mayes, a Canadian, was a star running back at WSU who rushed for a then-NCAA record 357 yards against Oregon in 1984. He was a consensus All-American in 1985 and then NFL offensive rookie of the year in 1986 for New Orleans. He was a two-time Pro Bowl selection in his seven-year NFL career, the final two years as a Seahawk.
The Sonics made the NBA playoffs each of the seven years Karl was head coach and lost the 1996 championship series to Michael Jordan's Chicago Bulls 4-2. . Karl's record as Sonics coach was 384-150. He also is credited with helping elevate high-school basketball in Seattle with the Friends of Hoops program.
Johnson grew up outside Spokane and rode the winners of the 1922 and 1926 Kentucky Derby. He also had back-to-back victories in the Belmont Stakes in 1925-26. A trainer for Bing Crosby and others after he left the saddle, Johnson is in the U.S. Racing Hall of Fame. He died in 1966.
LaBounty was a three-sport star at Prosser High School as Kelly Blair and is considered one of the best female athletes in state history. She was two-time NCAA heptathlon champion at Oregon and finished eighth in the 1996 Olympics. She made the 2000 Olympic team but was unable to compete because of injuries. She is married to retired Seahawk Matt LaBounty, who played at Oregon.
Mazucca was a Stadium High School of Tacoma graduate who pitched three of her career 35 no-hitters in the 1960 American Softball Association national tournament. She was inducted into the National Softball Hall of Fame in 2007. She had been living in Tigard, Ore., and died this year on March 27 at age 78.
Dugdale was called "The father of professional baseball in Washington State" by the late columnist Royal Brougham. The former major-league catcher organized the Pacific Northwest League, owned various teams in the early 20th century, and built ballparks, notably Dugdale Park. He died in 1934.
Induction ceremonies will take place at a yet-unselected WSU home football game for some inductees and at a yet-selected Mariners game for others.
Photos and plaques of all State of Washington Sports Hall of Fame members are on display in the Tacoma Dome at the Shanaman Sports Museum.