TERRY MOSHER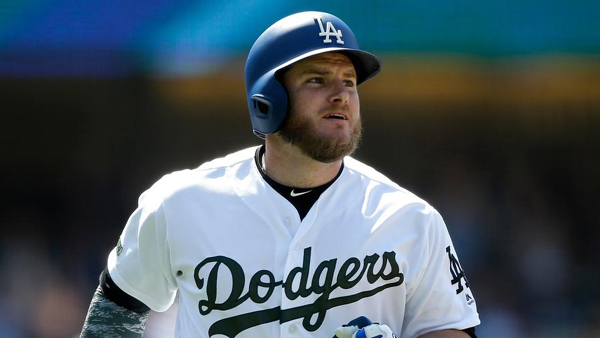 MAX MUNCY
This is hard for me to believe. It's almost like too good to be true, except it is. What I'm talking about here is that my little ol' hometown village in the Southern Tier of New York State – Portville – and the school there – Portville Central School – is connected to two players that are in the 2018 World Series of Baseball.
Boston pitcher Rick Porcello (his given name is Frederick Alfred Porcello III) is connected to Portville Central School through his dad, Fredrick Alfred Porcello II, who graduated from PCS in 1971.
Los Angeles first baseman Max Muncy (his given name is Maxell Steven Muncy) is connected to PCS through his mother – Mary Jean Wormer Muncy (nicknamed Midge) – who graduated from PSC in 1972.
It was Max Muncy who belted a walk-off home run last night in the 18th inning to give the LA Dodgers a 3-2 victory over Boston in Game 3 of the World Series. The 18 innings is the longest World Series game in history, and Muncy, who hit 35 home runs during the regular season, almost ended the game in the 14th inning when his long drive down the leftfield line just barely went foul.
Porcello is a 29-year-old, 6-foot-5 right hander who has pitched for 10 seasons in the Major Leagues. He was 17-7 during the regular season with a 4.28 ERA and 190 strikeouts in 191.1 innings.
He was raised in Morristown, NJ and prepped at Seton Hall Preparatory School. His senior year, Porcello had a 10-0 record with 103 strikeouts and an ERA of 1.44. Porcello was drafted in the first round of the Major League Baseball Draft in 2007 and signed a four-year deal worth $7.28 million.
Muncy is six-feet tall and is 28. He was raised n Watauga, Texas and played college baseball for Baylor, being drafted in the 5th round of the 2012 Major League Baseball Draft by Oakland. He signed a minor league contract with Los Angeles in 2017.
I left Portville in 1954 when my father was transferred to Ferndale, Wa. to start up the Mobile Refinery on Cherry PT.