TERRY MOSHER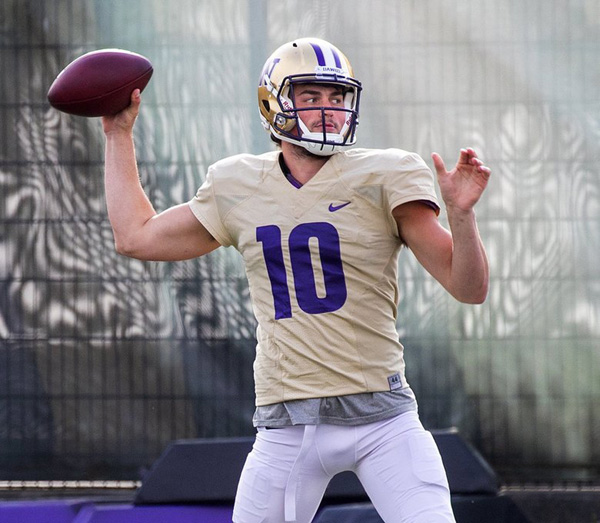 JACOB EASON
It's easy to get caught throwing around superlatives after the first week of the college football season. Most of the games – almost 99 percent of them – are played as cash cows for the weaker teams from the weaker conferences against power 5 conference teams and except for the rare, and stunning upset (Georgia State's takedown of Tennessee 38-30) the bullies usually stomp on the weaker teams easily and their quarterbacks or running backs put on a show worthily of an Oscar.
So it was for the long-awaited appearance of Jacob Eason, the Lake Stevens native who transferred to Washington a year ago from Georgia. Easton has a canon for an arm and displayed that early and often while carving up outclassed Eastern Washington 47-14 in Washington's win at Husky Stadium.
Easton threw a 50-yard bomb for the first of his four touchdown passes and showed he was as good as advertised. Except, remember this was Eastern Washington the Huskies were playing and not Auburn, which wore down Oregon in the fourth quarter to escape with a 27-21 victory that showed the Ducks from Eugene are as good as advertised even in defeat and deserve to be one of the favorites to win the Pac-12 championship.
Another quarterback whose appearance Washington State fans were anxious to see was fifth-year senior Anthony Gordon, who put on a brilliant show in coach Mike Leach's Air-Raid office while bombing a hapless New Mexico State that has had five winning football seasons in the last 51 years and have gone 21-64 in the last seven seasons.
Gordon was near perfect. The six-foot-three passing whiz completed his first 15 throws and ended up completing 28 of 35 passes for 420 yards and five TDs as the Cougars blew away the listless invaders from Las Cruces, NM, 58-7.
The cupcake schedule continues Saturday (Sept. 7) when Gordon and the Cougars face at home Northern Colorado. Their first big test comes Sept. 13 at Houston. That's when we will see how well Gordon really is.
Eason, in the meanwhile, will get his first real test this coming Saturday when Justin Wilcox brings his California Golden Bears to Husky Stadium for a Pac-12 game. Remember, last season the Bears beat the Huskies 12-10.
So we'll see what Eason is really made of real soon.
Speaking of cupcakes, what was Penn State doing Saturday? The Nittany Lions blasted visiting Idaho 79-7. Now tell me, is that excessive or not?  I don't believe anybody should run up that many points on an overmatched cupcake. The Nittany Lions should be embarrassed and told to run 100 laps.
On the other hand, what is Idaho doing flying across the country to be whipped? Well, I tell you why Idaho did it. The Bengals pocketed $1.4 million for the right to be "pants."
The cupcakes got revenge of sorts when Georgia State stunned Tennessee . Now it's Tennessee that is embarrassed.
A big surprise Saturday was that the Seahawks cut quarterbacks Geno Smith, along with J.T. Barrett, leaving the Seahawks with just one QB – Russell Wilson.  But it was a planned move because Sunday, ESPN reported, Smith was back on the roster after he resigned a contract with the team. I'm sure Smith knew all of this and was good with it. Why they do it this way, I have no clue.
Another big surprise came when general manager John Schneider fleeced the Houston Texans by acquiring sack man and defensive end Jadeveon Clowney for basically a bag of peanuts – linebackers Barkevious Mingo and Jacob Martin and a third-round pick in the 2020 draft.
Mingo was likely to be cut by the Seahawks and Martin is a solid pass rusher, but a rotation guy not a regular starter.
I'm always suspicious when a talent like Clowney, the No. 1 pick in the 2014 NFL draft, gets traded or when players wind up playing for several teams as often happens in baseball. What is often overlooked by many is some of these talented athletes are not anywhere near talented when it comes to character and so they are traded back and forth between multiple teams.
Washington Husky football coach Chris Petersen likes to boost they recruit "Our Kind of Guy" (OKG). His formula is simple: Talent plus Character equals Our Kind of Guy
What the average fan of sports often doesn't see is what is behind the closed door. Is Clowney a good guy away from the football field? How is he in the clubhouse? I don't know. I suspect, though, we are about to find out.
Okay, that is it for today. I need to go play some games of Gin.
Be well pal.
Be careful out there.
Have a great day.
You are love.
IS FO