TERRY MOSHER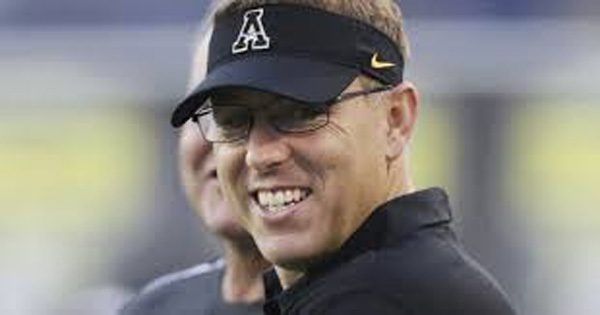 SCOTT SATTERFIELD
ALL AROUND THE COUNTRY – After watching Notre Dame grind down Louisville for a 35-17 victory I was impressed with Louisville coach Scott Satterfield.  For six seasons, Satterfield was the coach at Appalachian State (Boone, NC, in the Blue Ridge Mountains) where in six seasons he went 51-24 and over his last four seasons there his teams won or shared three Sun Belt championships. At Appalachian State, Satterfield lost three close games to power 5 conference teams – Penn State in overtime, Wake Forest and Tennessee in overtime. He is an offensive guru and I could see why against Notre Dame. They have some real good quickness and carved up Notre Dame's defense with runs that gave them 258 total rushing yards. Quarterback Jawon Pass, receiver Chatarius Atwell and running back Javian Hawkins did the most damage. In the end Louisville didn't have a functioning passing game and made too many mistakes to hang with the Fighting Irish … Oklahoma transfer quarterback Jalen Hurts had a career day against Houston, accounting for six touchdowns, three passing and three rushing, while accumulating 508 total yards. Oklahoma coach Lincoln Riley is supposed to have a better defense this year, but I didn't see it against Houston, which like what happened to Louisville against Notre Dame got wore down over the last quarter by Oklahoma. If Houston had a defense it would have won this game. As it was, Houston ran roughshod over the Oklahoma defense. The Cougars got 251 yards rushing and 167 passing. Hurts, meanwhile, jumped into the Heisman Trophy conversation … Oklahoma State sophomore Chuba Hubbard had the weekend's top rushing total. He accounted for 211 yards in 26 carries as the Cowboys turned back Oregon State 52-36 … I will never understand the salary cap in the NFL, nor will I try. All I know is teams pull off all kinds of shenanigans when it comes to cutting and then resigning the same player. It's like a magic act where the magician pulls a rabbit out of a hat. It is possible like the appearance of the rabbit, DeShawn Shead, who was cut, may reappear on the Seahawks' roster. He hasn't yet, but the magician is working on it. The Seahawks also resigned Jaron Brown and Nick Bellore, both of w ho had been cut Saturday. What mystified me is Austin Calitro was cut. He looked great in the preseason. Man, I think I need to have my eyes checked because what I saw of Calitro was a featured linebacker.  … Where you impressed as much as I was with Washington redshirt freshman running back Richard Newton? He's a keeper.  He runs with authority, has good field vision. zigs and zags, and easily looked like the best back the Huskies have against Eastern Washington. We'll see how genuine he is Saturday against the more imposing California Golden Bears. That will be the proof in the pudding. … I don't know what to think of the select football organizations that are popping up. On the one hand, I say about time. On the other hand, parents can spend a lot of money on them and be fooled into believing their kid will be so improved he will get a football scholarship to college. The best I can say is take your time and pick a select program with care. If the magician pulls a rabbit out of the hat, it's all good. If he doesn't, turn and run for the hills.
That's it for today. I'm going to go and play a game of gin. If you never have seen the Gin Game in live theater, you are missing a lot. It's a hoot. See you later.
Be well pal.
Be careful out there.
Have a great day.
You are loved.