TERRY MOSHER
The 1948 Bainbridge High School state B champion basketball team and the 1981 Olympic College modified softball team that won the 1981 NWAACC championship highlight the 2020 Kitsap Sports Hall of Fame class announced by the Kitsap Athletic Roundtable, the organization that runs the hall of fame.
In addition to the two teams, 11 individuals will be inducted in ceremonies scheduled for Jan. 25 starting at 1 p.m at Kiana Lodge in Poulsbo. Also scheduled to be honored are the winners of the Red Bown Distinguished Service Award, the Kitsap Athletic Roundtable Lifetime Achievement Award and the Dick Todd Memorial Award.
Tickets for the induction ceremonies are $40 and for ages 6-12 they are $20. You can purchase tickets online at https://bpt.me/4474502 or by calling Jodee Strickland at 360-710-2128 or 360-692-8754 or email Strickland at jodee.strickland@aol.com Send checks to P.O. Box 414, Tracyton, WA 98393 no later than Jan. 10, 2020.
For more information go to https://www.kitsapathleticroundtable.org/kitsap-sports-hall-of-fame
Bainbridge's 1948 team, coached by the late Tom Paski, is the only squad in school history to win a state championship. It won the title in Paski's first year as coach by defeating unbeaten Kalama 42-40 in the title contest. It won four games in the 1948 tournament, all by close scores. The Spartans knocked off Harrington 43-39 in the first round, St. John 33-28 in the quarterfinals and Sequim 34-32 in the semifinals to reach the championship game.
The Spartans were also in the state B tournament the previous season, taking eighth place. And it had beaten Kalama in that tournament 36-28 in a loser-out contest.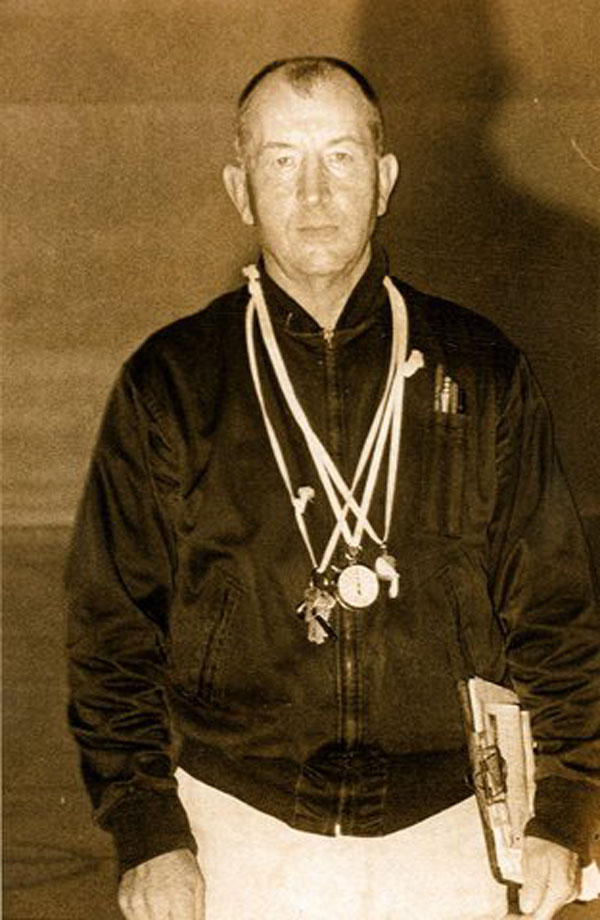 TOM PASKI
Paski, who also coached football and baseball at Bainbridge and retired from coaching basketball in 1970. He died in 2005 at the age of 94, leaving behind many people who dearly loved him and a basketball coaching record of 298-174 that included second-places at state in 1954 and 1955, and an overall coaching record of more than 400 victories.
In 1976, Paski was inducted into the Washington State Basketball Coaches Hall of Fame.
The Olympic College team finished with a 31-7 record with pitcher Kim Goldsby, second baseman Kim Calnan-Baumgartner and third baseman Donna Bennett named to the all-conference first team. It was inducted into the Olympic College Athletics Hall of Fame in 2017.
Other members of the team were: coach Pam Calnan, Annette Clifton, Brenda David, Robin King, Sandy Cooley-Vise, Bonnie Lingan. DeeAnn (Stroz) Moreau, coach Toni Turnbull, Robin Weinman and Debbie (Picinich) Bentler.
Also to be inducted are former Olympic High School wrestler Camie (Yeik) Devitt, Derek Strey, who played football at South Kitsap and Eastern Washington, Billy Landram, North Mason basketball, Conner Hartmann, SK wrestler, pro golfer Troy Kelly of Central Kitsap and the University of Washington, Craig Anderson, who scaled the highest mountains in the world and went to school at East Bremerton, Renard Williams and Kevin Peterson, football players from SK and Eastern Washington, Jared Prince baseball player from North Kitsap and Washington State, John Callaghan, South Kitsap basketball coach and Shane Moskowitz of Central Kitsap who ran nationally in cross country at Oklahoma State.
Current Olympic College athletic director Barry Janusch will be honored with the Rex Brown Distinguished Service Award, Barney McCallum, the founder of Pickleball from Bainbridge, earns the Kitsap athletic Roundtable Lifetime Achievement Award and Craig Dean is to be honored with the Dick Todd Memorial Award.
Yeik is the last female wrestler to go against the boys at Mat Classic in 2008 (now the girls go against girls at Mat Classic) when she finished sixth at 103.
class.
"She put her time in, she paid her dues," said JoeAiken, the father of local wrestling. "She made other young men cry. She would go out there and beat the (bleep) out of you. That is not a joke. Oh (bleep), I have to wrestle Yeik. Yeah, they had to be on their game. If not, she tore them a brand new one."
Yeik was actually nominated for induction in last year's Hall of Fame class, but because she was a new mother decided to wait and be inducted with this class.
Williams was a first team All-American defensive tackle for Eastern Washington when it won the 2010 FCS National Championship and Hartmann was 38-0 and captured a state 4A title at 189 pounds as a senior. He was a three-time All-American and four-time NCAA qualifier at Duke.
Callaghan coached basketball in the South Kitsap School District – Marcus Whitman Junior High and South Kitsap – for 37 years, winning 304 games at the high school. His teams won four Narrows League championships and placed second in state in 2004 and third in 2006.
Landram was a proficient scorer for North Mason, played college ball at Olympic College and San Jose State and later coached at OC.
Prince was an all-state player in both football and baseball at North Kitsap and was a freshman All-American at Washington State and then played four seasons in the Texas Ranger's minor league system, advancing to AA ball where he hit 12 home runs.
Kelly played in 66 PGA events and placed second in the Greenbrier Classic and Anderson, a 1964 East High graduate, is a retired Central Kitsap teacher that was on the Jim Whittaker Expedition that in 1978 was the third climbing group to reach the summit of K3, the second-highest peak in the world.
"Experiencing the highest places is almost like a drug," Anderson says. "You have to go back and have that experience until you push the envelope too far and you may make a mistake and you may die."
Moskowitz is a five-time state champion in the track and cross country. He also ran a sub-four-minute mile while at Oklahoma State and helped the Cowboys win a national cross-country championship in 2012.
.
.
.