TERRY MOSHER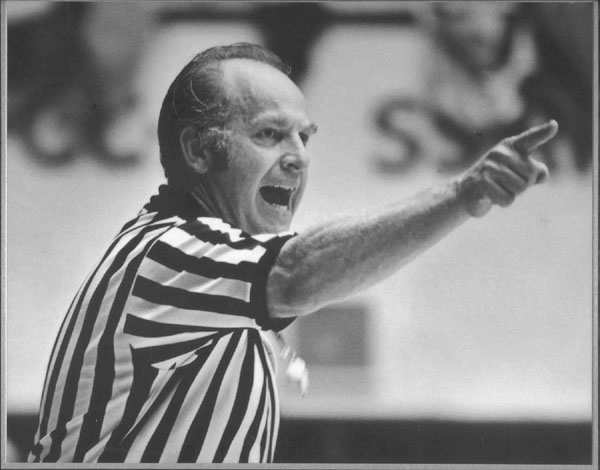 LOUIE SORIANO
This region lost a good friend and good man when Louie Soriano died last week at 88. He was the face of downtown Bremerton for many, many years, continuing on the family tradition that started with his parents – Morris and Rose – who ran a food market in the downtown.
Much has already been written about him the past few days and there will almost certainly be more remembrance about Louie in the coming month, including the possibility of the Kitsap Athletic Roundtable starting a scholarship program in his name.
As you all know, he had a tremendous influence on the region, and in college and NBA basketball as a big-time referee and an observer of referees for the pro league for 22 years. There were many nights when I would receive a call from Louie at the sports department for the Bremerton Sun and he would usually only want one thing from me, the score of the game where he was observing the referees for the league. He always had to make a report to the league and had to include the score of the game. However, he usually left before the game ended, and therefore the call to our sports department.
Louie always had strong opinions about what I (and others) wrote and wasn't afraid to make them known to me (and others). Sometimes they were not what I wanted to hear, and sometimes it felt good to know that Louie liked what I (and others) wrote.
In the end, Louie stopped talking to me, as I discovered he did too many others, and I suppose his declining health had something to do with that. He just didn't want people to know, and I can respect that. I feel the same way about myself.
Our little world here is going to be the worse for not having Louie around to put things into perspective. He had a way to make you think things you wouldn't otherwise think.
Louie owned property in downtown Bremerton and once several years ago Cap DeMiero (who died in 2016) and I approached Louie about renting one of his spaces on 4th avenue. Cap, as many of you know, ran a hair salon downtown Bremerton for nearly 50 years and was a big jazz guy who played the bass as part of a trio that played in the region for nearly as long. We wanted to bring jazz back to Bremerton in a big way and we thought Louie would rent to us at a reasonable price.  It didn't happen because Louie had already rented it out to somebody else.
Now the music has died not just for Cap, but also Louie.
One thing you likely don't know about Louie is that because of his Jewish heritage he faced discrimination during his life. I believe, and some others do also, it is that discrimination that drove him. He wanted to prove that he could be just as good as anybody else, no matter the nationality, religion or color.
He did that, that's for sure.
Bob Fredericks, a close buddy of Louie's since the fifth grade and worked in concert with Louie on many things that Louie felt needed to be done in the community, revealed discrimination Louie felt at the University of Washington when none of the regular fraternities would accept him. He finally was taken in by a Jewish Fraternity and it wasn't long after that the fraternity's national committee voted Louie the National Jewish Athlete of the Year in the whole country.
Louie overcame a lot of things, but his hard work, his dedication and his love of community made him an icon that will be missed for all of time. And if people thought he was a hard man, they would be wrong. He could be gruff at times, but underneath he was as soft as melted butter.
Take this story by Lane Dowell as an example.
"A great football coach told me once, "Give me twelve men that will cry in a sad movie and I will give you a state champion," Dowell began. "One of my fondest memories of Louie that illustrated to me his emotional side was the night that we made our final presentation on the naming of the gym and court at Bremerton High School to the school board recommendation committee. This group of five was selected to give the final thumbs up or down on the naming project that we had worked long and hard on. ‑ Les Eathorne Gym and Ken Wills Court.
"We had received a lot of flak from the Catholic contingent which was against the naming for coach Wills (who killed himself in 1962). We invited Louie to speak thinking that this community icon could persuade any to accept coach Wills.
"When I called Louie to the mic to show support, all he could do was stay in his seat and cry like the world ended. This show of emotion removed any doubt that the committee of five may have had.
"They unanimously endorsed the naming of the gym and court. We never got to meet coach Wills but Louie's show of emotion told us a lot about the impact that this great man had on youngsters."
Wills coached Bremerton basketball for 16 years (1937-62) and took 15 teams to the state tournament, winning the 1941 state championship, taking second in 1942 and in 1946 and 1948. Wills placed 10 teams in the top eight at state from 1940-59, including third place with the 1952 team. Wills finished with a 472-164 record and is still remembered today by the dwindling few who were taught in the classroom or coached on the gym floor or in track and field.
We'll let Louie explain Wills' impact. He said this for a story I did on Wills in December of 2009:
"He meant just about everything in life to you," Louie said.  "I was his student, his son. But everybody was. Everybody was his son, his daughter. Everything he said had meaning to it. He was the kind of person that when he talked to you, it was to make you a better person. He never said anything derogatory about anything. He never was negative about anything. Everything about him was how to improve you.
"I feel if he had not entered my life at the time he did, I would not have been doing what I did later in life. He made me all of that."