TERRY MOSHER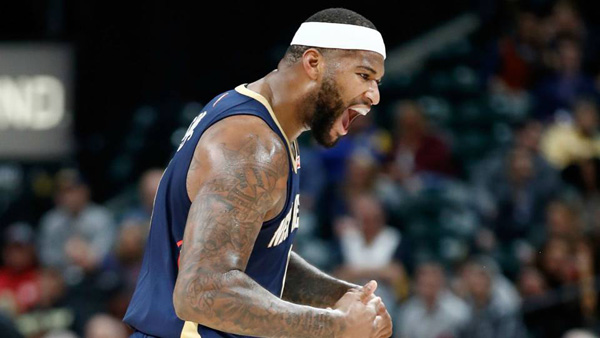 DEMARCUS COUSINS
The stink going around is the NBA is becoming too top-heavy and that is ruining the league, and presumably attendance. Maybe so, but it's only because of human nature if that is so.
What critics are crying about is the trend in the last years for superstars to move about in free agency to teams where they are almost certainly guaranteed to win NBA titles. Look at Kevin Durant joining the super-talented Golden State Warriors two years ago, and now DeMarcus Cousins has joined them. Yeah, Cousins is still recovering from an Achilles injury and may not be able to get back on the court until December at the earliest, but with him on the court you would have a lineup of Durant, Steph Curry, Draymond Green, Klay Thompson and Cousins.
That starting lineup averaged 110 points last season when all of them were named to the All-Star team. There are 11 NBA championships among them, and they have a collective three NBA MVPs.
Stacking a team with the best players is not new. It's done at all levels, including with recreational slowpitch softball teams. The local Gene Lobe slowpitch teams of the 1960s had a galaxy of top athletes and the Boston Celtics and Los Angeles Lakers of the 1980s had numerous Hall of Famers – Magic Johnson, Kareem Abdul-Jabbar and James Worthy of the Lakers and Robert Parrish, Kevin McHale, Larry Bird, Dennis Johnson and Tiny Archibald for the Celtics.
In the 1970s, Westbay Auto Parts was the top team in the Bremerton City League for basketball. Sherm Coulon, who coached the team, was always picking up the best players he could find and Westbay dominated as a result.
We all want to be the best or be on the best team. That is why guys like Coulon cherry-picked players from other teams to form the best. It's just human to be like that. So I'm not surprised that the best NBA players look around for the best spot to land if they are in free agency. Look at what LeBron James did in 2010 when he left Cleveland for the first time and joined two other superstar free agents – Dwayne Wade and Chris Bosh – in Miami where they won two NBA titles.
So the theory is that by all-stars stacking just a few teams, the competition level is shot. It may take a year, but LeBron ditching Cleveland again, this time for Los Angeles Lakers, will bring "Showtime" back to the glittering Hollywood sideshow that attracts the beautiful and the famous like Jack Nicholson to courtside, and over a short time LeBron will probably be joined by other superstars looking to be the best, creating some more disparity in competition in the league.
Right now, the Warriors look almost unbeatable. Maybe the Houston Rockets with James Harden and a healthy Chris Paul can play with them and maybe the Celtics with a bunch of young and very talented guys can reach up to the Warriors rarified air, and maybe the rebuilt 76ers have an outside chance, but realistically that is about it in a league with 30 teams.
So are superstars looking for glory and joining other superstars to form one of the greatest teams in league history actually hurting the league? I mean do I really want to tune in and watch the Phoenix Suns and Atlanta Hawks play on TV?
While thinking about this for the past few days I suddenly realized that some of these guys are making insane money. LeBron just signed with the Lakers for $153.3 million over four years. That averages 38.3 million a year, or almost a half-million per league game. So LeBron in three games makes about as much as the average person makes in his working career. Think about that for a while.
But, you know, LeBron isn't the highest paid athlete in the United States. You probably are going to be surprised to learn that the highest paid this year is – drum roll – Atlanta quarterback Matt Ryan, who signed a five-year $150 million extension this off-season and will make $52.5 million this NFL season ($6 million base salary and $46.5 million signing bonus).
James, though, is the highest paid NBA player. Curry is next at $37.5 million per season.
So if the NBA is losing its competitive edge, what about baseball? Look at the MLB season this year. Realistically, there are at the most three super teams ‑ Yankees, Boston and Houston – with Cleveland and Seattle (yes, the Mariners) sitting behind the big three.
It used to be before the league imposed the Luxury Tax in 1996, teams in big markets like New York could dominate by buying up all the best talent. The Yankees did that for a lot of years and the competitive balance was unfairly affected. But now with the Luxury Tax, small market teams like Kansas City can win a World Series (2015) if they manage their farm system, draft well and make good use of the money they have.
I can't explain this MLB season, other than the Yankees still attract the best players and they have done a good job of managing their farm system. Houston made the good decision in 2013 to trade away their veteran (and expensive) players for prospects and began to climb back from that disastrous 111-loss season to win the World Series last season.
So being careful while rebuilding can get a team to new heights of success. It isn't easy, but baseball teams don't have to do what the Yankees did for many years, buy or trade for the best players in the game.
Football because of all its arcane rules makes it nearly impossible to dominate year after year (although the Patriots have done a good job of that). The salary cap imposed by the collective bargaining agreement makes it difficult for teams to hold on to its top player and, as the Seahawks found out this off-season, that limits their ability to sustain success.
Basketball has a salary cap (almost $102 million for the upcoming season), but because teams have much less players than the NFL or baseball, it can pay large to a few and fill in around them to build a great team, as the Warriors have done.
Ok, enough of this. I don't have the answer how you make the NBA more competitive top to bottom, or if you really want to. People will pay to see LeBron play no matter the quality of his team. So an NBA team can lose on the court, but win at the bank.
I don't think the quality imbalance will eventually ruin the NBA. The great players will always attract an audience. It still might be tough, though, to sit through a Suns and Hawks game.
Be well pal.
Be careful out there.
Have a great day.
You are loved.