TERRY MOSHER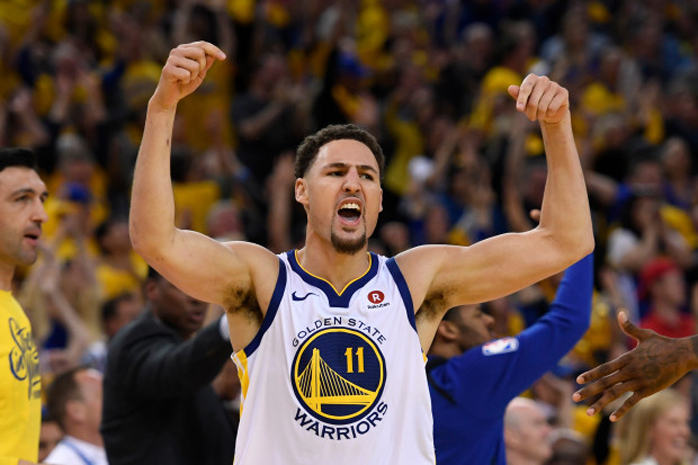 KLAY THOMPSON
Ok, the Warriors will have Klay Thompson back for tonight's Game 4 in the NBA best-of-seven series for the championship. Kevin Durant will still be out, but frankly the Warriors play better team ball without him.
So we will see how Thompson's return impacts the game. Is he completely healthy and can he still play his lock-down defense while supplying the second offensive punch of the 1-2 Splash Brothers combo with Steph Curry? That will be the key to any success the Warriors hope to have against a Raptors team that has been getting offensive help from just about everybody on the roster, but mainly from Kawhi Leonard, who is as impressive as anybody in basketball.
I think the Warriors will rebound and even the series at two games each. Then we'll see if Durant comes back from his calf injury for game 5 in Toronto.
­
It makes me sick and should make you sick too that traitor Trump would sit for an interview at the foot of the graves of over 9,000 American soldiers who died in World War II protecting our freedom . He lashed out at Bob Mueller and Nancy Pelosi in the interview and that held up a solemn ceremony that was planned to honor them on the 75th anniversary of the invasion of Normandy in which these young kids died so we could enjoy the life we currently have.
What a sicko this man is. Everything is about him and to narcissistically do this at Normandy on this occasion is really sickening. He must go. We got to get ride of this sicko.
­­­­­­­­­­­­­­­­­
The United States begins defending its women's World Cup soccer championship June 11 against Thailand  as the eighth one since the first one in 1991 opens in France today (June 7). This tournament is finally getting the proper attention it deserves and there are a record 24 teams in the field.
As we all know, the women have not gotten their proper respect in the sport and still do not get equal pay as the men. But the fight is being fought and maybe someday it will happen.
It's a shame that we treat women this way. I understand the economics and the women have not in the past attracted enough support from the public to get to the same economic level of their male counterparts. But it's time to knock that off and make the women's brand of soccer on the same main stage as the men.
Pay them.
It should be fun to see Carli Lloyd, Tobin Health, Alex Morgan and the fiercest competitor and women's rights fighter, Megan Rapinoe, play. The United States is favored to repeat their 2015 championship, but they will be met by some good teams, including France and England.