TERRY MOSHER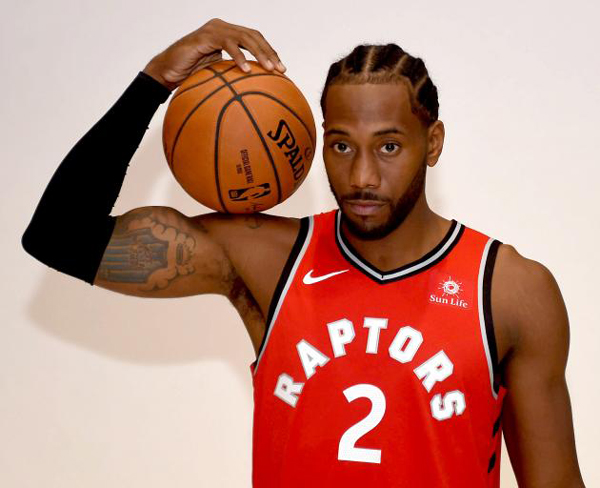 KAWHI LEONARD
So Steve Ballmer pulled off another upset. Ballmer, the billionaire who was CEO of Microsoft and was thought to be headed toward bringing the Sonics back to Seattle through the effort by Chris Hansen before he switched gears and purchased the Los Angeles Clippers for $2 billion in 2014, reeled in Kawhi Leonard on Friday night while also at the same time trading for Paul George, Leonard's buddy.
Leonard signed for $142 million over four years and with George coming over from Oklahoma City in a blockbuster deal pushes the Clippers to the front in the NBA battle to win the West.
The 29-year-old George, a six-foot-nine six-time All-Star, averaged 28 points, 8.2 rebounds and 4.1 assists this past season. He also as honored with All-Defensive First Team
Ballmer's Clippers gave up a lot to get George, who Leonard demanded as part of his signing with the team. The Clippers sent Shai Gilgeous-Alexander and Danilo Gallinari and four unprotected first-round picks, a protected first-round pick and two pick swaps to the OKC Thunder to get George.
It seems to me that the Thunder did extremely well, but the Clippers didn't do badly. They got two superstars that make them one of the favorites now in the West, especially with the Golden State Warriors' Klay Thompson missing maybe the next season with injury and Kevin Durant gone to Brooklyn.
Who knows how all this will shake out, but what gets me is the incredible salaries these guys are making. The NBA better hope their sugar daddies – those big TV contracts – stick around for a long time because if they don't, the league is in big trouble.
At this rate, I could imagine a player salary topping $100 million a year sometime down the road. To get there, though, consumers will have to start paying a lot more to view the league on TV.
Man and I remember when a penny got me a big piece of candy.
There seems to be a lot of us having fun with traitor Trump saying the Continental Army gained control of the airports, a key to victory over the British in the American Revolutionary War. Now I can understand more fully how he was a loser businessman.
What needs to be done once the presidential race heats up is to throw all his stupid stuff he says and does in his face. Don't forget that this guy is a moron, as former Secretary of State Rex Tillerson accurately called him.
He is a moron, along with being a criminal and we need to dump the Trumpster soon because he is causing our country to go into financial ruin, just like he did with his businesses. He's making money – millions – on the back of us taxpayers while the country is going to the dogs.
If you remember, he was told by aides back in December of 2018 that should the national debt continue to rise, and it was $21 trillion then, that it would all come crashing down.
Traitor Trump's reply:
"I won't be here" when it does.
In other words, he doesn't care. It's going to be somebody else's problem.
In his failed businesses – seven bankruptcies – he sent his bevy of lawyers out to take care of his messes. That won't happen here. No amount of lawyers will be able to contain the damage.
But like Alfred E. Neuman, the Mad Magazine cartoon character, traitor Trump is saying, "What me worry?"
Yeah, he doesn't have to worry because he and his criminal family are making millions off this presidency. They are ripping us off while the country sinks from massive debt bought on by his reckless spending. Which reminds me, he was told early in his presidency that he just couldn't go on spending money without any concern for the financial health of the country and his response was, "Just print more money."
Well, like an airplane in the American Revolutionary War, that just doesn't fly.
Hey, I'm going to fly out of here. It's been fun. I'll see you later.
Be well pal.
Be careful out there.
Have a great day.
You are loved.